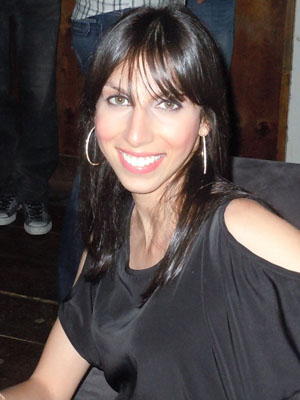 Talia Eytan Nosrati
Los Angeles, California

Title: Senior Manager, Global Brand Marketing
Company: 20th Century Fox
AT A GLANCE:
Graziadio School of Business and Management Class of 2010
MBA
What does being one of Pepperdine's 40 under 40 honorees mean to you?
I'm incredibly honored and excited to be selected as one of Pepperdine's 40 under 40 honorees. My connection to the school is important to me and has continued well beyond graduation. Whether it's being invited onto campus to speak to current MBA students, staying in touch with my business school colleagues, or participating in the annual Waves of Flags display, Pepperdine remains a part of my life. So for the school to recognize me, it feels like I'm coming full circle.
Describe your success:
After graduating from the Graziadio School, I accepted a position at the Walt Disney Studios on their home entertainment global brand marketing team. My strengths in applying strategy, building relationships, and executing across all levels of business on a consistent basis were quickly recognized, and I was soon promoted into a role with more visibility and higher stakes, leading marketing campaigns for tent-pole titles that went on to break home entertainment industry records. Seeking even more challenge, I began a new role in January 2016 at 20th Century Fox where I am currently a senior manager of global brand marketing in their home entertainment division.
Aside from my professional life, giving back to my local community is something incredibly important and a value that my family raised me with. I have a passion for animals and spend my weekends volunteering with the brave, homeless animals at a local no-kill shelter in Los Angeles called the Lange Foundation. The Lange Foundation is a nonprofit organization dedicated to saving animals from city shelters and finding their forever homes. Volunteering there is hands down my favorite part of the week.
On a more grassroots level, having grown up and still living in the neighborhood I was raised, I've always felt a deep sense of commitment towards my local community. I've contributed my time and skills towards highly impactful neighborhood organizations, including the Westwood Gardens Home Owners Association, which represents about 700 homes in West Los Angeles, as well as the Westside Neighborhood Council, where I've recently taken a role as an alternate board member. With these organizations, I've gone all the way to Los Angeles City Hall to speak in front of our representatives on issues that impact our community.
On a more personal note, I'm an avid game show fan and appeared as a contestant on Wheel of Fortune shortly after graduation. I am forever grateful for the education I received at Pepperdine and for the values and standards the school sets for its students and mentioned on the show that I had just graduated from the MBA program. I won the entire show and it was an unbelievable experience. I think that as much as we dedicate ourselves to work and philanthropy, it's also important that we challenge ourselves to reach for dreams that seem impossible; it fills the soul with spirit and hope.
Put all together, I like to define my success as a balance of career, philanthropy, and personal fulfillment.
How does Pepperdine play into your success?
I credit the Graziadio School of Business and Management for playing a role in both my personal and professional success. As an intellectually curious, highly ambitious individual, the MBA program provided me with an opportunity to build a strong professional foundation, learn from highly dedicated professors, and meet like-minded individuals from across the globe. It also offered an environment where I could personally flourish. I pursued dual concentrations in the program: marketing and entrepreneurship. I've found that while the marketing program prepared me well for putting the discipline into practice in my career, the entrepreneurship program provided me with the skills necessary to be a leader, not just in business, but also in life.
Who inspires you and why?
My parents are my biggest inspiration. As immigrants to the United States, they emerged as highly educated, industry-leading professionals. Moreover, despite a busy schedule working full-time while also caring for their elderly parents, my parents have consistently been my biggest support system. They took the time to instill core values, such as honesty, empathy, compassion, and respect by being role models themselves to myself and my brother, Elan. At times when life feels complicated and stressful, I look to them as my example of what hard work and integrity means.
What's next for you? What's your five year outlook? What's your ten year plan?
In the next five years, I look forward to continuing my career growth into an opportunity with continued challenge. My ten-year plan is something I'm very excited about. It's about merging my professional and educational experience with my personal passion. Animals hold a very special place in my heart, and I'd like to open an animal sanctuary for the many brave, homeless animals who deserve a home—a place where cats and dogs can live their days freely in a safe, nurturing environment or potentially meet a loving, adoptive family who can't wait to welcome them into their home.
What's your secret sauce?
I've found that not being afraid of making mistakes along the way has helped shape my success. Sure, depending on the circumstances, a misstep can feel like one's greatest moment of embarrassment; we've all experienced those intense moments where our face turns red and the room suddenly feels uncomfortably warm. However, I've found that making a mistake can be one's greatest gift, but only if we have the humility to own up to it and—more importantly—learn from it.
How do you prepare for a busy day?
To prepare for a busy day, I try to pinpoint the things I can get done ahead of time (for example, starting up on an important e-mail by simply laying the foundation with concise bullet points). I also like to go into the day with my "to-do" list clearly listed and prioritized. I've found that having this list on my desk the night before a busy day helps me feel organized and prepared from the get-go the following morning.
What is one of your hobbies?
I love participating in any activity where there is room for my competitive spirit! Whether it's playing basketball or watching Wheel of Fortune over dinner with family and friends and attempting to be the first to solve a puzzle, I always have room in my schedule for a challenge.
What is your favorite quote?
"Do things for people not because of who they are or what they do in return, but because of who you are." –Harold S. Kushner
What profession other than your own would you like to attempt?
From a very young age, I've always enjoyed experimenting with fashion. My parents like to remind me of the many days I walked into pre-school wearing a self-selected outfit, layers of necklaces and a ring on every finger. I'd love to utilize that inherent "creative edge" to dip my toe in the world of fashion design.