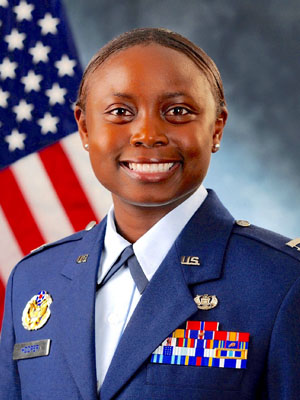 What does being one of Pepperdine's 40 under 40 honorees mean to you?
Purpose, service, leadership—the first time I heard Pepperdine's core values was at freshman orientation. I was actually surprised how simple and yet empowering they were. I spent the next four years really thinking about Pepperdine's core values and focusing on how I could implement them in my life. I try to embody these core values through the choices that I make, especially in deciding what type of career to pursue and what type of organization to work for. To me, being one of Pepperdine's 40 under 40 honorees means that I have lived up to Pepperdine's core values of purpose, service, and leadership, which has been my focus since leaving Pepperdine.
Describe your success:
My time at Pepperdine played and continues to play an important role in my success. First, Pepperdine opened my mind to the opportunities available to me in this world. I was able to participate in multiple study abroad programs while at Pepperdine, and the experiences that those programs provided were priceless. I learned so much about myself and what I was capable of while also learning that I could put myself into unknown situations and thrive. The study abroad programs truly gave me the confidence to take calculated risks and to step out of my comfort zone.
Second, Pepperdine's core values motivated me during my four years, specifically, the core value of service. It was the idea of service that pushed me towards law school, where I knew I could learn a skill that would allow me to help others. And it was the idea of service that led me to pursue a career as an attorney in the U.S. Air Force, where I knew I could serve my country. I don't think it is a coincidence that I ended up in the U.S. Air Force, an organization whose core values are integrity, service, and excellence. There is no doubt in my mind that my success in the U.S. Air Force is due to my years at Pepperdine where I learned the value of service before self.
Finally, the people I met at Pepperdine have been a tremendous benefit to my success. Having friends who have the same value set and give advice based on that value set has helped me stay on track in my life from both a professional standpoint and a spiritual standpoint. To say that Pepperdine played a role in my success is an understatement. One of the main reasons that I am where I am today is because of the values that I learned at Pepperdine and the people I met while at Pepperdine.
How does Pepperdine play into your success?
I graduated cum laude from Pepperdine University's Seaver College with a bachelors of arts in advertising and a minor in marketing. After Pepperdine I went to law school at Southwestern Law School in Los Angeles. I chose Southwestern Law School because of connections I made while at Pepperdine. While at Southwestern Law School I focused on entertainment and sports law during my first two years. During my third year of law school, I was competitively selected for a federal clerkship with the Honorable Federal Terry J. Hatter, United States District Court – Central District of California. My clerkship introduced me to legal careers in public service and during my third year of law school I applied to the U.S. Air Force JAG Corps. I was accepted into the U.S. Air Force JAG Corps in March 2010 (selection rate was less than 10%).
I passed the California bar in November 2010 (54.8% bar passage rate).
In March 2013 I commissioned into the Air Force as a 1st Lieutenant. My first assignment was at Royal Air Force (RAF) Lakenheath in the United Kingdom, and I was there from March 2011 to April 2014. At RAF Lakenheath I was the chief of legal assistance, where I managed the program that provided military members and their families with free legal advice for civil legal matters. I was also the chief of administrative discharges, where I helped military commanders separate airman for various administrative issues.
In 2013 I deployed for 365 days to Afghanistan, where I was a fiscal law attorney for the headquarters of United States Forces – Afghanistan. In 2014 I was assigned to Peterson Air Force Base in Colorado Springs, Colorado, where I was the chief of military justice and had oversight over all the criminal cases on base. In 2015 I was assigned to my current position as the chief of the recruiting branch, professional development directorate in the Office of the Judge Advocate General, Headquarters, United States Air Force, at the Pentagon in Washington DC As the chief of the recruiting branch, I am responsible for managing all the outreach and recruiting efforts for the Judge Advocate General of the Air Force.
My success is only possible because of the people around me, from my family and friends to my co-workers and leaders. I've truly been blessed to be around people who genuinely care about me and my success. Without them none of this would be possible.
Who inspires you and why?
The men and women who serve this country in the military inspire me every day. I've seen military members selflessly sacrifice so much to protect the freedoms that we have as Americans, and they are the reason that I get up every day and go to work. My job as a JAG officer is to help those men and women accomplish their mission and I'm honored, every day, to just be a small part of that.
What's next for you? What's your five year outlook? What's your ten year plan?
I hope to promote to the rank of major within the next year, and along with that promotion I plan to take on more leadership responsibilities within the U.S. Air Force JAG Corps. In the next couple of years I plan on being a deputy staff judge advocate, which means that I will be second in command to a staff judge advocate who leads a legal office at an air force base. Along with taking on more responsibilities within the U.S. Air Force, I'm hoping to also focus on serving outside of the military through various short-term missions or with local nonprofits at the various cities that I move to, to help serve both the global and local communities.
I'm still unsure about where I want to be 10 years from now, but I know I want to be in some sort of position/job/organization where service is a large part of the work that I do. Whether I am still in the military, working for a nonprofit, or running my own business, it will absolutely have to do with serving others.
What's your secret sauce?
Knowing that, even in the toughest of situations, my faith will bring me through anything. I also try to focus on being content in any and every situation, and I avoid procrastinating, even on a small task, at all cost.
How do you prepare for a busy day?
This is sort of detailed, but I really do this: The night before a busy day, I do at least 30 minutes of yoga to clear my mind. When I'm done with yoga and my mind is clear, I write down everything that needs to get done the next day on a notepad. I wake up early, get a good work-out in, and have a good breakfast. This routine seems to always make a busy day extremely manageable.
What is one of your hobbies?
Learning! I know it may seem cliché but I really enjoy taking classes, reading, and studying anything and everything that I can. I'm intrigued and curious about so many things, such as finances, interior design, cars, and my faith. There are so many interesting things in this world, and my hobbies revolve around learning as much as I can while I am here on this earth. I also enjoy traveling, hiking, and taking long walks/tours around cities.
What is your favorite quote?
I have two that are not really attributable to anyone in particular but instead are philosophies about how to live life.
"The caliber of your future is determined by the choices you make today." This quote helps me remember that being prudent is being wise.
"Discipline is not the ability to refrain from doing things, it is the ability to do the things that are necessary to accomplish your goals." This quote tweaks a simple concept to make it active instead of passive, which makes it easier to follow.
What profession other than your own would you like to attempt?
I would like to be an entrepreneur and start a small business and/or nonprofit in the future. I'm honestly not sure what exactly I would do, but I know it would involve serving others.