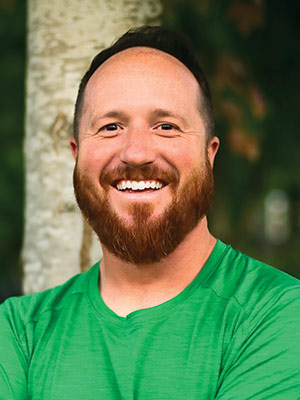 Bradley Christianson-Barker
Maple Ridge, Canada
Title: Pastor
Company: Open Door Church
AT A GLANCE:
Seaver College Class of 2005
BA, Religion
BA, Speech Communication
What does being one of Pepperdine's Outstanding Alumni Abroad mean to you?
Honestly, I'm sure there are more deserving alumni. The work that Pepperdine alumni are doing all over the globe is impressive and inspiring; I'm actually surprised and feel honored to have my name listed alongside theirs. We all strive to make a difference in our communities, and great influencers have gone without recognition. This recognition helps me better appreciate my own work and efforts, and it certainly encourages me to continue to lean into those moments that produce small changes in our community.
Describe any significant achievements in your life in vocation, service, and/or philanthropy.
I believe the current place of Open Door Church is a significant achievement, although not one I can claim on my own. We don't have thousands of members, massive donations, or a perfect church, but we have managed to center our identity in service to our community—being both a part of, and dedicated to, building a stronger community.
Open Door is a place of refuge, a sanctuary for many disenfranchised by the church—some for their questions or theology, some for their gender identity or sexual orientation, others for their socioeconomic status or family make-up. A few years ago we began a conversation around LGBTQ and the church. Individuals' stories were paired with biblical passages and historical context as we traveled down a path toward becoming an inclusive church. The challenge at Open Door is to consistently ask the question, "How do we disagree and still maintain our love and respect for one another and our wholeness as a community?" These conversations were no different—our values centered in God's love led us to a truly welcoming posture of hospitality as we recognized that the image of God is found not only in the individual but fully in the diversity of our community.
Outside the church, it's been an honor to participate in the betterment of Maple Ridge, Pitt Meadows, and the Katzie First Nation Community through the organization of an interfaith project. Building Interfaith Bridges launched in 2012 with monthly dialogues featuring diverse faith perspectives that have contributed to connections between faith groups, increased understanding, and greater compassion in our community.
How has Pepperdine played a role in these achievements?
Pepperdine was foundational in both my understanding of faith and service. It was my time at Pepperdine that helped me first begin to think about building community as a core principle of faith, and I was able to continue that exploration in a masters degree (MDiv, Emory University). Friends and mentors from Pepperdine (professors and alumni) have been a consistent source of inspiration, and challenge me to dig deeper and stretch further in my work and study.
I absolutely would not be where I am, doing the work that I do, without Pepperdine. Through leadership, staff, alumni (past and present), friends, and my education, Pepperdine has influenced, and continues to influence my growth as an individual, as a Christian, and a dedicated member of my community.
Who inspires you and why?
My wife, Jenna (also an outstanding alum), believes in my work when I don't, and challenges me when I get complacent.
What's next for you? Five-year outlook? Ten-year plan?
Right now, I'm focused on Open Door as we have only scratched the surface of understanding our identity as a place of refuge and a values-centered faith community. I'm exploring more creative avenues to increase compassion, understanding, and love in our community, and I'm currently working on my first book—hopefully that's not a five or 10-year project.
How do you prepare for a busy day?
Every day is busy. I try not to get too much sleep, I drink lots of coffee, and always make sure to eat dinner with my family.
What is one of your favorite hobbies?
Coaching baseball and playing catch with Jenna and our two boys.
What is your favorite quote?
"The person who loves their dream of community will destroy community, but the person who loves those around them will create community." — Dietrich Bonnhoeffer
What profession other than your own would you like to attempt?
Photography.