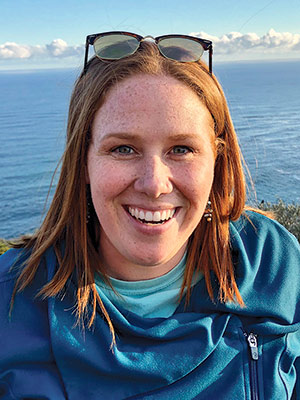 Caitlin Dunn
Lusaka, Zambia
Title: Program and Operations Manager
Company: John Snow, Inc.
AT A GLANCE:
Seaver College Class of 2006
BA, International Relations
What does being one of Pepperdine's Outstanding Alumni Abroad mean to you?
I'm very touched (and slightly embarrassed) that several of my friends conspired together to nominate me. They should really be highlighted on this forum, as they are all incredible people who are making significant contributions to their respective fields and communities. I am grateful to have a job I love in a field that I find continually challenging and exciting.
Zambia has a special place in my heart, as it is where I completed my Peace Corps service. It's been so rewarding to come back and get to be part of a team that is working toward the ambitious goals of bringing about HIV control and improving health services in the country. While life abroad definitely has its trials, the satisfaction of working in a cross-cultural environment and growing an appreciation for new ways of thinking and living makes it totally worthwhile.
Describe any significant achievements in your life in vocation, service, and/or philanthropy.
After serving the maximum time allowed in the Peace Corps, I returned to the US to get a master of public health degree from Emory University. At the same time, I earned competitive scholarships and had the chance to work with the Carter Center. In the past five years, I have supported projects focusing on maternal and family health and HIV/AIDS treatment and prevention in Pakistan, Mozambique, and Zambia. I currently live in Lusaka, where I offer budgetary, administrative, strategic, and logistical support for two projects: USAID/PEPFAR-funded "Supporting an AIDS Free Era" (SAFE) and USAID-funded "District Coverage of Health Services" (DISCOVER). My work with both of these grants is focused on capacity development and empowering sustainable scaling up of local health networks and infrastructure, through collaboration between the public and the private sector.
How has Pepperdine played a role in these achievements?
One of the most important messages I took from Pepperdine was to find a vocation, not simply an occupation. The continual encouragement I received to step out of my comfort zone and find something I felt called to do helped give me the courage to follow my heart, rather than strive solely for professional success or feel pressured to follow a more traditional path.
Who inspires you and why?
If I must choose just one, I will say former president Jimmy Carter, whose foundation I had the honor of working for while at graduate school. President Carter truly lives his faith—this is seen in his unwavering commitment to human rights and his work to improve the lives of people around the world. In the US, he and his wife have been important advocates for mental health services and research, and are longtime volunteers with and promoters of Habitat for Humanity. Around the world, they promote peace and democracy through their election monitoring and governance programs. They also work to alleviate the suffering of some of the world's poorest people through The Carter Center's program to eradicate and eliminate neglected tropical diseases. As a public health nerd, I must say that if you haven't read about the Guinea worm eradication work, you really should. When The Carter Center first started, there was an estimated 3.5 million cases in 21 countries. Last year, they reported only 30 cases in two counties. When achieved, it will be the second human disease to ever be eradicated and the first that was done without a medicine or a vaccine—so impressive!
On a personal note, I am also just amazed at how down-to-earth, hard-working, and kind President Carter is. I got to visit him in his home town of Plains, Georgia, the rural community where he still lives in a modest home and teaches Sunday school at his church. At the time of our visit, he was 89 years old. He received us at his family farm where he arrived dressed in his jeans and long-sleeve polo, seemingly unaffected by the sweltering heat and swarming mosquitos. He apologized for being a few minutes late (for a former Naval officer, this was a big deal), but he had just come from digging a well for a neighbor. That summer, I'm told, he had also written a new book, built a wardrobe from scratch, and made his way through the Bible—in Spanish—all while recovering from a knee replacement surgery. Way to put the rest of us to shame!
What's next for you? Five-year outlook? Ten-year plan?
My contract will be coming to an end this year, so I'll be back on the job market soon (and I will welcome any leads). I plan to stay in the development sphere, though, and I am interested in trying out the private sector—perhaps managing a corporate social responsibility fund or working for a foundation. While governments and NGOs have critical roles to fill, I think the private sector can contribute in different ways, and its growth is important for the long-term sustainability of programs and the overall health of developing economies. Truthfully, it's hard to imagine what life will look like six months from now, so a 10-year plan is a bit anxiety-inducing. I plan to stay open to opportunities as they arise and see where life takes me.
What is your "secret sauce?"
Nice try. Wouldn't be a secret now, would it?
How do you prepare for a busy day?
To-do lists and lots of coffee.
What is one of your favorite hobbies?
Playing with my new puppy, Ellie.
What is your favorite quote?
One that I've been feeling recently is "May your choices reflect your hopes, not your fears." — Nelson Mandela
What profession other than your own would you like to attempt?
I always thought it would be fun to be a photo-journalist.