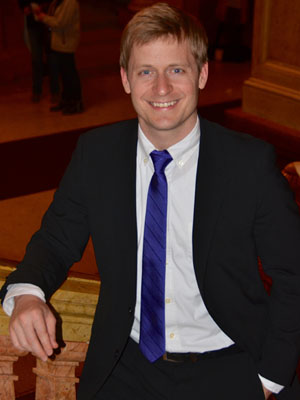 Charlie Engelmann
Shanghai, China
Title: Director, Pepperdine University Shanghai Program
Company: Pepperdine University
AT A GLANCE:
Seaver College Class of 2001
BA, Organizational Communications
What does being one of Pepperdine's Outstanding Alumni Abroad mean to you?
It is a tremendous honor to be recognized as one of Pepperdine's Outstanding Alumni Abroad. My four years as a student at Pepperdine were transformative in so many ways. I was given the opportunity to live abroad and travel the world (I attended the Heidelberg program from 1998 to 1999), which changed the trajectory of my life, and ultimately led to my decision to establish a life and career in China.
Describe any significant achievements in your life in vocation, service, and/or philanthropy.
I have been fortunate to have had a wide range of professional experiences. I was the editor-in-chief of a Shanghai-based business magazine, hosted numerous television shows in China, and was a corporate spokesperson for one of the world's largest companies (ExxonMobil). However, my greatest honor has been serving as the Pepperdine Shanghai program director, which gives me a platform to invest in students' lives in truly meaningful ways. Working with Pepperdine students is the best. I have learned so much from them and get the opportunity to live vicariously through their amazing experiences while living in China.
How has Pepperdine played a role in these achievements?
Before going to Pepperdine, I had zero interest in traveling abroad. I went to Heidelberg during my sophomore year not knowing what I was getting into, and the experience truly changed my life. Living abroad made me grow in ways I could had never imagined, and instilled in me a desire to continue learning about the world. Because of Pepperdine's emphasis on international programs, I was inspired and equipped to move to China upon graduation and, 17 years later, I am still there serving as the University's Shanghai program director.
Who inspires you and why?
I am inspired by my students' creativity, willingness to take risks, high ideals, and passion for growth.
What's next for you? Five-year outlook? Ten-year plan?
I feel like my current role is truly my "dream job." I hope to continue building a strong culture in the Pepperdine Shanghai program by investing in students' personal, social, intellectual, and spiritual growth.
What is your "secret sauce?"
I often talk about the importance of "embracing discomfort," which keeps me appreciative and stimulated, and fosters continued personal and spiritual growth.
How do you prepare for a busy day?
My mornings are sacred. I try to carve out enough time each morning before starting work to read, reflect, and pray.
What is one of your favorite hobbies?
I love all sports. Even though I live in China, I still I follow my teams, especially the Dolphins (NFL) and the Mariners (MLB).
What is your favorite quote?
One of my favorite verses (which my students will know) is Romans 12:2: "Do not conform any longer to the pattern of the world but be transformed by the renewing of your mind."
What profession other than your own would you like to attempt?
I am fascinated by diplomacy and have often felt drawn to a career as a foreign service officer for the State Department.