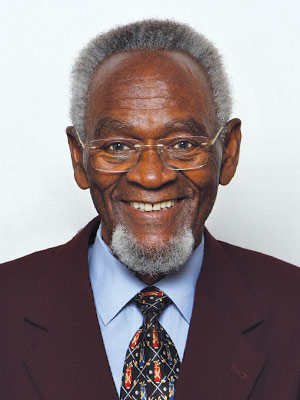 Christopher J. Chetsanga
Harare, Zimbabwe
Title: Professor of Biochemistry
Company: University of Zimbabwe
AT A GLANCE:
George Pepperdine College Class of 1964
BS, Biology
What does being one of Pepperdine's Outstanding Alumni Abroad mean to you?
I am greatly honored to be accorded the status of one of Pepperdine's Outstanding Alumni Abroad. It is my hope that the scientific publications and other intellectual achievements that I have been involved in will inspire my fellow alumni to be proud of the quality of intellectual contributions that Pepperdine is achieving through its alumni. I also hope to serve as an example to those students who are pursuing degrees at all levels at Pepperdine University.
Describe any significant achievements in your life in vocation, service, and/or philanthropy.
The research focus in my scientific career has been on DNA and RNA structural and functional details as they relate to cellular metabolism and disease development. I pursued the DNA damage inflicted by cancer-causing chemical reagents, and how some chemical damages to DNA are enzymatically repaired. I found that some alkylating chemicals do damage DNA by methylating guanine bases in DNA molecules to form 7-methylguanines. The 7-methylguanines so formed undergo a second damage of having their imidazole rings opened.
I engaged in a research investigation on whether there was a DNA repair process that cells use to repair the damaged DNA. I discovered an enzyme that excises this 7-methylguanine with opened imidazole ring from DNA in 1979, and gave it the name "formamidopyrimidine DNA glycosylase." There were three other international laboratories in France that published research papers to confirm my discovery of this enzyme.
In subsequent years, we found that treating DNA with ionising radiation resulted in the opening of the imidazole rings of the adenine and guanine bases in such radiated DNA. This investigation was inspired by a number of published reports that found that the ionisation radiating of cells had killed large numbers of cells.
I pursued a research investigation to determine if there is an enzyme mechanism involved in repairing the DNA that we had treated with the ionising radiation (X-irradiation). This x-ray treatment of DNA damages its adenine and guanine bases by cleave opening their imidazole rings. In 1983 we discovered an enzyme which recloses these opened imidazole rings of the adenine and guanine bases in DNA, and called it "pyrimidine imidazole ring cyclase." This was the second enzyme that I discovered.
Among the services that I have provided in scientific areas in Zimbabwe, I would include my leadership in promoting the establishment of the Zimbabwe Academy of Sciences (ZAS) in 1994. I was elected as the inaugural president of the ZAS and served in that capacity for two five-year terms as specified by the ZAS constitution.
I was also involved in establishing a national scientific research centre in Zimbabwe. I was appointed by the president of Zimbabwe to serve as the director general of Zimbabwe's Scientific and Industrial Research and Development Centre. I served in that capacity for 10 years, from 1993 to 2003.
Internationally, I am a Fellow of the African Academy of Sciences (AAS) that serves all countries on the African continent. I serve as chair of the Membership Advisory Committee that selects new AAS Fellows annually. I am also a Fellow of The World Academy of Sciences (TWAS), which provides intellectual services to all developing countries globally. I serve on several other national and international organizations as well.
How has Pepperdine played a role in these achievements?
In spite of the distance between Pepperdine and Zimbabwe, I have had contact with some of the University's intellectual leaders over the years who have inspired me to pursue scientific research in a manner that empathizes my being guided by ethical and moral principles. These are important guidelines in scientific careers, as any scientific research publication must be based on honestly achieved results whose validity can be demonstrated and verified in other scientific laboratories. One of the Pepperdine leaders with whom I constructively communicated, both in letters and in person, was Olaf Tegner ('43). Dr. Tegner and I met in Harare when he visited Zimbabwe with his wife several years ago.
Who inspires you and why?
In recent years, the organizers of Pepperdine Bible Lectures have inspired me and motivated my spiritual devotion to the Lord. I attend these programs with my wife as often as I can.
What's next for you? Five-year outlook? Ten-year plan?
I am now 83 years old. I continue to lecture in biochemistry at the University of Zimbabwe, training the upcoming generations of young scientists and encouraging them to aim high in their career goals so that they, too, will extend scientifically what I have achieved in science, and more. Spiritually, I appeal to Christian youths to pursue goals in life that will motivate them to follow Christ and to grow spiritually as they serve in their communities.
How do you prepare for a busy day?
My scientific career has been characterized by efforts to advance mankind's higher goals in science. This has required that I follow well-planned activities in scheduled projects to be executed each week. I am constantly motivated to pursue further projects and activities throughout upcoming months and years.
The projects for me to cover during a given week require that I carefully arrange the sequence of activities to be undertaken each day of the planned week. The activities must be accomplished within the time available on a given work day.
The planning process for each busy work day involves an earlier purchase of all of the items required to complete the activities. The planning for each day must ensure that unplanned interruptions do not interfere with the implementation and completion of the scheduled activities. I have found that this careful planning of a busy day works reasonably well.