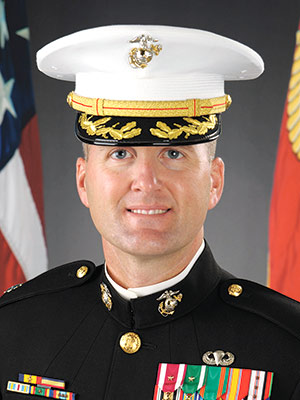 Jason Quinter
Frankfurt, Germany
Title: Commanding Officer, Region 7
Company: Marine Corps Embassy Security Group
AT A GLANCE:
Pepperdine Graziadio Business School Class of 2010, 2017
MS, Management and Leadership
MBA, Business Management
What does being one of Pepperdine's Outstanding Alumni Abroad mean to you?
It is a great honor to have been chosen for this award. When I was searching for a graduate school that would be a good fit for my educational goals and my faith, Pepperdine was an enticing and outstanding opportunity. I am happy to be leading my life in a way that makes the Pepperdine administration, faculty, current students, alumni, and my classmates proud.
Describe any significant achievements in your life in vocation, service, and/or philanthropy.
I have always encouraged my marines to give back to our community. As the commanding officer of Region 7, I have emphasized the importance of being involved in each of our 23 respective embassy and consulate communities. Our marines have embraced that mentality and regularly volunteer at Children's Relief Ministry, orphanages, assisted living facilities, and hospitals across North and West Africa. We are making a difference every day in some of the poorest, most impoverished countries in the world. Most notably, perhaps, is a large project we undertook five months ago. Specifically, our marines partnered with Saint Edward the Confessor Parish in Dana Point, my Catholic parish from back home in Southern California, to raise nearly $4,500 for the Saint Bakhita Girls Orphanage in Accra, Ghana.
Separately, I am the US Consulate Frankfurt volunteer coordinator for the Fisher House at Landstuhl Regional Medical Center in Germany. In this capacity, I coordinate the preparation and delivery of meals for the families of injured US service members who are staying at Fisher House while their loved ones are admitted to the hospital there. This has been a great way for my whole family to volunteer and it would not be possible without the terrific help I receive from my wife Siobhan and my oldest son Paul.
How has Pepperdine played a role in these achievements?
My time at Pepperdine strengthened my faith and helped me to become a better Christian, leader, husband, and father. Being an active duty marine officer, I came to Pepperdine in 2008 with an open mind and a strong desire to learn from both my professors and my classmates. My first pursuit was a master of science in management and leadership in 2010, but I returned later and most recently finished my MBA there in 2017. I learned a great deal from everyone I worked with at Pepperdine. Any success I may have achieved as a family man or as a marine can be partially attributed to my time at Graziadio Business School.
Who inspires you and why?
Many people inspire me. At the top of that list is God. He guides me through good times and bad and is always there for me. My wife Siobhan is a source of great pride and inspiration, as are our four kids: Paul, Ellie, Molly, and Luke. They inspire me to work hard in serving our great nation and to better myself every day. My parents, siblings, and extended family are also a source of inspiration. Finally, I am privileged to have earned the title of marine. As a marine, I am fortunate to be part of a team that is much bigger than one person. Marines who proceeded me serve as a great source of inspiration and a constant reminder of what it means to be selfless, especially those marines that gave the ultimate sacrifice for our great nation. Of course, every marine currently in my charge at Region 7 inspires me to be the best version of myself.
What's next for you? Five-year outlook? Ten-year plan?
My immediate goal is to continue serving the marines of Region 7 to the best of my ability. I am hopeful that I will be selected to attend the National War College in Washington, DC, next year after my assignment in Frankfurt. Another goal is to earn promotion to the rank of colonel in the next three years, and to be selected for operational command at that rank. I suspect that in 10 years' time, I will have transitioned into a job in the civilian sector where I can leverage my MSML and MBA from Pepperdine, my leadership experience, and my relationships around the world in order to find meaningful work that will enable me to continue living a life of purpose.
What is your "secret sauce?"
My wife Siobhan—everyone knows that. Without her, I am far and away a lesser version of myself.
How do you prepare for a busy day?
Sleep, a prioritized to-do list, and reasonable expectations. As I have grown a few years older, I have learned the value of good sleep. Likewise, I know myself well at this stage in life. To me, the key to ensuring that a busy day is a good day is efficiency, effectiveness, and prioritization. Having my thoughts organized, a plan of attack (a list of what absolutely must be accomplished that day), and prioritization of that list almost guarantees I will have a good day regardless of how busy I am. Of course, at my level within our command, sometimes even a great plan doesn't survive the chaos. By that, I mean that I may accomplish 25 or 30 tasks that day, none of which I set out to accomplish at the start of the day. I am okay with that outcome if I feel like I still had a productive day because I only worry about the things I can control.
What is one of your favorite hobbies?
My favorite hobby is golf. However, I would describe it as my passion. I have been playing golf my whole life.
What is your favorite quote?
"Some people spend an entire lifetime wondering if they made a difference in the world. But the marines don't have that problem." — Ronald Reagan
What profession other than your own would you like to attempt?
Chief Executive Officer.