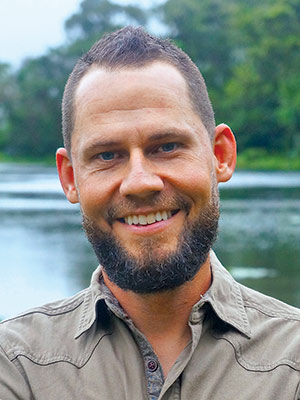 Jonathan Zane Butcher
Matagalpa, Nicaragua
Title: Co-Founder/Chief Operations Officer
Company: The Lily Project
AT A GLANCE:
Graduate School of Education and Psychology Class of 2012
MA, Social Entrepreneurship and Change
What does being one of Pepperdine's Outstanding Alumni Abroad mean to you?
Pepperdine University's mission is centered on purpose, service, and leadership. The essence of the master's program of social entrepreneurship and change (SEC) is embedded into that mission. I chose Pepperdine and the program because I was seeking a personal change that would have a global impact. As an Outstanding Alumni Abroad, I have the opportunity to fulfill the University's mission and my own purpose by devoting my life to the service of others in another country.
Describe any significant achievements in your life in vocation, service, and/or philanthropy.
In 2014, after serving several years in a rural community on the coast of Nicaragua, we discovered the need for health services for women. While participating with the Ministry of Health, it was clear that women living in rural villages did not have satisfactory access to health services, and they were in danger of life-threatening diseases that modern medicine has reduced significantly in other countries. Through the direct experience of my local partner, who lost her mother to cervical cancer in 2008, we set out to change the harsh reality by starting a non-governmental organization focused on women's health called The Lily Project.
Since 2015 The Lily Project has examined and treated over 10,000 women in more than 300 rural villages in Nicaragua. By employing the World Health Organization's standards and procedures regarding cervical cancer early detection and treatment, we've saved more than 500 lives. Furthermore, through an innovative health education program utilizing a simple, colored bead bracelet, we've brought holistic-based sex education to over 15,000 young women. Our partnership with the government as well as our rigid focus on data has enabled us to grow quickly and garner the respect of regional health providers.
While sustainability of the organization is always top of mind, we've invested resources in the development of a cacao farm. At the farm, we are currently reforesting over 60 acres of a former cattle ranch with over 30,000 cacao trees, which are native to the region. The "chocolate" farm will produce world-class, exportable cacao as well as gourmet chocolate. However, most importantly, the farm will serve as a base for job and leadership development for women in the local community.
How has Pepperdine played a role in these achievements?
An overt relation to Pepperdine and my current vocation is the degree I received as well as the requirements of the course that led me to Nicaragua. After all, it was Margaret Weber, the former dean of the Graduate School of Education and Psychology, that suggested I serve in Nicaragua. However, the connection to Pepperdine goes much deeper.
In 2014, under the direction of Steve Kirnon, Susan Cotton of Cohort 6 in the SEC program reached out to me and my partner, Anielka Medina, in regard to the project we were starting. While Anielka and I had just started formulating the idea of the project, Susan volunteered her expertise and assistance to help launch it. In August 2014, Susan joined us for several weeks in Nicaragua and we were able to conduct our first pilot. After a successful pilot, we asked Susan to stay on with us permanently as chair of the board. She accepted, and with her direction and support, The Lily Project has blossomed.
Pepperdine has been the hub that has connected all of the necessary pieces to launch a successful project.
Who inspires you and why?
Inspiration is the process of being mentally stimulated to do or feel something. Connotatively, inspiration is positive; however, the process may occur when positive or negative influences make an impact on one's decisions. When I think of "who" in the denotative context of the word, just about every person and experience I've encountered in my life have been inspiring. If the focus is entirely on this present moment, I must give credit to all those who are passionately fighting for change in the world. I live in Nicaragua, which has been rocked over the past couple of months by a renewed revolution. For the first seven years that I lived here, people were silent about the rising autocracy. But on April 19th, a small group of university students stood up and united the nation to take the power back. So, brave people—organized and passionate about a righteous cause—inspire me.
What's next for you? Five-year outlook? Ten-year plan?
As a young organization, evolution and revolution for us is rapid. While The Lily Project only has two teams working in two departments of Nicaragua right now, we plan to launch a team in each department of the country as we secure additional funding and supporters. Currently, we serve about 6,000 women a year, and we expect to increase that number to 50,000 by 2024. Also by 2024, the chocolate farm should be producing a great harvest, which means we'll be providing jobs to women and supporting the operations of The Lily Project. Ideally, we'll open the farm up to adventurous chocolate connoisseurs as well and invite them to participate directly with our cause via their love of chocolate. The future is bright and full of potential.
What is your "secret sauce?"
Listen and observe as much as possible before formulating a response or an opinion. Diversity of perspective creates opportunity for growth. Never under-value one's personal experience, because that is the basis by which perception is manifested. If we are going to participate in changing the world, we must first understand how others perceive the world we wish to change.
How do you prepare for a busy day?
Meditation, reading, and coffee.
What is one of your favorite hobbies?
Arboriculture (trees) is my passion. Nature is generally where I love to be. Trees audaciously stand at the helm of history.
What is your favorite quote?
Much of my life is guided by two favorite quotes:
"Life is like riding a bicycle. To keep your balance, you must keep moving." — Albert Einstein
"Never forget that only dead fish swim with the stream." — Malcolm Muggeridge
What profession other than your own would you like to attempt?
Neurology. Neurologists study what I believe is the most fascinating of the sciences: the physical connection between mind and body. Philosopher René Descartes gave us the insight that we think and therefore we exist; however, neurology studies and delivers on the theory using science as the basis. One of my favorite books is When Breath Becomes Air by Paul Kalanithi, a neurologist who began his journey as a student of philosophy.