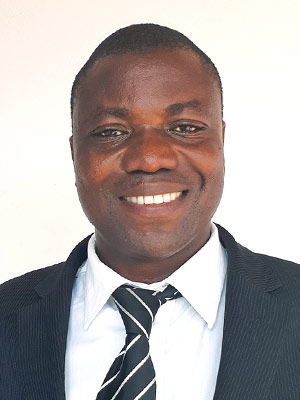 Joseph Kwame Dzamesi
Ho, Ghana
Title: Founder/Administrator
Company: Sonrise Christian High School
AT A GLANCE:
Seaver College Class of 1998
BS, Business Administration
What does being one of Pepperdine's Outstanding Alumni Abroad mean to you?
It is a huge honor to be named one of Pepperdine's Outstanding Alumni Abroad. It means the world to me because out of thousands of alumni across the world, my work has been noted and recognized. It also validates my decision to give up the promises of staying in the United States 15 years ago to come back home to make a difference.
Describe any significant achievements in your life in vocation, service, and/or philanthropy.
Sonrise Christian High School has expanded from 132 students in 2005 to more than 500 current students. We have achieved a 70 percent college/tertiary qualification rating compared to the 25 percent national college/tertiary qualification rating. We have graduated more than 1,000 students to date. Our West African Senior School Certificate Examination (WASSCE) results are currently ranked top two in the Ho municipality of Ghana. Out of 91 public and private senior high schools in Volta Region, we are ranked in the top six. We are also in the 86th percentile of both private and public high schools in Ghana.
Our science department is ranked 26th out of 969 private and public high schools in Ghana, based on our performance in the National Science and Math Quiz Competition. We have won the TNG Corporate merit ward multiple times as the best private high school in Volta Region. We specialize in taking students with very low academic foundations, most of whom are from low-income families, offering them the best tuition rates, and providing them with opportunities to excel.
For example, Aisha Adamu graduated from Sonrise Christian High School two years ago with almost perfect scores on the WASSCE. She earned admission to medical school and is currently studying medicine at the University of Health and Allied Science. Aisha was initially admitted to one of the prestigious public schools in Ho. Unfortunately, she was not selected to study science-related programs in that school, as her grades from junior high were not high enough for a general science program. We admitted her into our science program on almost a full scholarship since she came from a very deprived family. Aisha finished at the top of her class and is now working toward becoming a doctor. Through the Hendrickson and Rockson Dogbegah Scholarships, we are able to offer a lot of scholarships to brilliant but needy students that allow them to receive top-class Christian education at Sonrise.
Through the Richmond Scholarship, we are also able to help pay the first year university admission fees for our top two students every year. To put these achievements into context, it is important to note that the educational system in Ghana calls for nine years of basic education (junior high school), three years of senior high school education, and four years of college education. After junior high school, students must pass a special examination called the Basic Education Certificate Examination (BECE) before they can qualify for high school, and senior high school students must pass the WASSCE examination in order to qualify for college. Junior high school students are graded on a one to nine point scale, with one being the best grade and nine representing a failing grade.
Students study at least eight subjects while in junior high school. They write the BECE at the end of their third year. After the BECE, their best six scores are aggregated to form the basis for admission into high school. In 2004, because of the limited number of senior high schools in Ghana, only junior high school graduates who scored a total aggregate of 24 or lower could be placed in a public high school, although students who scored up to an aggregate of 36 were deemed to have passed the examination. A student who scored more than an aggregate of 24 was left out with absolutely no chance of moving up on the educational ladder. This system left out almost 30 percent of junior high school graduates every year. In addition, not many high school graduates passed the WASSCE to qualify for college. In fact, only about 25 percent of senior high graduates qualified to enter college or other tertiary education institutions every year, leaving the majority in distress.
We opened Sonrise Christian High School to provide quality senior high school education for junior high school graduates who would not otherwise gain access to public schools. We believed that we could transform students that we admit, most of whom are not considered good students, into top students, and give them the opportunity to attend college. Additionally, we wanted Sonrise to be a school that does not educate only the mind, but also the heart and, ultimately, leads students to Jesus. Most of the students we admit are from deprived areas of the country and lower income families. Their academic foundation is very poor, so we design programs to challenge them to excel. We ensure that our teachers are fully committed to the task of getting the best out of these students. We raise the bar and challenge them to get there. As said by a good friend, "We give our students a gift of higher expectation."
How has Pepperdine played a role in these achievements?
Through the Lydia Hayne Scholarship, I was able to attend Pepperdine University on a full scholarship. My father, a Church of Christ preacher from Ho in Ghana, could not have afforded a year's tuition at Pepperdine even if he saved his salary for 10 years. By grace, I was awarded this scholarship that changed my life. My primary desire after college was to pay it forward, return to Ghana, and offer opportunities to young people to receive quality Christian education.
Academically, I received the best education at Pepperdine. I developed important critical thinking skills that has helped me in designing and implementing the Sonrise model. Spiritually, Pepperdine helped me grow in my faith. I have fond memories of programs like care groups, retreats, and Bible studies. These programs shaped and molded me into the person I have become. At Sonrise, we not only educate the minds of students but also their hearts, in order to bring them under the subjection of the will of God. During every school term, we take our students out on spiritual retreats and provide them with opportunities to come to know the Lord. Like "Step Forward Day," the "Sonrise Day of Service" allows our students to give back to their community. Believing that "Freely ye receive, Freely ye give," we offer scholarships to students who cannot afford school fees and allow very flexible payment options to students who need them.
Who inspires you and why?
My father, Samuel Dzamesi, is my inspiration. He is my example of faithfulness. He believed in God enough to move his family to Volta Region as the very first Church of Christ preacher in the area. With absolutely nothing in personal wealth and coming from an extremely humble beginning with a three-member congregation, he worked hard and built the Ho Central Church of Christ to more than 300 current members. He has directly and indirectly established more than 200 Churches of Christ in the area. Because he believed in God for miracles and served him faithfully, God blessed him, and part of that blessing gave opportunities to people like me to be where I am today.
What's next for you? Five-year outlook? Ten-year plan?
My five-year goals include continuing to build Sonrise to be recognized as the very best senior high school in Ghana and consistently score no lower than 80 percent college/tertiary qualification rating. We have also commissioned a new clinic called the Boatright Health Center. The plan is to expand the services of the health center beyond treatment of our students to the entire community.
In 10 years, I'd like to start the Sonrise Teacher Training and Nursing Training Institutes, a Sonrise Tech Hub designed to teach high school students the skills of writing codes and developing digital apps, and Sonrise University College.
How do you prepare for a busy day?
I talk to the Lord for direction. I also always make sure to follow a to-do-list.
What is one of your favorite hobbies?
Watching soccer.
What is your favorite quote?
"The best gift you can give a child is the gift of higher expectation."
What profession other than your own would you like to attempt?
Professional football player (although I guess it is a bit too late for me as of now).