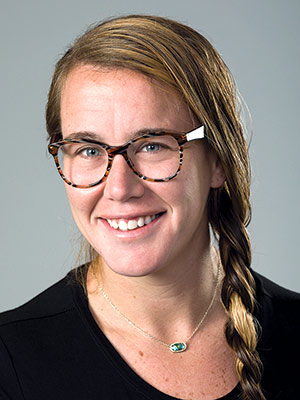 Kate Kearns Jaskolski
Lagos, Nigeria
Title: Artistic Director of Nigeria's Premier Inclusive Disability Theatre Company/Teaching Artist and Educational Consultant for Children's Developmental Centre in Lagos/Teacher of Applied Theatre at the University of Cape Town
Company: CDC Inclusive Theatre/Children's Developmental Centre Lagos/Nigeria's Federal Ministry of Justice, Women and Children's Affairs/University of Cape Town
AT A GLANCE:
Seaver College Class of 2008
BA, Theatre
What does being one of Pepperdine's Outstanding Alumni Abroad mean to you?
Though I am honored to be included as an Outstanding Alumni Abroad, I am more excited to share the work that my team of adults and adolescents with disabilities are doing in Nigeria to fight stigma and advocate for inclusive societies. Their commitment and passion for challenging our communities to see past disability, and their bravery in sharing their stories is my inspiration, and we are honored to be recognized by Pepperdine.
Describe any significant achievements in your life in vocation, service, and/or philanthropy.
We have learned to celebrate small achievements in the communities of disabled children and adults in Nigeria and South Africa. Our students include those with neurodevelopmental disabilities, such as autism, Down's Syndrome, cerebral palsy, and other intellectual and cognitive impairments. It's significant when one of our company members speaks for the first time, or when a child normally excluded due to fear of disability can participate in a song or dance with the community. It's an achievement when teachers at a local "centre for mentally and physically retarded [cringe] students" stops hitting the students for acting out or being distracted.
We have had parents, insisting that their child was nonverbal, witness that same child sing songs or perform monologues onstage. Our inclusive theatre company began with simply teaching life and job skills through theatre games and techniques. What began as purely educational quickly developed into a passionate group of disabled actors who wanted to share both their abilities and their stories with the community. We have created, performed, and toured five full theatrical productions. Our shows have traveled all over Nigeria, and include one international trip, plus we have more in the works.
We have started programs in neighboring cities, and inspired work in Ghana, South Africa, and Lesotho. We have shared our talents and stories with schools and community centers, and we have been invited to perform at the British Council Lagos Theatre Festival for the last two years. It has been our good fortune to celebrate moments when audience members commit to defy stigma and welcome our company into cultural events, or when, after a performance showcasing our job skills, three company members were offered paid jobs. Perhaps the most significant achievements that have occurred are the relationships that have arisen when teachers, family members, and peers see the incredible talents within our group, and begin to acknowledge how our differences make us stronger.
We are proudest of using theatre, song, and dance to address the fears and discrimination against those with disabilities, forming genuine relationships, influencing policy change, and creating opportunities for not only our company members, but for all Nigerians with disabilities. We are performers, role models, and friends.
How has Pepperdine played a role in these achievements?
Without the Social Action and Justice track, the Pepperdine Volunteer Center, Project Serve, Jumpstart, and the theatre department, I would have never realized my passion for adventures in teaching, theatre, and inclusivity. My first international teaching experience was with Project Serve, and it was there I learned how to combine my love of theatre with my love of teaching.
Professors Daniel Rodriguez (Urban Missions and Ministry) and Marie Mullins (SAAJ) challenged me to combine my passions with my vocations, and opened my eyes to my passion for service learning. Brad Griffin and Cathy Thomas-Grant (and the entire theatre department) set high standards for productions and education, and through independent research projects, introduced me to Applied (Social Action) Theatre. At Pepperdine I first learned about Theatre of the Oppressed, and I had the opportunity to direct a show that examined realities in the lives of missionaries. I also learned how to build, paint, sew, collaborate, and teach. The theatre department constantly challenged me to find new viewpoints as a theatre maker, and through class presentations and directing projects, allowed me to challenge how and why I chose theatre as vocation.
Most significantly, Pepperdine taught me that a passion can be a vocation.
Who inspires you and why?
Each member of my team in Nigeria inspires me. We are a family of teachers, friends, actors, and neighbors committed to making a difference in each other's lives. Mother Theresa, Father Greg Boyle, Augusto Boal (Theatre of the Oppressed), and Paulo Freire (Pedagogy of the Oppressed) are the guiding factors in our work. My mom (Cathie Kearns) and Dr. Akinadayomi (Children's Developmental Centre Lagos) are also huge inspirations, as they are the hardest working, most compassionate, strongest women I have ever met, and their unending support, encouragement, and love keeps us all going.
What's next for you? Five-year outlook? Ten-year plan?
We are working on expanding our inclusive theatre practices and have already begun to collaborate with groups from Wales, South Africa, and Lesotho. Ideally we are working towards an international inclusive theatre exchange network. Inclusive theatre and education practices are slowly spreading internationally and we want to add to that. My heart is in Nigeria, but our outlook is Pan-African, with hopes to add to the global inclusive movement. We want to share and exchange with as many communities and cultures as possible, and spreading the love and joy of inclusion through theatre and drama.
What is your "secret sauce?"
Diet Coke? Embracing the awkward-hyperactive energy I was born with and channeling it through theatre, sarcasm, and laughing.
How do you prepare for a busy day?
I try to get in a boxing workout early every morning and on weekday evenings. I learned to box and fight in Nigeria, and it's the best cure for stress and to free the mind from any frustrations throughout the day. I also rely heavily on a very structured routine as does my team. We keep things interesting, and thrive on knowing what comes next.
What is one of your favorite hobbies?
Boxing. Theatre. Sewing.
What is your favorite quote?
"Yesterday is gone, tomorrow has not yet come, we have only today. Let us begin." — Blessed Mother Theresa of Calcutta
What profession other than your own would you like to attempt?
I harbor a secret fantasy of becoming a professional boxer. Also...one of those people that gets paid to test vacations?