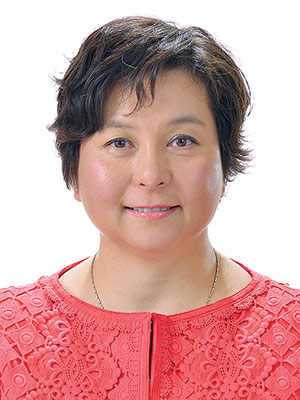 Maisy Ho Chiu Ha
Hong Kong, China
Title: Executive Director
Company: Shun Tak Holdings Limited
AT A GLANCE:
Seaver College Class of 1993
BA, Psychology
BA, Telecommunication
What does being one of Pepperdine's Outstanding Alumni Abroad mean to you?
To me, being one of Pepperdine's Outstanding Alumni Abroad means that Pepperdine's long-established mission and vision are bearing fruits in that its students (including me) are following the school's mission and vision as they cross boundaries and transform communities in every corner of the globe. The significance of the honor is much more than to exalt a particular individual; it is to salute the concept of leading a purposeful life as a servant-minded leader. I am even more empowered to preach and practice Pepperdine's motto: "Freely ye received, freely give."
Describe any significant achievements in your life in vocation, service, and/or philanthropy.
In the last 14 years, I have dedicated my time and effort to championing education and life-long learning services for youth in the community, including youth exchange programs between Hong Kong and mainland China, youth community programs, and student mentorship programs.
My proudest achievement was my far-reaching and deeply-rooted involvement with, and contribution to, the Tung Wah Group of Hospitals (TWGHs), the oldest and largest charitable organization in Hong Kong with a history dating back to 1870.
As a board of directors member and later chair of the board (2009–2016), I directed the development of education services of the Tung Wah Group across its kindergartens, primary schools, secondary schools, and college. I set up a new "All-round Student Development Fund" to offer special scholarships to benefit students in need from 13 primary schools and 18 secondary schools within the Tung Wah education system. I also spearheaded a "Tung Wah Student Ambassador Scheme," the first of its kind thematic study tour, and led a group of 54 students from TWGH's 18 secondary schools to travel to Los Angeles and Kaiping, China.
I directed the Tung Wah College Council to develop medical and health related degree and diploma programs, established the TWGHs Maisy Ho Archives and Relic Centre—now one of the important learning centers for Hong Kong history and academic research. I also established the TWGHs Lucina Laam Ho Kindergarten to provide children from families in public housing estates with quality kindergarten education.
I've used my corporate operation management know-how to assist iBakery, a social enterprise operated by TWGHs and dedicated to training and employing people with disabilities through the production of safe and quality bakery products.
I've personally engaged in the bidding process to achieve the successful set up of iBakery's flagship cafe in the headquarters of the Government of Hong Kong, thereby elevating iBakery's reputation, enabling it to steadily gain recognition from its customers and corporate partners, and opening doors to institutions and schools all over Hong Kong for its further expansion. I've also sought out and negotiated with Starbucks Hong Kong to sell iBakery's cookies at the retailer's 50 cafes, and provided advice in the project relating to the sales of iBakery's Christmas cookies on an online shopping platform.
Furthermore, I've supported the "Radio-i-Care" Free Counselling Services at TWGHs, a program that uses different media platforms to reach an audience that has mental health issues and i-dArt at TWGHs through auctions and symposiums, bridging resources, promoting collaboration, and raising awareness of the program to develop community art projects and to encourage people with different abilities to participate in art.
I am also very proud of being the recipient of the Bronze Bauhinia Star issued by the Hong Kong Special Administration Region Government, which awards the Bronze Bauhinia Star to "persons who have given outstanding service over a long period of time."
How has Pepperdine played a role in these achievements?
Pepperdine's vision for its students to lead a purposeful life as a servant-minded leader has created a lasting impact in my life. While I was pursuing my degrees at the school, this vision steered me onto a righteous path from education to life after school. Since then, I have continued to transform that vision into action in the areas of education, lifelong learning, and community service. The remarkable education I had at Pepperdine formed a solid foundation of my belief that the success of our future generations is measured by how much formal education young people receive and how much learning opportunity they have beyond the academic realm to form an all-round personality grounded on positive moral values, including respect, responsibility, kindness, empathy, and generosity.
Who inspires you and why?
I am deeply influenced by my family. Since childhood, I have enjoy participating in public welfare activities and I am committed to promoting educational affairs to serve the community. My father believes that kindness is the cornerstone of a harmonious society. Over the years, he has actively participated in charitable activities, setting a good example for my siblings and me. His actions have affected us so much so that we have cultivated a compassionate heart from childhood. Since I joined the Tung Wah Group of Hospitals in 2009, I have personally witnessed in these seven to eight years how TWGHs helps the disadvantaged. Its mission and spirit are critically important to the development of society. I hope I can do more to give back to society and help more people in need.
What's next for you? Five-year outlook? Ten-year plan?
In the next five to 10 years, it is my full intention to serve the community, utilizing my knowledge, experience, personal connections, and influence to expand the boundary and targets of social service. In addition to Hong Kong, I hope to extend my service to mainland China, offering my assistance to the underprivileged and helping to eradicate poverty, so that each and every person can enjoy economic and social stability, and the country can prosper.
What is your "secret sauce?"
Ketchup.
How do you prepare for a busy day?
I start my day with a full breakfast.
What is one of your favorite hobbies?
Swimming.
What profession other than your own would you like to attempt?
Scientist.