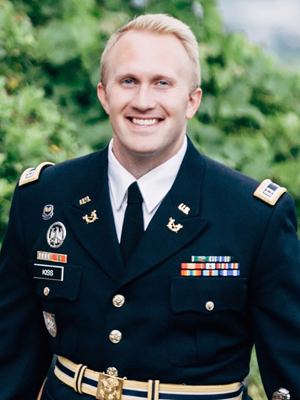 Nandor F. R. Kiss
Landstuhl, Germany
Title: US Army Judge Advocate
Company: United States Army
AT A GLANCE:
Seaver College Class of 2011
BA, Philosophy
BA, Psychology
What does being one of Pepperdine's Outstanding Alumni Abroad mean to you?
It's a great honor. One of my biggest regrets from my time at Pepperdine is that I elected not to participate in the study abroad program. While I have no complaints about my time in Malibu, I always felt that I missed an opportunity to discover whether I could live and thrive in a foreign country. Being recognized in this way has helped me come to terms with that regret.
Describe any significant achievements in your life in vocation, service, and/or philanthropy.
As a judge advocate, my first assignment has been in Baumholder, Germany. I spent my first year serving as a legal assistance attorney, helping soldiers and their families with their personal legal issues. In that capacity, recognizing an opportunity to serve, I organized the army's first expeditionary legal aid mission to Eastern Europe to aid soldiers deployed as part of Operation Atlantic Resolve, the North Atlantic Treaty Organization (NATO) effort to deter Russian aggression. For this work, along with a few other tasks, my colleagues and I were granted the American Bar Associations Excellence in Legal Assistance to Military Personnel award, of which I am incredibly proud.
In May 2017, I deployed to Kabul, Afghanistan, in support of Operation Freedom's Sentinel. While deployed, I worked for NATO Resolute Support to train and advise Afghan officials to establish the rule of law, counter corruption, and promote human rights. In that position, I was able to advise numerous high-ranking Afghan officials, including the general staff legal advisor, minister of defense, and ultimately, the president of Afghanistan, Ashraf Ghani, who invited my team to the Afghan Presidential Palace so that we could present proposed legislation to improve the structure of the Afghan National Army. During my time in Afghanistan, I also programmed and developed NATO's first comprehensive human rights violation tracking system, R.I.G.H.T.S., which was later presented at a NATO conference focused on protecting children in armed conflict.
To date, I have deployed to nine countries, advised the commanding general of the Afghan war, and had dinner with a foreign head of state, all thanks to the incredibly opportunities granted by the US Army.
How has Pepperdine played a role in these achievements?
Pepperdine taught me to be a leader. In stating that, I don't mean that Pepperdine taught me how to be in charge or how to run or manage an organization, but rather what it takes to be a leader, regardless of position or rank. Pepperdine provided dozens of opportunities to learn and practice the meaning of servant leadership. Professor Bill Arnold's Service Leadership course, the Strauss Institute's Dispute Resolution course, and my fraternity, Sigma Phi Epsilon, each provided me with an opportunity to impact those around me and strive to achieve whatever objective my team and I were working toward.
Who inspires you and why?
The greatest inspiration in my life has come from my father, who was born into poverty in Soviet Hungary and dreamed of a better life. However, where so many are keen to dream, my father made it a reality. At the age of 14, he began his escape attempts, ultimately finding success just a month before his 18th birthday when he was able to cross the Italian border and request asylum. Even then, he didn't stop. He continued to fight against the odds, making his way into Canada as a refugee, and ultimately into the United States where he established and grew a successful company. Yet, despite all the incredible accomplishments, and the overwhelming odds stacked against his success, he is not a boastful man. He is overwhelmingly thankful to God and the United States for the opportunities granted to him. It is this humility that I admire most.
What's next for you? Five-year outlook? Ten-year plan?
From my time in Afghanistan, I've grown a great passion for the rule of law. It is my hope that my future will involve its establishment or maintenance at home or abroad. I would like to continue my travels throughout my career, master a variety of foreign languages, and be a citizen of the world. There is so much to learn from different cultures, and so much to experience around the world, that I cannot imagine life abroad not playing a large part in my future. In the meantime, however, I'll have to see where the army sends me next.
What is one of your favorite hobbies?
Reading. While I enjoy fiction, my favorites books are about history, philosophy, and economics.
What is your favorite quote?
"The unexamined life is not worth living." — Socrates