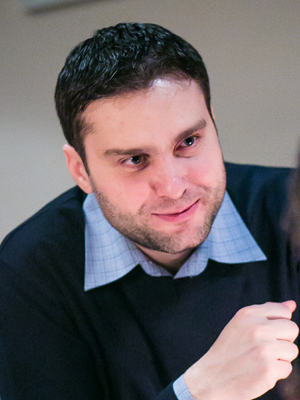 Radu Oprea
Galați, Romania
Title: President
Company: Young Entrepreneurs Association from the Southeast Region of Romania
AT A GLANCE:
School of Public Policy Class of 2008
MPP, Public Policy
What does being one of Pepperdine's Outstanding Alumni Abroad mean to you?
It is a great honor and a great responsibility to receive this distinction. I am honored because it comes from the organization that contributed to me having the time of my life while in graduate school. The quality of education, classmates, professors, staff, and the location in Malibu made my two years of master's studies rewarding and exciting. I can honestly say that graduation was the saddest moment of my time at Pepperdine, because everything was over. This distinction also brings great responsibility, because I am aware that current and future Pepperdine students want to belong to a network of daring wave makers. So I need to make sure my projects always make a meaningful difference in people's lives.
Describe any significant achievements in your life in vocation, service, and/or philanthropy.
My greatest achievements stand in the two skills I developed along the years: grant writing and project implementation. I have never had a secure, well-paid job. I had to put my two skills to work every time I saw an opportunity for a new project, particularly in the two areas I am passion about: participative democracy and entrepreneurship.
I am very proud of the projects I am coordinating at any given moment. For example, in 2015 my team and I implemented the project Start UP Smart, which was funded by the European Commission's Human Resources Development. We trained 400 people in entrepreneurship and organized a business plan competition where we selected 42 winners to each receive €25,000 of seed funding. We are now implementing Start UP Smart 2.0 with 350 new trained entrepreneurs and 42 new beneficiaries who will each receive €33,000 of seed funding.
My most significant project is Cudalbi 2020. Cudalbi is a marginalized village in my home county of Galați, where my team and I are implementing a $4 million project to help residents have a better life. Some of the community activities include building the infrastructure to bring gas to the village; renovating an old school and transforming it into a community center where we will be providing programs like after school care, basic family planning education, a chess club, an autism program, and a foreign languages club; renovating the local emergency unit and buying medical equipment; renovating five houses owned by impoverished residents; organizing training courses for vocations like elderly care, babysitting, trade work, baking, cooking, construction, truck driving, assistant management, and information technology jobs for 250 residents; teaching entrepreneurship to 120 residents and offering $27,000 of seed funding to 20 new startup businesses; providing basic job search services to over 500 residents; providing a re-insertion program for the residents who have not completed middle school so that they become eligible for job opportunities; organizing an award competition for middle school students so that they achieve higher levels of academic success by offering yearly subsidies to the best 250 students; implementing an employment program where companies receive subsidies to hire at least 150 residents from Cudalbi; and organizing a citizen engagement program with 20 world cafes to engage residents in basic policy making.
How has Pepperdine played a role in these achievements?
Pepperdine School of Public Policy played a major role in helping me develop my grant writing skills and discover a true passion for the area of participative democracy. I had no idea at the time of my graduate studies that citizens can engage in the policy making process through various participation methods and offer input on pressing policy issues. I took this new knowledge and excitement back to Romania after graduation, and citizen engagement is now either the overall objective of a project or at least a small activity to reach a greater purpose.
My summer internship at the Los Angeles mayor's office in 2007 led to an off-campus job at a small consulting firm. This job started with a month-long writing training session. Although I had some experience in grant writing at the time, this crash course in writing and the work I was doing afterwards in researching and writing municipal services reviews helped me master my grant writing skills. I still have moments when I return to Pepperdine's resources when working through a challenge.
Who inspires you and why?
I am always inspired by my next project. I choose it to be as exciting as possible. Sometimes this comes with implementation difficulties and bureaucratic challenges, but these elements are part of the process.
What's next for you? Five-year outlook? Ten-year plan?
My next project is called Dracula Village. This is aimed to be an ideal vacation spot in Bran, Transylvania, which allows you to step back in time to the days of Bram Stoker and soak up some vampire spirit. The location of this project offers an awe-inspiring view of the famous Bran Castle, and the houses that my team and I plan to build are thematic and designed in the old Bran style to the finest detail by our architect. Our greatest supporter and friend is Dacre Stoker, great grand-nephew of Bram Stoker and author of Dracula's sequel, Dracula the Un-Dead, and the new Dracula prequel, Dracul.
How do you prepare for a busy day?
A good-sized latte.
What is one of your favorite hobbies?
Everything vampire related, like vampire festivals in Transylvania, and vampire movies, books, and games. I attend the International Vampire Film and Arts Festival in Sighișoara, and the Full Moon Festival in Biertan, and spend Halloween at Bran Castle.
What is your favorite quote?
"Good judgment comes from experience, and a lot of that comes from bad judgment." — Will Rogers
What profession other than your own would you like to attempt?
Teaching is a profession I would like to try someday.