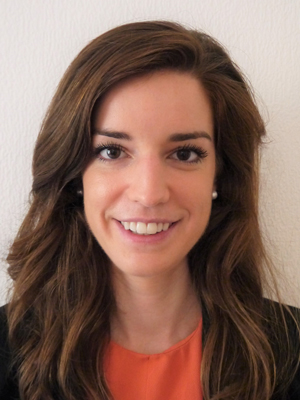 Taylor Clayton
Geneva, Switzerland
Title: Environment and Trade Consultant
Company: United Nations Environment Program (UN Environment)
AT A GLANCE:
Seaver College Class of 2012
BA, International Studies
BA, Spanish
What does being one of Pepperdine's Outstanding Alumni Abroad mean to you?
It's a huge honor to be nominated as an Outstanding Alumni Abroad. To me, this means living out Pepperdine's mission of "purpose, service, and leadership" in an international career and beyond.
Describe any significant achievements in your life in vocation, service, and/or philanthropy.
I'm proud of my current work at UN Environment, as the path to getting here was not always easy. Working at the UN in Geneva has really been a privilege. I am constantly inspired by my peers and my colleagues, who are the brightest and most well-traveled people I know. They continually challenge me and my worldview, sharing their perspective on politics, economics, and today's biggest global crises. I'm proud to count myself among such a remarkable group and to have, in my twenties, achieved my longer-term goal of an international career.
How has Pepperdine played a role in these achievements?
Pepperdine provided me with so many formative experiences that paved the way to my current career—spending a year in Buenos Aires, Argentina, a fully-funded month-long language exchange program in Mexico, a service trip to the Dominican Republic, and coursework in international economics, intercultural communication, and more. Pepperdine further cultivated my curiosity for the world and nurtured an open, investigative mindset, a love for foreign languages, and a desire for a meaningful career path.
Who inspires you and why?
Sheryl Sandberg is really an inspiration. I read Lean In the year after I graduated from Pepperdine, a period where I felt a bit lost career-wise. I found her advice incredibly inspiring and encouraging. There are many ways for women to lead ambitious lives and careers; we just have to be ready to seize the opportunities that come our way.
What's next for you? Five-year outlook? Ten-year plan?
I am not entirely sure at the moment, though I'd like to gain work experience both in the private sector, from a sustainability angle, and in a developing country context. When I graduated from Pepperdine six years ago, I never could have predicted that I would live and work in Switzerland, and I can only imagine where the next six years will take me.
What is one of your favorite hobbies?
Alpine skiing. I feel very fortunate to live so close to the French and Swiss Alps, and have world-class skiing out my backdoor. There is nothing better than a sunny day on the slopes spent in good company.
What is your favorite quote?
"i want to apologize to all the women i have called beautiful
before i've called them intelligent or brave
i am sorry i made it sound as though
something as simple as what you're born with
is all you have to be proud of
when you have broken mountains with your wit
from now on i will say things like
you are resilient, or you are extraordinary
not because i don't think you're beautiful
but because i need you to know
you are more than that" — Rupi Kaur
What profession other than your own would you like to attempt?
I think I'd really enjoy working as a high school guidance counselor. I love interacting with and mentoring students, who remind me of my not-so-much-younger self. I'd love to have the opportunity to share my experiences and lessons learned in order to help others achieve their goals.