Beth A. Lopez
Graziadio Business School | EMBA 2013
Director of Ambulatory Care Services, Kaiser Permanente
---
Beth Lopez has been working as a manager of frontline nurses during the COVID-19 pandemic. She is being honored for her tireless commitment to these nurses and for inventing a microbe-scanning device that is used to detect germs on surfaces.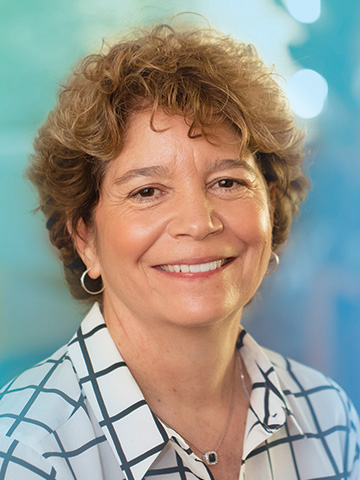 What does being an honoree of the Outstanding Alumni in Healthcare campaign mean to you?
The efforts of healthcare workers during this COVID-19 outbreak have been nothing short of heroic. All around the world, we have seen the courage and dedication of doctors, nurses, and frontline workers risking their lives day in and day out. As a witness to many outbreaks and the spread of illness, I was inspired to invent a microbe hand scanning device that will provide many industries a way to ensure and measure proper hand hygiene. As a registered nurse, I am genuinely humbled to be an honoree for my work in the healthcare industry during this unprecedented time.


Describe your road to success.
I started my nursing career as a new grad in an adult oncology unit, where cancer patients receive diagnostics and treatment. I learned how difficult it is to lose a loved one. I mastered the ability to give a meaningful hug and the importance of listening. I moved to gastroenterology, a specialty devoted to diagnosing and treating disorders affecting the digestive system. I saw firsthand the importance of colon cancer screening and how a 30-minute colonoscopy saves lives by identifying and removing polyps before turning into cancer. I moved to a level-1 trauma center and cared for those who sustained injuries post car accidents, the importance of seatbelts, gunshot wounds, and multiple stab wounds. I was in awe of the powerful bond police officers have with their partners. When they wake up from an unconsciousness they ask, "is my partner okay" before anything else. I fully understand and appreciate the importance of donor registries and how a tragedy can be another family's saving grace. Most importantly, I discovered unquestionable teamwork during acute lifesaving measures.
Eventually, I went into management, where I have been able to share my experiences with others. I enjoy teaching and mentoring, and watching staff grow in their competence and confidence. There are great times, busy times, sad times, and challenging times. I hear so much about life, and life struggles from patients and staff, though most influential to me, is when I realized we are not all in the same 'boat' or from the same 'boat,' each of us has a story that should be heard and embraced. Throughout my nursing career, I have seen the need to ensure proper hand hygiene- every time. Hand hygiene and the possibility of cross-contamination led me to invent a microbe hand scanning device of which I am hopeful for future success that will impact every one of us.


Who has helped you achieve success in your career?
Many have helped me in my career, some helped me grow in healthcare, and others gave me a chance to share and show my work. However, the people who have and continue to help me achieve success are all of the patients, physicians, and staff who take the time to share their stories, comments, and just as importantly, their discontent.


Describe a lesson you've learned from a challenging time in your career or life.
One of the most valued lessons I learned came early on in my career as an oncology nurse. I learned the value of uninterrupted presence, the true meaning of empathy, mindful listening, and family connection. I will always remember my terminal patients who shared their stories with me when their comments were really meant for their families, daughters, sons, significant others. I can see their faces to this day as I reminisce their memories, regrets, and questions of worth or purpose, "Was I a good mother, a good father, a good child or sister or brother," "Did I make you proud?" or "Did I give you a good life?" Many families shared they did not want their loved one to see them cry, or they did not want them to think they were giving up on them. On numerous occasions, I heard families say to their loved one, "Please don't talk like that, you are going to be fine" as the family member, who means well, reaches out and pats their loved one's hand. This action may stifle the patient and may hinder their ability to share their final words to you. The loved one is tired. They know when it is time. It is okay to cry. It is okay to say, "It's okay." A loved one wants to hear from their family that their life was valued and meaningful. Otherwise, what happens is that someone other than you is privy to all that your loved one wants to their family before leaving this earth. The opportunity is lost forever, and you can never get that time back. This lesson has helped me both personally and throughout my career, and when an opportunity presents itself, I love to share this sentiment with others.


What profession other than your own would you like to attempt?
I have been lucky enough to be surrounded by many highly skilled and talented people; these relationships have led me to the world of lobbying. I have the knowledge and experience to help elected officials draft legislation concerning our foster care system. I believe there is much to do, and it starts with those who birthed the child.


"As a registered nurse, I am genuinely humbled to be an honoree for my work in the healthcare industry during this unprecedented time."
What's next for you?
I am fortunate to have experienced all that I have throughout my career and embrace the skills I learned through the EMBA program. I am looking forward to furthering success with the microbe scanning device. Its success will help us all stay safer, whether we work in or seek healthcare, work in the food industry, eat raw foods, fresh fruits, and vegetables, or rely on any other sector to enforce proper hand hygiene. Besides the microbe scanning device, I am writing a book named "How to Prepare for the Death of Your Mother". Once retired, I plan to advocate on behalf of children in foster care.


What is your mantra or favorite quote?
For everyday living, I look to this quote, "People will forget what you said, people will forget what you did, but people will never forget how you made them feel." - Maya Angelou
My everyday mantra, frequently shared with a new manager, is found in a book called "The Four Agreements".
"Be impeccable with your word. Don't take anything personally. Don't make assumptions. Always do your best." - Don Miguel Ruiz