Elan Javanfard
Graduate School of Education and Psychology | MA 2013
Division Director of Residential and Substance Use Services, Didi Hirsch Mental Health Services

---
Elan Javanfard has spent his career increasing awareness and decreasing stigma on mental health. He was awarded the American Association of Suicidology's Inaugural Crisis Residential Unit Excellence Award.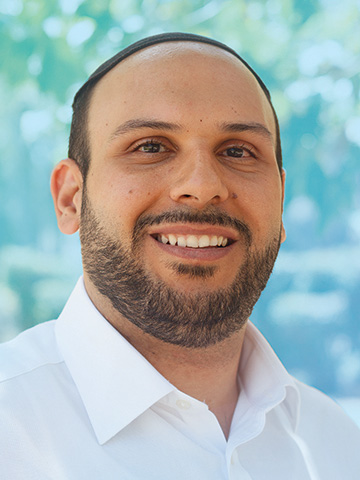 What does being an honoree of the Outstanding Alumni in Healthcare campaign mean to you?
Being an Outstanding Alumni in Healthcare honoree is a humbling and validating experience. This honor validates the long hours, challenging clinical moments, and the experience of all of our clients. I and every person who has opened themselves to allow the space for therapy to begin share this honor.

Describe your road to success.
As many therapy sessions go, my road towards where I am took many steps, missteps, and moments of guided discovery. My road began as a student intern who was hungry to learn, meet with any client, and seek all opportunities to work with diverse populations. Didi Hirsch Mental Health Services, a nonprofit community mental health setting that I have worked at over the previous eight years, shaped my road. I started there as a student intern, worked my way into therapist, clinical supervisor, and then a program manager. Each day I continue down my road by keeping the mind of an ever-learning student, ready for new challenges and opportunities.

Who has helped you achieve success in your career?
The people who helped me succeed the most in my career have been my clinical supervisors and my family. My former supervisor Alaina took a chance on me as a young clinical manager and provided me with training, management coaching, and growth opportunities to help me become the mental health professional I am today. My family has sacrificed so much time, money, and emotional support to drive me on a day-to-day basis.

Describe a lesson you've learned from a challenging time in your career or life.
To be candid the most challenging time in my career is the present. With all of the adjustments needed to provide clinical care during the pandemic there are two large lessons that I am continuing to learn: flexibility with change and resilience during difficult times. COVID-19 took away many of our natural coping skills and avenues to distress. The lesson I have continued to learn is understanding that the only constant is change and how to proactively respond to change will shape our future.

How do you prepare for a busy day?
I prepare each day the same to support consistency.
I set an intention for each day by starting with prayer. Then I review my schedule for the day and create a checklist of tasks to accomplish or items to address. Each morning I stretch physically to prepare my body and mind for what the day holds. If I know it is a particularly busy day, I let my wife know that I will be less reachable today to reduce her worry as well.
"The lesson I have continued to learn is understanding that the only constant is change and how to proactively respond to change will shape our future."

What's next for you?
As I advance my career in the field of Psychology, my continued goal is to reduce the stigma of mental illness particularly within my personal cultural groups, Jewish and Iranian. My eventual goal is to support the creation of specialized clinics to support these populations in ways that continue to reduce stigma and provide culturally competent care. Furthermore, Los Angeles County suffers tremendously from a lack of residential mental health services for the most acute and chronic populations. I hope to support the struggle of homelessness by advocating for more funding and parity for safe living treatment environments for everyone. I currently serve on the board of the Crisis Residential Association, an organization dedicated to support the operational and clinical functions of Crisis Residential programs around the world.

What is your mantra or favorite quote?
There are two:
"Between stimulus and response there is a space. In that space is our power to choose our response. In our response lies our growth and our freedom." - Viktor E. Frankl
"What lies behind us and what lies before us are small matters compared to what lies within us." - Ralph Waldo Emerson
Such wonderful quotes with depth.