Jean Hartley
Seaver College | 2016
Neonatal Intensive Care Nurse, The Johns Hopkins Hospital

---
Jean Hartley's work in the neonatal intensive care unit at The Johns Hopkins Hospital has earned her a special place among the families and children she sees. She also organized participation in the "Sunrise Dance Project" to lift spirits during COVID-19.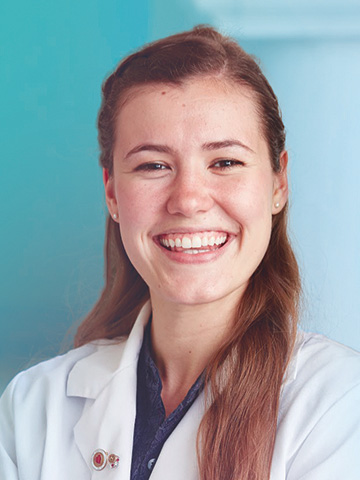 What does being an honoree of the Outstanding Alumni in Healthcare campaign mean to you?
I am so surprised and grateful to be honored, especially at our beloved Pepperdine and especially during such a time as this. I truly hope any part of my story and passion for nursing can be used to encourage and uplift my fellow Waves. I'm also so inspired by my fellow honorees and thankful for the team who has dedicated their time and talents to sharing these important stories.

Describe your road to success.
A tiny spark of passion fanned into flame by supportive loved ones plus the blessing of an amazing education solidified by a handful of powerful encounters with medicine, paired with God's sovereignty and grace has equated to a very special dream come true! The logistics involved earning my bachelors of science in Sports Medicine from Pepperdine while completing an inpatient internship with UCLA Health, continuing on to earn my masters of science in Nursing at The University of San Diego, and ultimately landing my dream job at The Johns Hopkins Hospital in the Neonatal Intensive Care Unit.

Who has helped you achieve success in your career?
Probably everyone who has ever said a kind word to me ever! But more specifically my parents Janelle and Jeff, my sister Alana, my ridiculously supportive circle of friends (including my best friend Caili J. Hacker whom I met in the Sandbar), my fellow nurses in the family (my Grammy and cousin Kayla), two of the brightest women of faith and science I have ever met - Dr. Cooker Storm and Dr. Priscilla MacRae, countless other professors and mentors, my nursing school class, all of my current and former coworkers who are patient with me and help me grow, and of course the author and perfecter of my faith, without whom none of this would be possible.

Describe a lesson you've learned from a challenging time in your career or life.
I've only been an ICU nurse for two years, but in those two years, I have witnessed much heartbreak and suffering through my patients and their families. Nurses are afforded this beautiful opportunity to meet families for the very first time in the midst of what may be their darkest days. I think our human response is sometimes to refrain from fully exposing ourselves to the painful situations of other people, but (alongside caretakers everywhere) I've explored the alternative - of jumping into the chaos and fear and doubt and horror of it all with people I've just met and trusting that God will meet us there - and I have to say, He has surpassed my belief every time I've made that choice. I've held a baby whose entire life this side of the womb lasted thirteen minutes, and the love and beauty that existed in those thirteen minutes palpably exuded holiness. Of course, moments like these are incredibly painful, and I would never mean to exploit a family's grief and healing by trying to lighten their weight. But through moments like these, God has taught me not to fear pain and sadness and death. He's in it all, and we are blessed to be able to comfort those who find themselves there too.

How do you prepare for a busy day?
I try to wake up early, read my devotional, eat a good breakfast, move my body (even a little), and say a prayer before launching in.
"Nurses are afforded this beautiful opportunity to meet families for the very first time in the midst of what may be their darkest days."

What's next for you?
I'm currently back on contract at Hopkins as a travel nurse after spending the last six months at Stanford. I'd like to explore nursing abroad, mostly to see how other countries and cultures approach end-of-life care for neonates with terminal diagnoses. I want families who are faced with these impossible decisions to feel supported in every way, and I've got a lot to learn to get there. Maybe one day I'd like to be a palliative care advocate and speak to audiences about how we can improve these unique situations to provide the very best care to our youngest people in their final days and moments.

What is your mantra or favorite quote?
I draw strength from the entire 13th chapter of 1 Corinthians. I don't really have one mantra but I do keep a running list of uplifting quotes in my phone notes. The most recent quote I have is one I overheard in the ATL airport bathroom. A little girl with her mom in the stall next to me said, "I love who you are, Mama." It was so tender and unexpected. So that will be this week's favorite quote.