Jeffrey Brookman
Seaver College | 1972
Physician, Southern Nevada Veterans Administration Healthcare

---
Jeffrey Brookman was awarded the Silver Star for his work as a physician. Additionally he was named Physician of the Year by Planetree Medical Association as well as the Humanitarian Physician Award from Clark County. His work and service in Operation Restore Hope in Somalia has distinguished him as one of this year's honorees.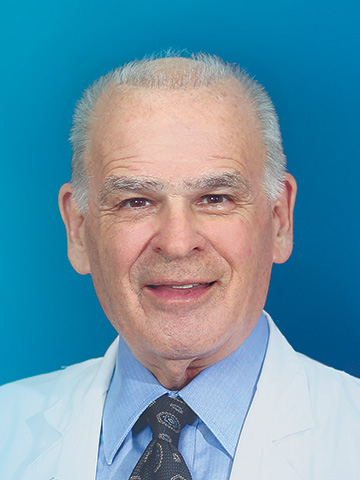 What does being an honoree of the Outstanding Alumni in Healthcare campaign mean to you?
Probably gratitude and affirmation is what I feel most. All I ever wanted was to be a doctor, to help people—it requires hard work, passion, dedication, and discipline. To receive a pat on the back is extremely gratifying. It is also humbling.

Describe your road to success.
Wow, I guess I've never thought of "success" per se, but I consider myself very blessed to do what I do. I grew up in the row houses of South Philly, neighborhoods where everybody knew everybody, very close-knit families, mostly Italian, (lots of great singers come from South Philly), and sprinklings of Jewish families like mine. I knew I wanted to be a doctor from the age of 10. All of my grandparents were immigrants from Russia, the Ukraine to be exact, who came to America to escape the holocaust. One of my grandmothers spoke little English and had chronic heart problems. Watching the doctors who came to visit her on house calls, I was in awe of their ability to help people overcome illness. The comfort and reassurance they gave, beyond a prescription or medical procedure. That was it for me!
Several of our doctors in South Philly were osteopathic physicians and I liked the concept of holistic, total patient-centered care, so that was my choice for medical school. I married my Pepperdine sweetheart at the beginning of medical school and when my training was finished, I decided I wanted to set up practice in her hometown, Las Vegas. I loved the wide open spaces; Las Vegas was growing, needing new young doctors, there were great opportunities.
I had a thriving, wonderfully successful and fulfilling practice. After a few years, we decided we should give back. We believe in noblesse oblige, to whom much is given, much is expected. So, being very patriotic, extremely grateful that we live in this great nation, I would join the Navy reserves to work with the Marines. The Marine Corps is an exceptional group of dedicated, disciplined, hard-driving men and women, and I felt that serving them one weekend a month and two or three weeks in the summer would be a glorious opportunity to give back. A short time after I was sworn in and had completed Navy and Marine Corps training, I was called to active duty for Desert Storm. It was a challenge on many levels but my wife and I accepted it gladly and ultimately I was called to active duty three more times. Although totally unexpected, I would not change my time with the Marines for any millions of dollars. The part of the journey spent in the military was priceless. I've tried to carry the camaraderie and devotion with me today in my medical practice, and I believe it is enhancing my practice. My grandparents probably would have died in concentration camps had they not come to America, so nothing gives me greater pleasure than to fight for our country, stand for its flag, and be grateful to be here, doing what I do.

Who has helped you achieve success in your career?
My wife.

Describe a lesson you've learned from a challenging time in your career or life.
Medicine teaches you new lessons everyday and many patients present doctors, especially those of us in primary care, with new challenges in diagnosis and treatment decisions almost daily. I suppose though, no greater challenge faces any doctor than treating patients on the battlefield. Both Somalia and Iraq definitely stand out in terms of lessons learned in both patient care and humanity. I was not in a comfortable hospital or clinic surrounded by the usual technology available to us. In both cases the Marines were first first to arrive on the scene of impoverished war-torn lands where I was privileged to lead teams of doctors, nurses, and corpsmen who had little more than their heads, their hands and their hearts and few medical supplies to treat patients.
Somalia was a humanitarian operation, however bullets were constantly flying and the warlords were murdering civilians everywhere. Our decision to set up treatment centers among the Somali citizens was definitely a defining moment in my life. We were faced with dangers on every level, murderous warlords who didn't want us there and people ravaged by disease and starvation. I was blessed to have grown up in South Philly because I learned to speak Italian—a prominent language of the Somalis. Most Somalis have never seen a doctor and although we had little to offer except comfort and some very basic medicine, the joy and gratitude on the faces of women and children who gave us huge smiles just because we cared enough to share some hope with them was all the reward I ever needed for the years of education and sacrifice it takes to become a doctor. The same was true in Iraq. So today, when I have a difficult case to work with in my spinal cord clinic or treating a difficult diagnosis, I thank God for the wherewithal we have in our country to treat patients, and amazing facilities to work in. Medicine has gone through difficult changes in the last decade, but I remind myself every day, sometimes every hour that being a doctor for me is not a job or a career – it is a mission and a ministry.

How do you prepare for a busy day?
Every morning consists of good exercise, healthy breakfast, daily prayer, and reading, quick look at the newspaper, then on my half hour drive to work listening to an encouraging and uplifting radio speaker or program. I say hello and smile to everyone I see who works at the hospital—it can drain people of their joy working with pain, sickness, death and dying (whether you are a janitor, security guard, front office scheduler, nurse, doctor or chief of staff), and we have scientific studies that show a smile can change someone's attitude for the whole day.
"I remind myself every day, sometimes every hour that being a doctor for me is not a job or a career – it is a mission and a ministry."

What's next for you?
Life is always one day at a time, but I am currently happy to get up every morning and go to work, despite the difficult time we are facing in medicine just now. Long-term plans have always been to do more medical mission work. My wife and I have never actually taken a honeymoon, so that might be nice to do one day also. Our prayer is that God directs our path, each step of the way.

What is your mantra or favorite quote?
My motto/mantra is "my goal is to deliver five star medicine with competence and compassion."