Jerrod D. Writt
Seaver College | 2001
Family Medicine Physician, The Permanente Medical Group

---
Jerrod Writt's work as a physician has advanced the practice of virtual medical care. He also completed his MBA while pursuing his doctorate and his vast span of volunteer work has earned him a special place in his community.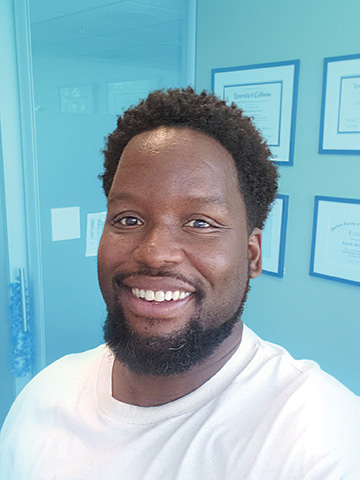 What does being an honoree of the Outstanding Alumni in Healthcare campaign mean to you?
It is beyond humbling to receive any type of award. I hope I can represent and model some of the values that Pepperdine helped instill. Thank you so much. Go Waves!


Describe your road to success.
I spent my time after graduation working in a hospital lab as well as a local pharmacy as I prepared for applying to medical school. Like I did at Pepperdine, I did my best to serve the underserved through this work and through volunteer work during this time as well. All of these experiences allowed me to get into the PRIME-LC program at UC-Irvine School of Medicine and subsequently the Paul Merage School of Business. Throughout my graduate education, I tried to make service the foundation of everything I do. I was lucky enough to train in East LA at White Memorial Medical Center where I continued to be of service to the underserved Latino community. I now work for The Permanente Medical Group as a Family Medicine physician in the Salud en Espanol clinic in downtown Sacramento. I work as an outpatient clinic physician, as a hospitalist, and as an adjunct clinical professor for the Greater Sacramento Family Medicine Residency.

Who has helped you achieve success in your career?
When I was applying to Pepperdine they really pushed the lifelong relationships that you have with the faculty there. Dr. Laurie Nelson and Dr. Michael Feltner have been huge sources of support both during my time at Pepperdine and since graduating. Dr. Feltner was the first professor at Pepperdine that made me think that I could do whatever I wanted to. He congratulated my successes and challenged me to do better. Dr. Nelson was beyond supportive and instrumental in me getting into medical school. They continue to be supportive and inspirational. More than anything, the support of my mom and dad and my two brothers have been pivotal in my success. The lessons I learned at home set me on the path for success and Pepperdine helped me continue down that road.

Describe a lesson you've learned from a challenging time in your career or life.
The church has been a source of support, inspiration, refuge, and solace for most of my life. My deepest friendships, and closest relationships have come from church, or church related things. Most of the spiritual challenges in my post-Pepperdine life have come from the sometimes warranted critique from non-Christians and Christians alike regarding some of the historical and ongoing racism, sexism, homophobia, and mistreatment of certain communities. This is present both within society as a whole as well as the church. Watching friends leave the church because of these things has been difficult. I've done my best to correct my own numerous flaws related to these things and tried to always return to scripture and prayer for guidance. In particular the parable of seed falling on different types of soil leading to different yields of crops and its relation to the durability of one's faith. I continue to learn the lesson that everyone's walk with God is not the same; and that is okay. I would hope that God continues to pursue all of us. And I know as a church we always are striving to do and be better.

How do you prepare for a busy day?
Make a list and get a good night's sleep.
"The lessons I learned at home set me on the path for success and Pepperdine helped me continue down that road."

What's next for you?
Hopefully some sleep! I just finished about 11 days of work in a row between the hospital and clinic. I plan on trying to Facetime my nephew Jaxson and my niece Jordan. Hopefully I will be able to chat with my godsons Declan, Jackson, and Zaine and my goddaughter Quinn as well. I enjoy watching sports far too much so I will probably be saddened by the Dallas Cowboys' upcoming season. I also will hopefully cheer for a Boston Celtics title over the Los Angeles Lakers. I will also be continuing to watch the Waves Men's Basketball and Volleyball in the seasons to come.

What is your mantra or favorite quote?
"There is no substitute for hard work. Always be humble and hungry." - Dwayne Johnson