Kati Morton
Seaver College, Graduate School of Education and Psychology | 2006, MA 2009
Licensed Marriage and Family Therapist, Happyable, Inc.
YouTube Creator

---
Kati Morton has creatively used social media platforms and YouTube to decrease the stigma associated with mental health. She is also an author and public speaker to Google, Unilever, and others.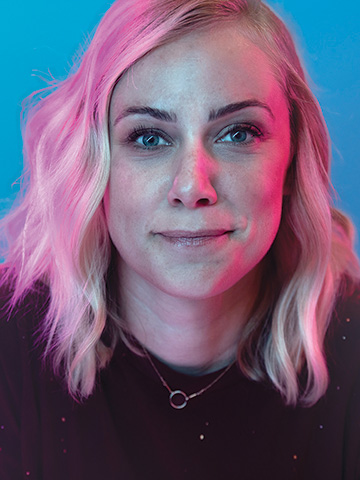 What does being an honoree of the Outstanding Alumni in Healthcare campaign mean to you?
I am honored to be a part of this campaign, and to share space with all of these other amazing people. I also love that Pepperdine selected me and I hope that I can represent just how important our mental health is in addition to our physical health. So often people forget just how linked these two parts of ourselves are, and I am grateful to Pepperdine for educating me, and giving me an opportunity like this to reach more people.

Describe your road to success.
It hasn't been easy, or short, but completely worth it. I started my career while still getting my master's degree at Pepperdine's Graduate School of Education and Psychology campus, by working at a local eating disorder clinic. It was during that time that I realized just how misunderstood mental illnesses were, and my boyfriend at the time (husband now) told me about the power of YouTube. He encouraged me to share what I knew about eating disorders and their treatment with the world, so that more people could understand it. Since nothing in our life happens in a vacuum, the video content I created grew as my audience grew, and I tried to cater my videos to answer the questions that were bothering my viewers. Over the past eight years I have dedicated my time and education to helping break down the stigma associated with mental illness, and encouraging those suffering to reach out and get help. Our community grows every day and we have just hit one million subscribers! I couldn't have done any of this without the education and support I received while at Pepperdine University.

Who has helped you achieve success in your career?
Aside from Pepperdine and the education I received while in school, my husband Sean has been vital to my success. He was the reason I started the channel, he has edited every one of my videos, and he believes in me when I don't even believe in myself. He is patient, kind, and the real reason I have been able to accomplish as much as I have.

Describe a lesson you've learned from a challenging time in your career or life.
The best lesson I have learned is to never give up. I know we hear that all the time, but perseverance and consistency have really been the key to my success as a therapist and YouTube creator. Back in 2017 I was shopping around an idea I had for a book. I wanted this book to be a sort of starter guide for mental health, because people often don't know how to ask for what they don't know about. Meeting after meeting, my agent and I heard no. But we kept at it, we took the feedback we received in every meeting and decided whether or not it was constrictive. After reworking our pitch and proposal, we finally met with an editor that truly understood the importance of a book like that being in the world, and we created "Are u ok?: A Guide to Caring for Your Mental Health". It was released in December of 2018, and I am already working on my next book with that editor all about trauma. So stick with it, believe in yourself, and trust me, you will find someone who sees your true value.

How do you prepare for a busy day?
Getting a good night's sleep and eating a filling breakfast
"Over the past eight years I have dedicated my time and education to helping break down the stigma associated with mental illness, and encouraging those suffering to reach out and get help."
Kati Morton ('06, MA '09)

What's next for you?
I recently launched a podcast called "Ask Kati Anything", where I answer listeners questions in a longer format, and I am almost finished with the manuscript for my next book all about trauma. I also continue to release videos on my YouTube channel every Monday, and hope that by doing so someone's life is made just a little bit easier.

What is your mantra or favorite quote?
"Comparison is the thief of joy." - Teddy Roosevelt