Nicole Durden
School of Public Policy | MPP 2007
Chief Operating Officer, SonoSim, Inc.
---
As the chief operating officer at SonoSim, Nicole Durden oversees the development and distribution of software that allows healthcare providers to learn ultrasound on their own personal computers. It has been distributed in more than 1,300 medical institutions to more than 60,000 members with 40 distributors worldwide.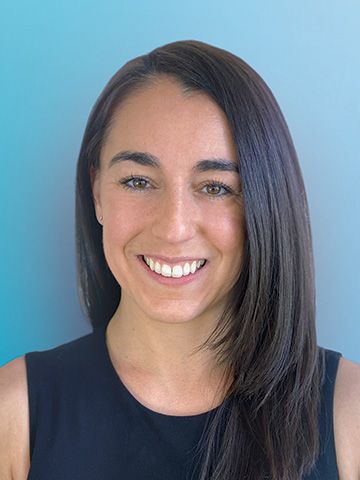 What does being an honoree of the Outstanding Alumni in Healthcare campaign mean to you?
This has been a difficult year for the entire international community, and I am extremely honored to be included with such an outstanding group of individuals, especially our frontline healthcare providers, as the world tackles this global pandemic.
In the midst of such a historic time, I am abundantly proud of our organization as we support the healthcare community by providing online ultrasound education and training, particularly as bedside ultrasound has proven to be an extremely useful tool in assessing clinical complications from COVID-19. I hope that the innovative work we continue to pursue leads to improved patient outcomes and a healthier community overall.

Describe your road to success.
It all started with an innate love for education and a perpetual curiosity to learn, which created a path for me to become the first in my family to go to college, and the first to receive two college degrees. After graduating from Drexel University with a Bachelor of Science in Digital Media, I set forward looking for a way to combine my love of media and technology with public service. This ultimately led me to the School of Public Policy at Pepperdine. There I had the opportunity to intern for the Department of State in Kuala Lumpur, Malaysia. After completing my master's program, I was lucky enough to combine my digital media skill set and my growing interest in international affairs at the UCLA Center for International Medicine, an academic nonprofit organization that was developing computer-based educational programs for healthcare providers around the world. This took me to different corners of the globe including the Kakuma Refugee Camp in Kenya where we assisted in developing a curriculum to train staff on treating sexual assault survivors, as well as remote midwifery clinics in Ghana developing family planning training, and hospitals in Indonesia looking to improve the emergency medicine education of their local staff.
All the while, a sense of patriotism and desire for innovation drove my success at Pelagique, a start-up incubator which initially focused on innovating military medical education, particularly identifying scalable ways to train military physicians on lessons learned from Operation Enduring Freedom and Operation Iraqi Freedom. That led to the commercialization of the SonoSim® Ultrasound Training Solution, a laptop-based integrated ultrasound training platform that aimed to provide an "anytime-anywhere" solution for comprehensive ultrasound training.
Now, with almost ten years at SonoSim, I pride myself in our ability to create educational opportunities for healthcare providers around the world. Developing novel products that change the way physicians, residents, and students learn, and taking them to market has been exciting and challenging. Cultivating a team that is committed and dedicated to making a difference in the world is continuously rewarding. Building a product that ultimately helps provide better care to patients is extremely humbling.
Throughout my career, I have been constantly reminded of the importance of education. My education was the crux of my success, and now I am able to enjoy a career that creates educational opportunities for others using different forms of media and technology. For me, it truly has come full circle.

How has Pepperdine played a role in your success?
The School of Public Policy provided me with a foundation of knowledge that abundantly prepared me to enter a variety of different industries, and manage the intersection of public and private partnerships. In hindsight, after spending time at the Department of State, in an academic non-profit organization, and ultimately at a technology start-up company, I was able to seamlessly move between industries. My education from Pepperdine left me with a strong combination of confidence, professionalism, and an academic foundation that prepared me to succeed.

Describe a lesson you've learned from a challenging time in your career or life.
Becoming a chief operating officer at 36 years old is an accomplishment that I am extremely proud of and a journey that has taught me many valuable lessons. I quickly learned about the importance of self-advocacy within your career, and the importance of pushing yourself outside of your comfort zone. I try to share the lessons I've learned with my team, and I hope it will help them as they continue to navigate their career paths. Always ask for opportunities, as you cannot expect anyone to do it for you. Commit yourself to lifelong learning, and do your research if something is new or unfamiliar to you. Be overly prepared. For my female colleagues, don't ever be afraid to be the only woman in the room. Be confident. Trust your gut. Try, and try again.

What profession other than your own would you like to attempt?
Chief of staff to the president.
"Be overly prepared. For my female colleagues, don't ever be afraid to be the only woman in the room. Be confident. Trust your gut. Try, and try again."

What's next for you?
Our team at SonoSim is more committed than ever before to continue providing ultrasound education, both domestically and internationally, as the need for remote training continues to grow during this pandemic. It is often easy to get lost in the chaos and busyness of our workdays, and I appreciate this honor as a reminder to slow down and reflect on the work that I've been able to accomplish. It also serves as motivation to continue pushing forward as there is still so much more to do. I am looking forward to seeing where the future leads, and how we can continue to innovate the way that people learn. Additionally, I am very much looking forward to my now postponed wedding that will take place in September 2021.

What is your mantra or favorite quote?
"Real change, enduring change, happens one step at a time." —Ruth Bader Ginsburg