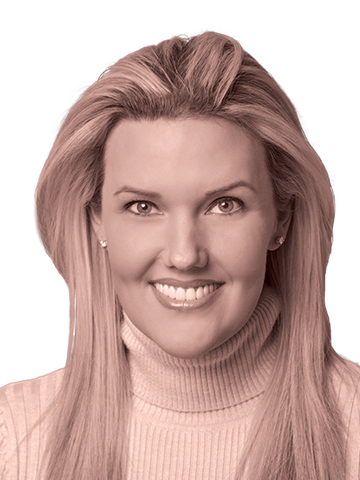 Alexis Bonnell
Seaver College | 1999
Chief Innovation Officer, USAID
What does being an honoree of this campaign mean to you?
I can think of so many Pepperdine female leaders who are more deserving of recognition than me, so I feel very humbled. Pepperdine's focus on being a servant leader is important to me. In my own way, I have attempted to live a life of service to others around the world that face considerable challenges. It is truly an honor to have found a way to turn service into an exciting career, full of amazing people who have helped me on my journey. This recognition reminds me to give back and ensure that each day I am paying it forward.
Describe your success story.
I could share a timeline of my journey and everything that contributed to it, but I would rather share a philosophy that probably is at the root of my journey. I call it "open doors and open windows." Most of the time when we think about and plan our lives, we make clear decisions with an expectation that those decisions will present us with obvious, "open doors" of opportunity to walk through. For example, someone who wants to be a lawyer would go to school, pass the bar, and get a job at a firm. "Doors" are great, wide, and are pretty straightforward about where they lead. It might take you a while to pass through one, but once you do, it all makes sense and seems part of the plan. "Open windows" are different. "Open doors" are the plans you make for yourself; "open windows" are the unexpected and unplanned opportunities God gives you along the way. Ironically, "windows" aren't obvious. "Windows" appear if you are willing to look to the side. They also are not as easy to get through as a door. You have to climb a bit; and it might feel uncomfortable, risky, and uncertain. But these "open windows" are options for a different life path—a path you are ready for, that can bring you great success, but not the obvious path you planned or expected. I had to use more faith in God and myself to pursue an "open window.. But in hindsight, my life—and all that has been brought into it—is a series of unlikely opportunities, or "open windows" and I just couldn't help myself; I had to peek at what might be on the other side. And that made all the difference. "Open windows" are presented to us all the time, if we are willing to see them.
How has Pepperdine played a role in your success?
Actually, it was a fellow Pepperdine classmate, Amanda Martinez. She helped me to see a window and helped open it. She met a leader in the United Nations while she was on vacation. They got to talking about the hardest part of his job and he said, "finding people I can drop in anywhere and knowing they will get the job done." I am still not sure why, but during their conversation, Amanda thought of me, and told him that he would be crazy not to hire me. So he called me right then and there while she was sitting with him, and that began my journey. Now, years later, I continue to have one of the most exciting jobs in the world. Additionally, another Pepperdine alum and sorority sister, Lisa Bryan, joined me in Afghanistan for part of that journey. Other Pepperdine women like Jessica Hogue and Eileen Sanchez acted as an incredible support system when I took the plunge to head overseas. They modeled the ideals of women in leadership that I try to emulate. Pepperdine has helped me in other ways. I realized that my "risk appetite" was only as strong as the people I felt I had in my corner, and Pepperdine women often gave me the strength to turn "risk" into "reward. Additionally, Pepperdine's strong network of international students, especially from the Middle East, helped humanize the journey for me. I wasn't as intimidated to go to the Middle East or Islamic countries because at Pepperdine, I had friends from Egypt, Dubai, Afghanistan, Turkey, Iran, and Jordan. They helped me understand that I could co-exist and thrive with people who were of a different religion and different culture.
Describe a lesson you've learned from a challenging time in your career or life.
In Afghanistan, we lost a number of staff and colleagues to horrible tragedies. One was a cafe bombing. A colleague was killed, and I had to help with the response and the preparations for his body to be reunited with his family outside Afghanistan and the services to honor him in Afghanistan. I think that was a moment where everything came crashing down. I realized that the danger was real and that every day could be the last. But, it also put in perspective what so many were willing to risk for something in which they believe. I chose to process that situation and those emotions by believing that God has a plan for me and for how long I am meant to be here, and that I wasn't going to spend time second guessing things. It changed my relationship with risk and my perspective. After life and death situations, other decisions didn't seem as risky as they did before. This actually made me more comfortable to take on risk and make faster decisions in my work and personal life. I was able to be more decisive because I could see risk balanced as both threat and opportunity in a new way.
How would you describe your leadership style?
I hope that my leadership style starts with being authentic and introspective. I think it is important to always reflect on why you are doing something and what your motivation is, and then to own that. It might sound simple, but I accept that people are generally motivated by ego and fear, including myself, so coming to grips with my human nature and trying to drive it versus letting it drive me has been critical. This has helped me feel confident that even if I was championing something wild, that I was doing it for the right reasons.
I also try to surround myself with people that are smarter than me and empower them. In my role as chief innovation officer at USAID, I don't see my job as being the smartest or most innovative person at USAID. I see my job as trying to keep the bureaucracy from strangling all of the other smart and innovative people, and as contributing to a culture where those people can thrive. I am amazed by the quality of people I work with at USAID. I never thought or expected I would work as part of the US government, but to work with the brilliant and driven people at USAID and to see how hard they work to improve our world, and the results they achieve every day, is truly an honor.
Finally, I have three lessons I have learned about trying to drive change. When you think about the people you are asking to evolve or change, think about:
(1) How can I make their lives easier?
(2) How can I make them look good?
(3) How can I give away the win if this is a success?
I haven't always been successful at these three things, but I find when I have been successful it is usually because I managed to get a few of them right.
"Pepperdine's focus on being a servant leader is important to me. In my own way, I have attempted to live a life of service to others around the world that face considerable challenges. It is truly an honor to have found a way to turn service into an exciting career, full of amazing people who helped me on my journey."
Who has helped you achieve success in your career?
I am where I am because of the people who helped me. That list would be too long to print, so I will focus on one person as an illustrative example of how God has blessed me with amazing people on my journey.
Dr. Roy Adler, a Pepperdine professor of mine who passed away years ago, was one of the first leaders to take me seriously. I had the great fortune of being at interesting places at interesting and pivotal times. One of those was to be able to join the earliest version of the Internet Trade Association, then called the Association for Interactive Marketing. This was in 2000, soon after graduating from Pepperdine. My job was literally to go to different companies and evangelize the internet. I remember walking into American Express headquarters and saying "This thing the internet, is going to change how you do business." I got a rather rocky reception, only to be invited back a year later to do that presentation again.
Dr. Adler was always ahead of the times, and he realized as I did, that companies were going to need to navigate "bricks to clicks" and, most importantly, to harmonize their brands across multiple streams of activities like advertising, PR, and now digital. He believed so much in me that he championed bringing me on as an adjunct professor to teach Pepperdine's first integrated marketing class. It was a bit overwhelming, walking into a classroom to teach when I was just a few years older than the other students, but Dr. Adler believed in me and in the importance and timeliness of the subject matter.
He and I then cowrote my first book called, How to Get Your Dream Job. That type of validation and support helped me believe that I had something to offer. It and so many other people helped me believe that I could live an audacious life, and that even if I got thrown in the deep end of the pool and didn't feel qualified, that God had given me the tools to at least start doggie paddling.
What's next for you?
I feel lucky to be in a role that I love, and I hope to champion some pretty audacious changes in our modern models of philanthropy, and really pivot the industry to stop thinking about "beneficiaries" and start thinking about "customers." In my years in philanthropic ventures, I have been lucky enough to participate in more than 1,000 different innovative approaches to supporting those in need. I am trying to bring those lessons to my work every day to make philanthropy more accountable, agile, responsive, and respectful of customers' needs. The digital age is unlocking incredible opportunities to change philanthropy, and I hope to contribute to that.
God has taught me that I am actually at my best when I get to partner with people with incredible vision, and help make that vision a reality. Someday I hope that I can team up with a family foundation or an individual who is really looking to apply audacious resources to change the world. I would be excited to see what might be accomplished if we could really be innovative about delivering value to those who face tough challenges!
I am married to the most amazing man and partner. Kerian is phenomenally brilliant. Every day it is an honor to grow with him. I think in a marriage you have to be a present team member, so I hope to double down in the coming years to be extra present in our marriage.
Also, I would love to update that book, How to Get Your Dream Job to something like How to Pursue a Life Worth Dreaming About. There is a lot I have learned. I definitely have different insights now. Finding time to share those insights would be awesome. Maybe I should do the same thing Dr. Adler did and find a Pepperdine student to cowrite it with, who can balance my experience with their fresh perspective. Any takers?
Footnote: the views expressed in the article are Alexis Bonnell's and do not necessarily represent the views of USAID or the US government.