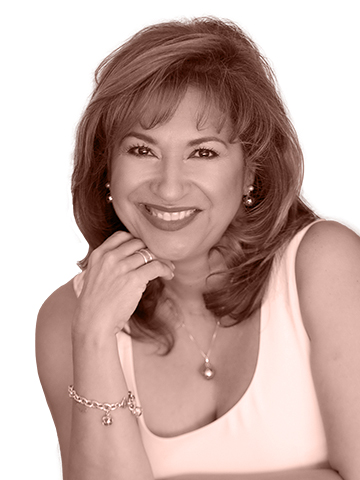 Betty Uribe
Graziadio Business School | 2000
Graduate School of Education and Psychology | 2012
Executive Vice President, California Bank & Trust
What does being an honoree of this campaign mean to you?
I am truly humbled. Any time I get recognized, I realize it is truly God's work that I am doing, not for me to take all of the credit.
I often say, "We don't do this alone." There have been thousands of people in my journey who have supported, advised, guided, opened doors, prayed, admonished, and celebrated along the way.
If I may borrow from Sir Isaac Newton, "If I can see further than others, it is because I am standing on the shoulders of giants." I call these giants angels that God has put in my path along the way. "Freely ye received, freely give." The more we are given, the bigger the responsibility to share freely so others can gain insight, wisdom, and purpose. I feel it's our duty to give away the gifts that we have been bestowed, and I am truly honored and greatly humbled to be a Pepperdine Outstanding Alumni | Women in Leadership honoree, as I feel the work is only beginning.
Describe your success story.
From riches to rags in 24 hours—my story is that of the American dream. Born with a silver spoon, brought to the United States due to a family crisis, becoming poor on an airplane ride with my 45-year-old mother and my brothers, ages 19, 14, and 6 (I was 12 years old at the time).
I learned how to give from my mother and my father, who always gave to others abundantly. Even when we moved to the United States, there was always someone at our home who needed more than we did. I cleaned houses and babysat to help my mother while raising my little brother, as my mother was forced to work in a factory.
At the time, my aunt Ruby, whose house we lived in for the first three months of our stay here in America, taught me etiquette. She said, "Some day you're going to dine with the President of the United States." Fourteen years later, I was dining with President George H. W. Bush.
Education was very important to me, so I proceeded to stay focused on my education. I graduated high school with high grades, and proceeded to go to a community college, as my counselor advised me.
I became an entrepreneur at the age of 19; my company manufactured surgical lighting components (Kaiser Permanente's gynecological light was one of our products at the time). Throughout my career I have owned several businesses in the United States (manufacturing, real estate, and automotive repair), and when my father passed away we inherited my father's transportation business and my brothers and I agreed I would be the one to run it from the United States. At the time I was a senior leader at Wells Fargo, responsible for strategy for 300 branches in Southern California. One year after his death, I began to get calls from suppliers and employees who were owed six months worth of wages and payments. I would fly out Thursday nights, have appointments lined up Friday and Saturdays, and return Sundays to go back to work on Mondays. I promised everyone I would personally pay all the debt as my father's good name was at stake. After two years, when all the debt was paid from my wages at the bank, I sold the company.
Today I am a C-suite executive, and continue to be an entrepreneur. After publishing my dissertation, the book #Values: The Secret to Top Level Performance in Business and Life, was born. Endorsed by the Vatican and Stephen Covey, and with a foreword by the Pentagon, the book raised $1 million, which are covering the costs of a full college education for 53 underserved students in Southern California. My goal is to raise enough to cover 100 full scholarships in each continent by the time I'm 80 years old. Through the book I've been asked to conduct values-centered leadership workshops for the World Bank, keynoted in China, the Americas, Europe, and the United Kingdom, and I am scheduled to meet heads of state and dignitaries from around the world, bringing the message of values-centered leadership as a sustainable business strategy for business and families.
Recently I met with Ivanka Trump as part of a focus group of leaders in our country, focusing on the sustainability of women in business through the W-GDP, a collaborative strategy for women succeeding in business and in the workplace.
God is amazing. He takes us to places where he utilizes our God-given talents for good. I feel that my journey is a path to providing a different look at our world through values.
How has Pepperdine played a role in your success?
Education has been important to me from a very early age. After coming to the United States, I saw that education would be the differentiator, and I chose Pepperdine due to its core values. When I started I felt I was home. When I returned for my doctorate, I felt I had come back home. I am now fortunate to serve on the board of the Graduate School of Education and Psychology, and to be a part of the business school as well. I feel it's my duty to represent our school everywhere I go, and do so with pride, knowing that I graduated from one of the best schools in the country.
Describe a lesson you've learned from a challenging time in your career or life.
I was three months pregnant when a senior-level position opened up, but I ultimately decided not to apply due to the pregnancy. Eighteen months later, another position opened up and I decided this time I would go for it. I wasn't going to allow my own conversation to keep me from a position I was qualified to get. I got the job and turned around my first region of 26 branches in record time while having my daughter, Sandra. The key lesson here is: don't let your own conversation keep you from going for your dreams.
How would you describe your leadership style?
Transformational and collaborative.
"I chose Pepperdine due to its core values. When I started I felt I was home. When I returned for my doctorate, I felt I came back home."
Betty Uribe (MBA '00, EdD '12)
Who has helped you achieve success in your career?
Too many people to name. I call them my army of angels. Both men and women alike.
What's next for you?
I will continue to support strategies for business growth in America and entrepreneurship and education in third-world countries, while taking the message of #Values: The Secret to Top Level Performance in Business and Life to leaders around the world.
What was your first job?
Cleaning houses and babysitting to help my mother when we came from Colombia. I was 12 years old.
What profession other than your own would you like to attempt?
None. I am happy to be here.
What historical or modern-day leader do you admire and why?
Mother Teresa; she dedicated her life to making a significant impact in this world. Also Mahatma Gandhi and Jesus Christ, for similar reasons.
What is your mantra or favorite quote?
We don't do this alone.
How do you prepare for a busy day?
Prayer and meditation.
What is one of your favorite hobbies?
I love to travel.