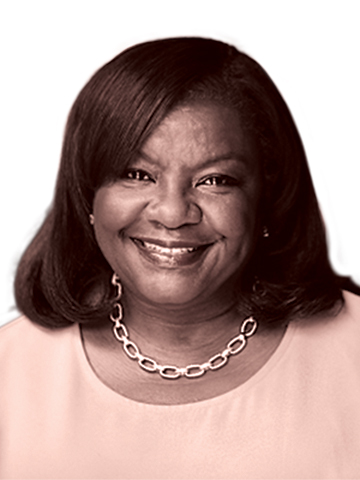 Britta M. Wilson
Graziadio Business School | 1992
Graduate School of Education and Psychology | 2016
Vice President, Inclusion Strategies, Pixar Animation Studios
What does being an honoree of this campaign mean to you?
Given the vast number of talented and impressive female leaders who have attended Pepperdine, it's incredibly humbling.
Describe your success story.
I don't know how to describe my success story, as much as I know that I wouldn't be where I am if it weren't for the sacrifices and prayers of those who came before me. It's been said that success is at the intersection of preparation and opportunity. If that's true, then whatever success I've achieved can be attributed to attempting to be prepared for whatever doors of opportunity have been opened or kicked in.
How has Pepperdine played a role in your success?
I grew up during a time where my parents believed that higher education was the primary path or key to the American dream. They came of age during the post-civil rights era, where access and opportunity had just recently been secured, thus, they wanted nothing more than for me (and my contemporaries) to exceed what they had accomplished. Therefore, pursuing an advanced degree was expected. With that as a requisite, I wanted to have some professional experience under my belt before pursuing an MBA. Frankly, Pepperdine was perfect. The Executive MBA program was cohort based, had a strong national reputation, and considered the challenges of being a working student. The power of being seen and understood during my MBA studies had a great impact.
Describe a lesson you've learned from a challenging time in your career or life.
As a woman of faith, I would have to say that one of the lessons that I learned from a challenging time is that "opportunity and opposition go hand in hand". The key is the lens from which we see it and what we tell ourselves about it.
How would you describe your leadership style?
I don't think that I have one style, but will flex to deploy a hodgepodge of styles depending on the situation or circumstance. I'd love to say that my style is always that of a servant leader, but the reality is my primary styles are Laissez-faire and visionary with a hint of the results orientation and quick decision-making of autocracy. I know that the autocratic leadership style has negative connotations, especially when it's overused or exclusive. My grandfather would say, "Too much of anything can be bad." Thus, I tend not to over index in a particular style but instead try to assess the situation before me, the resources available and outcome desired, and respond accordingly. My intent is to be collaborative, provide coaching to stretch the team and to get whatever we have to do done!
"As a woman of faith, I would have to say that one of the lessons that I learned from a challenging time is that 'Opportunity and opposition go hand in hand.' The key is the lens from which we see it and what we tell ourselves about it."
Britta M. Wilson (MBA '92, EdD '16)
Who has helped you achieve success in your career?
WOW! A number of people have made deposits along this journey. Among a host of other things, I learned empathy, hard work, and generosity from my grandparents, who tirelessly gave of themselves and their talents to help others. I learned tenacity and resiliency from my mother, who as a young, single divorcée grew her career from a second-shift receptionist to a beloved senior leader at General Motors. I learned negotiation and deal making from my father who was a real estate broker. I learned to be calm, cool, and collected from my husband, who rarely gets riled. And from my faith, I learned that success can be fleeting, so I attempt to focus on making more deposits than withdrawals and to focus on the things that really matter.
What's next for you?
LOL! I've no clue. I'm hopeful that whatever it is, it's fun, impactful, and creates access and opportunity for those who have been on the side of door without the handle.
What was your first job?
"Working" (I use that term loosely) in my father's real estate office. During the summer, I would show up at noon and then leave sometime in the midafternoon.
What profession other than your own would you like to attempt?
Good question! I love Italy and wouldn't mind owning a fabulous bed and breakfast with a vineyard. Of late, I've wondered about some type of role in politics.
What historical or modern-day leader do you admire and why?
There are so many folks that inspire me. Given my work for equity and inclusion, I would have to list Ida B. Wells who fought against Jim Crow laws and for the inclusion of Black women in the suffragist movement, or Sojourner Truth, an abolitionist and activist who's "Ain't I A Woman?" speech still resonates today about the impact that women can have on the world.
What is your mantra or favorite quote?
"Can't never could do anything. Never could and never will."
How do you prepare for a busy day?
Make a to-do list to tick off what I have to accomplish. Admittedly, I'll sometimes add things that I've already completed to get some momentum.
What is one of your favorite hobbies?
Travel! For me, few things are more invigorating and compelling than travel.