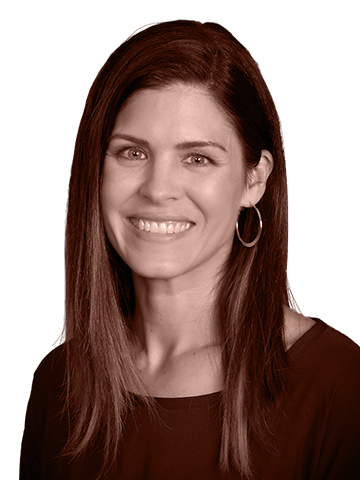 Carrie Hastings
Graduate School of Education and Psychology | 2006 and 2011
Team Psychologist, Los Angeles Rams
What does being an honoree of this campaign mean to you?
I am honored to be recognized as an outstanding alumna of Pepperdine. To have my achievements celebrated in this way really means a lot. I have worked hard to get to where I am, but I certainly would not be in the position I'm in without Pepperdine.
Describe your success story.
My success story begins with failure. I was a hurdler on my high school track team and the first time I ever competed in a hurdles race, I faceplanted and bloodied my knees and elbows. You could hear the gasp of the spectators. It was humiliating, but in that moment I had a choice. I could walk off the track and accept the disqualification, or get up, clear the remaining hurdles, and cross the finish line. I completed the race, promising myself that I would allow the grit in my knees and elbows to build my internal grit and resilience. I fell many more times and have the scars to prove it, but went on to be one of the top hurdlers in the state of Pennsylvania and compete at the University of Notre Dame.
Throughout my athletic career I went through various personal challenges that impacted my focus and overall functioning. I didn't have access to a sport psychologist but needed one. Once I decided to pursue psychology, I knew that I wanted to work with an athletic population. I felt particularly compelled to help athletes address mental and emotional stressors that can interfere with performance because I could relate to that struggle.
I obtained my master's and doctoral degrees in psychology and became certified in sport psychology. I spent years working with athletes and non-athletes. By the time the Rams came looking for a team clinician, I not only felt prepared for the position, but confident that it could be a perfect fit. Being an athlete has been such a huge part of my identity, and my current work gives me a sense of purpose. Regardless of the level of play, I remain passionate about embracing athletes holistically.
How has Pepperdine played a role in your success?
I am always proud to say that I am a graduate of Pepperdine's graduate school. I value the education I gained and the relationships I developed. My doctoral cohort was incredible, and we knew that we were part of a high-caliber program. I had outstanding instructors and a challenging curriculum. I have found that employers are consistently impressed when they hear I obtained my graduate degrees at Pepperdine.
Pepperdine's openness to providing opportunities for its graduates reflects the faith the institution has in its training. My experience teaching within the master's program enabled me to practice speaking in front of others. I now confidently give presentations to large audiences. Providing clinical services within Pepperdine's Student Counseling Center allowed me to work with many of the student-athletes. This further amplified my passion for enhancing the psychological well-being and performance of athletes.
Describe a lesson you've learned from a challenging time in your career or life.
There have been plenty of challenges to learn from throughout my journey. I have learned to accept that many circumstances in life are beyond our control. I endured a season-ending injury toward the end of my junior year of college, preventing me from attending the conference championship track meet. I was devastated. That experience gave me firsthand exposure to the "invisible injuries" that can accompany physical injuries within sport. I had to distinguish between the controllable and uncontrollable elements and be patient with the rehabilitation process. I realized that recovery is a combination of physical and psychological healing.
Unpredictable circumstances repeatedly occur within sport and how one deals with them translates into everyday life. There are two parts to any situation: what happens and how you respond. I don't believe everything happens for a reason; I believe that sometimes things just happen. But, I believe that there is something to learn from every incident and every interaction. Sometimes, you have to let others be there for you. Allowing yourself to be vulnerable is a brave thing to do, but when you allow yourself to be helped, you learn how to help yourself in new ways.
How would you describe your leadership style?
I don't take myself too seriously. My job taps into heavy material so maintaining a sense of humor is crucial. I remain calm under pressure. I prioritize empathy and often listen more than I speak. I try to be a mindful observer and engage in dialogue that helps me gain a truthful understanding of others. This provokes greater authenticity within communication and leadership.
I am nurturing, but also strive to be direct with my feedback. I tend to hold others to a high standard. I like to tell athletes that it's better to fail and learn than to win and learn nothing. Good manners, humility, and gratitude are also hallmarks of my style. These qualities are sustained by a genuine love for what I do.
"I don't believe everything happens for a reason; I believe that sometimes things just happen. But, I believe that there is something to learn from every incident and every interaction."
Carrie Hastings (MA '06, PsyD '11)
Who has helped you achieve success in your career?
When I think about who has contributed to my success, some of my family members come to mind. Their personalities have inspired me in unique ways. I was very close with my grandmother, who was a huge football fan. I fell in love with the game at a young age because of her. She also placed a high value on education. Being a good role model for my little sister was always important to me and motivated me to make sound decisions and prioritize character development. My older brother is the reason I don't intimidate easily. He never went easy on me because I was a girl or because I was younger. This made me tough, competitive, and fearless. I have never backed down from a job just because it was typically held by men or was within what may be perceived as a "man's world." My dad thrives on being productive. He can't sit still. I am driven and persistent because of him. My mom is ever-positive and the most thoughtful person I know. She always emphasized the importance of being gracious and respectful towards others. These are the types of qualities that distinguish leaders from people who are merely successful. I love all of these individuals. They are also the reason I believe in therapy.
What's next for you?
I really want to say, "I'm going to Disneyland!" but the Rams have to win the Super Bowl first.
What was your first job?
Babysitting.
What profession other than your own would you like to attempt?
Either a detective, a race car driver, or a Navy pilot.
What historical or modern-day leader do you admire and why?
Serena Williams. She has faced such adversity and handles it with an inspiring combination of grace and strength. When she makes a mistake, she owns it. She is a fighter. She balances her constant quest to be the best tennis player in the world with motherhood. I am in awe of her.
What is your mantra or favorite quote?
"I've lost almost 300 games. Twenty-six times, I've been trusted to take the game winning shot and missed. I've failed over and over and over again in my life. And that is why I succeed." —Michael Jordan
What is one of your favorite hobbies?
Watching Notre Dame football.