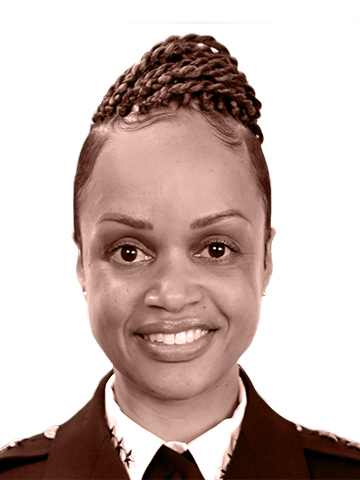 Danielle M. Outlaw
Graziadio Business School | 2012
Chief of Police, Portland Police Bureau *
What does being an honoree of this campaign mean to you?
Those of us who choose law enforcement as a profession are responding to a call to serve. We witness and endure some of the most difficult moments in the lives of others, yet we have the opportunity to positively influence those same individuals. We don't serve to hear "please" and "thank you," and it is rare when we do. As women, we tend to work behind the curtain and are responsible for many successes within our organizations, without receiving any credit for our work.
This recognition is not only a pleasant and refreshing accolade, it also serves as a reminder that there are many women who have, or are currently, contributing to their organizations whose work goes unacknowledged and/or are trailblazing the path forward to ensure we are seen and are given seats at the table based upon our own merits and accomplishments. If we don't show the world how to clap for (publicly acknowledge and appreciate) us, why would we expect anyone to do it? Or even know how? I am humbled and honored that I was selected to be a part of this movement.
Describe your success story.
After 20 years of service with the Oakland, California police department, chief Danielle Outlaw was sworn in as chief of police of the Portland Police Bureau on October 2, 2017. She is the first African American woman to hold this position.
A believer in the power of connectivity and continued learning, she meets people where they are, engages critics, and contributes nationally and internationally to ensure the bureau's narrative is accurately told and to benchmark against other organizations to ensure best practices in contemporary policing are practiced.
Outlaw's TEDx talk, "Humanity in Authority," dispels the belief that the two concepts are contrary in nature and explains how the two concepts can, and should, coexist. She has also presented on various topics including race and policing, women in law enforcement, de-escalation and investigation of use of force, building community relationships after controversy, and video recording in policing and early intervention systems. She has been asked to provide technical assistance in areas of police accountability and risk management.
The Oakland, California native has received numerous awards, including the Police Executive Research Forum (PERF) Gary P. Hayes Award and the Cascadia Behavioral Healthcare Culture of Caring Award for Community Relations and Civic Engagement, and has been honored as a 2019 Marie Lamfrom Woman of Distinction by the Girl Scouts of Oregon and Southwest Washington.
Outlaw earned a bachelor of arts in sociology from the University of San Francisco and an MBA from Pepperdine University. She is also a graduate of the Police Executive Research Forum's Senior Management Institute of Police, the Major Cities Chiefs Association Police Executive Leadership Institute, and the FBI National Executive Institute.
Currently, Outlaw serves as a board member for the Boys & Girls Clubs of the Portland Metropolitan Area, a member of the International Association of Chiefs of Police Human and Civil Rights committee and is also an active member of the National Organization of Black Law Executives. She continues to demonstrate her civic advocacy through Alpha Kappa Alpha Sorority, Inc., and The Links, Inc.
How has Pepperdine played a role in your success?
As cliché as it sounds, attending business school was life changing. There was so much value in being able to immediately apply what I was learning to both my professional and personal life; lessons learned that I still use to this day.
How would you describe your leadership style?
Authentic, flexible, direct, collaborative, fair, strategic, bold, intentional, and unapologetic.
"As cliché as it sounds, attending business school was life changing. There was so much value in being able to immediately apply what I was learning to both my professional and personal life; lessons learned that I still use to this day."
Danielle Outlaw (MBA '12)
Who has helped you achieve success in your career?
The strength of my grandmother and mother shaped the woman I am today. I never doubted whether I could achieve anything upon which I focused. Instead of asking, "Why me?" It was instilled in me to ask myself, "Why not me?" Throughout my life, I learned that adversity does not equate to failure but is, in fact, a lesson to prepare us for something greater to come. My sons are also a driving factor in every decision I make. They represent our future, and I use them as a gauge when considering any implications or unintended consequences my actions may create in my role as chief of police.
What's next for you?
I have no idea! I'll continue to walk in my purpose until it's been determined that it's time for me to do otherwise.
What was your first job?
I was a cashier at Burger King when I was 14 years old.
What profession other than your own would you like to attempt?
Interior design.
What historical or modern-day leader do you admire and why?
Rosa Parks. Her one action influenced others to perform many.
What is your mantra or favorite quote?
How can we put this in a bottle and sell it?
How do you prepare for a busy day?
Through music.
What is one of your favorite hobbies?
Spending time with loved ones.
*Since this content was received and published, Danielle M. Outlaw has been appointed Police Commissioner of the City of Philadelphia.