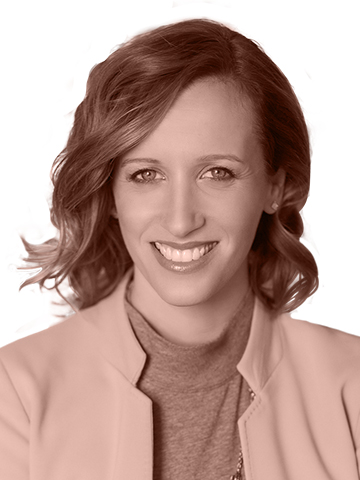 Jessica N. Grounds
Seaver College | 2003
Cofounder, Mine the Gap
What does being an honoree of this campaign mean to you?
I love that Pepperdine is honoring women in leadership from our alumni network. We still live in a time where we do not see enough women in leadership positions, nor value women's contributions as innovators, entrepreneurs, visionaries, or leaders— yet they are. I appreciate that this Women in Leadership campaign is sharing the profiles and stories of women who are leading in a variety of fields and locations, and it's an honor to be a part of those successes. I love learning the stories of women who had a vision for what they wanted to see change and made it happen.
Describe your success story.
I found my passion very early in my career. Right after graduating from Pepperdine, I moved to Washington, DC, to pursue a career in politics. At 22, I learned about an organization called Women Under Forty Political Action Committee which supported young women running for Congress, and I got very involved as a volunteer. Years later, I became the president of that organization and through that work cofounded Running Start, an organization that inspires high school and college-age women to build the skills to run for elected office and lead. Running Start has trained more than 15,000 young women leaders. Through that work, I began to travel the world with the US Department of State to speak about women's leadership in countries like Tajikistan, Lesotho, Germany, Panama, Rwanda, and many more. Today my work at Mine The Gap has expanded beyond political leadership—I now advise Fortune 500 companies, government agencies, and organizations about the financial imperative of retaining, attracting, and promoting women in their organizations.
How has Pepperdine played a role in your success?
When I was at Pepperdine, my political science course in campaigns and elections was taught by the late Joe Cerrell and Dr. Stan Moore. I was already interested in politics, but together they inspired me to dive in deep and work on my first political campaign. This set my course to entering years of work as a political campaign consultant in Washington, DC, and concurrently build multiple organizations dedicated to inspiring young women to run for elected office around the country and the world.
Pepperdine also shaped my commitment to leadership. Through my work as president of the young Democrats, and exposure to professors with varied backgrounds and ideas, my experiences in college laid the foundation for me to think about how I could contribute uniquely to work I care about. Also, my best friends to this day are amazing women I first met at Pepperdine. They have supported and loved me throughout life.
Describe a lesson you've learned from a challenging time in your career or life.
The failures and challenges in my life have often been more impactful than my successes. One of my most challenging moments came right before I was married. I was set to work on a presidential campaign (I even planned my wedding around this expectation) but I did not get the position. I felt that I was the perfect candidate, but it was not to be. As disappointed as I was, this experience reminded me that God opens doors and closes doors for a reason. I now realize that this job was not meant for me. After that experience, I connected with my now business partner, and we have built a company and vision for our work that is groundbreaking in the field of gender equality.
How would you describe your leadership style?
As a leader, I share a lot of myself with the people I work with. I share my ideas and emotions openly and try to be honest with my opinions. I lead with intuition and practical assessment. I have high expectations for myself and others, but as I've gotten older I recognize more and more that I won't get things perfect the first time, nor will others. We are all a work in progress and so is our own leadership perspective and approach to our work.
"Pepperdine shaped my commitment to leadership...my experiences in college laid the foundation for me to think about how I could contribute uniquely to work I care about. Also, my best friends to this day are amazing women I first met at Pepperdine."
Who has helped you achieve success in your career?
One of my earliest bosses, Marty Stone, was formative in allowing me to pursue my passion for women's leadership outside of my day-to-day job. This support was crucial early in my career. My parents were incredibly supportive because they always encouraged me to step into doors when they opened.
What's next for you?
I literally just moved to San Diego, my hometown, after 16 years of living and working in Washington, DC. I have a husband, 19-month-old daughter, and a dynamic career—so moving my life back to California is a big change. I'm growing my organization Mine The Gap on the West Coast and have always thought about one day running for office. I've been encouraging other women to step into political leadership my whole career. I think it might be about time to take my own advice and do it too.
What was your first job?
A pharmacy in University City, a town in San Diego. I made $5.15 per hour!
What profession other than your own would you like to attempt?
Prosecutor.
What historical or modern-day leader do you admire and why?
Shirley Chisholm. She was the first Black woman to win a seat in the United States House of Representatives and was the first Black person to seek the nomination to be president of US She talked openly about the challenges she faced as a woman in politics—but also how important her voice was to the decisions being made by our country's leaders. She was a tireless advocate and important role model for so many women who have come after her.
What is your mantra or favorite quote?
90 percent of life is showing up.
How do you prepare for a busy day?
Lots of sleep and a good glass of red wine.
What is one of your favorite hobbies?
Yoga and taking a stroller walk in the sun with my daughter.