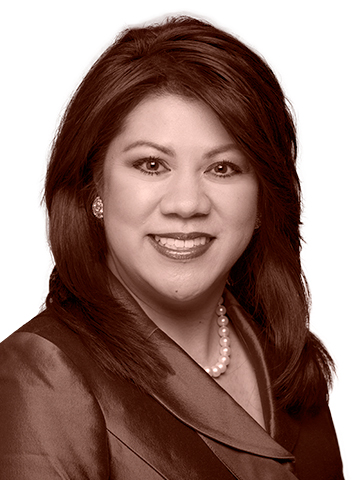 Kimberly Yee
Seaver College | 1996
Treasurer of Arizona, State of Arizona
What does being an honoree of this campaign mean to you?
It is an honor to receive this Outstanding Alumni | Women in Leadership recognition from Pepperdine. I have always held Pepperdine close to my heart. The school and the education I received helped prepare me for a career in public policy and politics, instilling the importance of core principles, character, and a strong moral compass.
Describe your success story.
One of my professors at Pepperdine recommended I apply for a fellowship with the California Executive Fellowship Program, a hands-on experience at the state Capitol. I applied, and in God's perfect timing, I was accepted to the program during the week of graduation from Pepperdine. Since then, I have had the privilege of serving in the gubernatorial administrations of former California governors Pete Wilson and Arnold Schwarzenegger and in the office of a former Arizona State treasurer, in my home state.
I became the first Asian American woman elected to the Arizona Legislature in 2010 when I served in the Arizona House of Representatives. Later, as an Arizona state senator, I became the second woman elected to serve as the Arizona senate majority leader. The first woman to serve in this position was former US Supreme Court justice Sandra Day O'Connor, who served in the position 44 years prior. While a member of the senate, I had the privilege in 2016 of being a featured on stage speaker on the opening day of the Republican National Convention in Cleveland, Ohio.
In 2018 I was elected the state treasurer of Arizona. I am the first Asian American official elected to statewide office in Arizona history and the first Chinese American Republican woman elected to a major statewide office in American history.
God has always led my journey. That pathway toward public policy and public administration began, in large part, because of a Pepperdine professor named Thomas Moore who took the time to learn of my interests and guide me toward a career that has been as amazing a journey as it has been a blessing to work in public service.
How has Pepperdine played a role in your success?
Pepperdine's motto "Freely Ye Received, Freely Give" exemplifies what I have hoped to live by in both my personal and professional life. Looking back upon my time at Pepperdine, 23 years ago, there were many opportunities at the school that provided me a strong foundation to give back to the community and the public. Pepperdine's Step Forward Day taught me the importance of volunteering and leading service projects to help those in need. The work-study program I had in Washington, DC, allowed me to work at the US Justice Department in the Criminal Justice Division while earning academic credits in the heart of our country's Capitol all while serving in public service. Pepperdine has not strayed away from its core mission as a Christian university and that stands out as the most important aspect of its success as an institution. In the same way, I have stayed true to my core values, principles, and beliefs, even in the world of politics.
Describe a lesson you've learned from a challenging time in your career or life.
Early in my career I remember days on the job where responsibilities and tasks often seemed repetitive or even mundane. One of my first jobs was to write the official minutes of State Board of Education meetings. The meetings would go for days, which meant long transcripts and not a lot of fun for the work I'd have to catch up on during weekends. There were acronyms and technical terms that I needed to learn in education policy. It was challenging at times. But God was preparing me early in my career because just 12 years later, I would be elected to the Arizona Legislature and become the chairwoman of the senate education committee, creating laws to improve public school education. And earlier in my career, when I worked as a staff member in the office of the Arizona State treasurer, I didn't know it would be 12 years later that I would return to that same office as the elected Arizona State treasurer. I learned from these experiences how God is in control and prepares us for our future.
How would you describe your leadership style?
In politics, I have earned a reputation of working across the aisle and respecting others, even those with whom I may disagree. In policymaking, I bring various stakeholders and interest groups together so that everyone has a voice at the table. In public administration and heading a state agency, I believe in a team approach. As Arizona State treasurer, I steward the cash management of $40 billion in state agency funds and safeguard approximately $16 billion in assets under management. Everyone in my office is an important member, and we achieve success because we work together as a team to protect the taxpayers of Arizona.
"Pepperdine has not strayed away from its core mission as a Christian university and that stands out as the most important aspect of its success as an institution. In the same way, I have stayed true to my core values, principles, and beliefs, even in the world of politics."
Who has helped you achieve success in your career?
My parents instilled in me that I could be anything I wanted in this great country. They taught me that I could achieve the job of my dreams with hard work and a great education. They also gave me great respect for my family members who sacrificed so much for generations to provide me with the opportunities that I have today. My grandparents and great-grandparents came to the United States, a land they referred to as "golden mountain," to make a living, raise a family, and live in a country where they could prosper and where freedoms and opportunities abound. They worked long hours in their family businesses, even working a second job during night shifts, to give their children and generations later, more than they could ever dream. Today, I am living that American dream.
What's next for you?
One of my favorite verses in the Bible is Jeremiah 29:11, "For I know the plans I have for you," declares the Lord, "plans to prosper you and not to harm you, plans to give you a hope and a future." I may not know what is next in my career, but I do know that God is in control and has always prepared me for what's ahead.
What was your first job?
I was the neighborhood babysitter at age 12.
What historical or modern-day leader do you admire and why?
Former US Supreme Court justice Sandra Day O'Connor because she was a trailblazer and a role model for women
What is one of your favorite hobbies?
I love art, design, and painting. I was the first student employee hired at the Frederick R. Weisman Museum of Art on the Pepperdine campus.