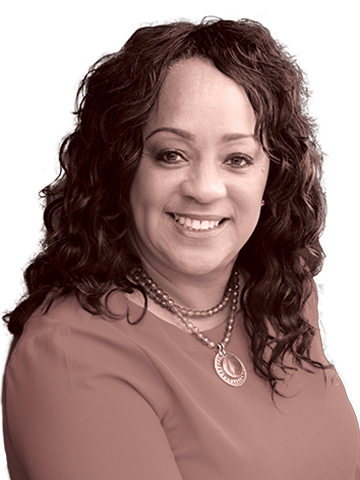 LaNiece Jones
Graduate School of Education and Psychology | 2012
Executive Director, Peralta Colleges Foundation and Black Women Organized for Political Action (BWOPA)
What does being an honoree of this campaign mean to you?
Receiving an award from my alma mater is very meaningful to me and especially the Outstanding Alumni | Women in Leadership award because this is the area I have been most passionate about for years.
Describe your success story.
In 1995 I had the honor to work on my first electoral campaign for one of Oakland's most beloved political and civic leaders; the Honorable Dezie Woods Jones was running for a seat in the California State legislature.
While working on this campaign, I had the opportunity to meet a number of powerful women in politics and civic leadership who were part of the organization that I am now a part of called Black Women Organized for Political Action—affectionately known throughout California as BWOPA.
I have served as the executive director since 2000—carrying the torch of the 13 founders.
Over the years of my engagement, it has been extremely valuable to meet and work with impassioned women in the social justice movement whose objective has been to increase the number of women's voices and perspectives in public policy.
Listening to the evaluations and one particular voice from one of our ongoing leadership development and training workshop series, I established a fellowship program in the name and spirit of our founding member and current state BWOPA president, the DWJ Public Policy Fellowship Program. In the first year, we recruited 12 young women between the ages of 21 and 35. In the second year, more than 50 women from across the country signed up, and 20 accepted the call. In the third year, due to the capacity of our volunteer efforts, we downsized to 10. Today, many of these women are now distinguished leaders in our communities - from elected officials, on boards and commissions, government and non-profit leaders to entrepreneurs and business owners.
How has Pepperdine played a role in your success?
It was at Pepperdine that I was able to crystalize my focus on how I could make a greater impact in the social justice/equity movement to increase the representation of women, particularly from my affinity group.
Describe a lesson you've learned from a challenging time in your career or life.
Anyone who has ever done any work with a nonprofit organization understands how daunting it can be to secure a constant flow of money to facilitate program objectives. Because BWOPA is always looking to expand its impact in the community, I have learned how to congregate would-be donors and sponsors to help with financing and facilitating the vision of our organization.
How would you describe your leadership style?
As a leader, I tend to promote the personal development of the people that I work with. I aim to accomplish this goal by allowing my team to make decisions, provide input, and make changes when necessary with our workload. I also seek and provide training opportunities so my team can master and expand the talents and skills that they bring to the work environment.
"As a leader, I tend to promote the personal development of the people that I work with...by allowing my team to make decisions, provide input, and make changes when necessary with our workload."
Who has helped you achieve success in your career?
The Honorable Dezie Woods-Jones and, of course, my mother.
What's next for you?
The short answer would be to further promote success in every arena that I am currently involved in.
For BWOPA, this means continuing to empower and train more women to obtain leadership positions on a local, state, and national level.
For Peralta Community College, my goal is to continue to secure enough funding for our students so anyone who needs financial assistance while in school, can receive it no matter how great the need.
For LAJones and Associates, I plan to continue to empower individuals to become social entrepreneurs and change-agents to make the world the best place to live.
What historical or modern-day leader do you admire and why?
Shirley Chisholm.