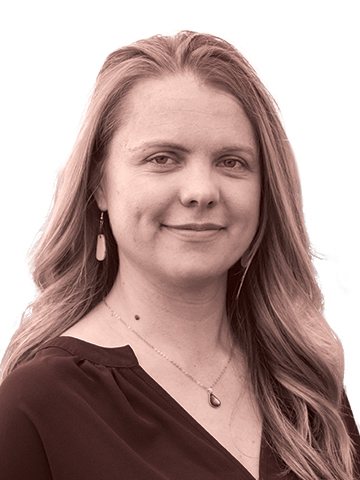 Sara Train
Graziadio Business School | 2019
Sustainability Manager, Trader Joe's
What does being an honoree of this campaign mean to you?
It is an honor to be recognized by my colleagues. During my time at Pepperdine I was privileged to learn from and with many exceptional people. They inspired, challenged, and encouraged me to always show up with my best intention and effort. To receive this recognition from such a notable community of individuals is humbling. I am so grateful for the support my colleagues continue to provide me, and I look forward to having opportunities to support them in the same way.
I am inspired by the examples of women in leadership who live fearlessly, take risks, and do things that are unprecedented. They are a reminder of the possibilities that lay ahead, and of my responsibility to forge paths for others.
This campaign also highlights the power of visibility. When women take the risk of sharing their stories and using their unique voices, it gives others the courage to do the same. The recognition of Outstanding Alumni | Women in Leadership is a celebration of the legacy of women who have set their own path, and a reminder that there is more work to do.
Describe your success story.
After completing my undergraduate degree in social work, I was passionate about changing the social systems that limited people's ability to thrive. I worked hard to make a difference, even if the impact was short-lived. The work was rewarding, but I felt depleted. I could offer support and resources, but did not have the tools to change the broader issues impacting people's lives, which is why I decided to pursue an MBA.
Throughout the MBA program, I challenged myself to take the hardest classes, to try new things, and to expose myself to as many different perspectives as possible. Pepperdine provided an opportunity to pursue a concentration in business analytics, study how economics shape our world, and learn how to ask the questions that bring about meaningful change.
How has Pepperdine played a role in your success?
Pepperdine's faculty were so supportive, and went out of their way to make sure I could understand and apply the classroom material to real-time situations. My classmates were brilliant, supportive, and I still rely on them for ideas and perspective. Pepperdine challenged my way of thinking, expanded my knowledge, and above all connected me to a community of change makers.
Describe a lesson you've learned from a challenging time in your career or life.
After several years of tirelessly advocating for change in communities, I realized that I also had to invest in myself. I've found that when I am making time for myself and investing in my own interests and strengths, I am not only happier but more effective in my work.
"Pepperdine challenged my way of thinking, expanded my knowledge, and above all connected me to a community of change makers."
Who has helped you achieve success in your career?
My wife. She has supported my journey, even when we were unsure of the future. Her belief in me strengthens my pursuit of my own accomplishments. She also proofreads my writing.
What's next for you?
The field of sustainability and social responsibility is increasing as are the possibilities to help various industries re-imagine how they do things. There are endless opportunities to utilize technology and implement data-driven decisions to run businesses more sustainably. I am excited to work in an industry that is leading the way we think about food sources and delivery methods.
Currently, my greatest joy is being a new parent to baby twins.
What was your first job?
Cashier in a small Latin grocery store.
What profession other than your own would you like to attempt?
Professional ballet dancer and/or geologist.
What historical or modern-day leader do you admire and why?
Mother Teresa, for her steadfastness, compassion, and generosity.
What is your mantra or favorite quote?
I have two:
First, "Every day is a gift. Appreciate every moment."
And the second is, "At the end of the day people won't remember what you said or did; they will remember how you made them feel." —Maya Angelou