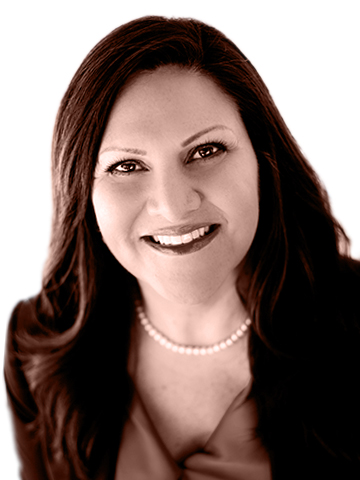 Sylvia Franson
Seaver College | 1987
Vice President, West Coast Advertising Sales, NBCUniversal
What does being an honoree of this campaign mean to you?
It is a tremendous honor to be recognized among other Pepperdine alumnae who are passionate about influencing and driving positive change. It brings me great pride to see Pepperdine celebrating women who are breaking down the social barriers and paving the way for other women to succeed.
Describe your success story.
I was one of the first in my family to go to college. My parents were immigrants from Mexico, and they worked tirelessly to provide for me and my four siblings. Watching my parents struggle inspired me to work toward a better life for myself and for future generations. I really thrived in college. I was able to get a job before I graduated college in the field that I studied. In my career, I worked diligently to earn every promotion and I had family, friends, and mentors along the way who supported and stretched me. I always seek new ways to learn and grow and humbly pay it forward along the way. Today, I have dual careers in both corporate America with NBCU, and as an entrepreneur, owning my own winery business. I believe in dreaming big, and then, bigger!
How has Pepperdine played a role in your success?
Pepperdine has opened many opportunities for me to live a life of purpose, service, and leadership. Whether it's career coaching, judging marketing pitches, or hiring Pepperdine alumni, I'm involved in ways to help guide students and young professionals in their careers. I learn from them, too. The relationships I've made at Pepperdine, and continue to make through Pepperdine, have been instrumental in shaping my personal and professional life. I also have a son who attends Pepperdine, and he will carry on the Waves legacy. You could say I bleed blue and orange!
Describe a lesson you've learned from a challenging time in your career or life.
Several years ago my company was going through a leadership transition in my region, and it caused fear and anxiety among the employees. It became challenging to keep morale up, and we were fighting against the tide. That's when I decided to create a different, more positive subculture within my team. This allowed us to take the focus off of what we couldn't control what we could, let go, and trust in the process.
How would you describe your leadership style?
I definitely have a mentor leadership style. My responsibility as a leader is to inspire others to be the best version of themselves. I'm a teacher at heart.
"My responsibility as a leader is to inspire others to be the best version of themselves. I'm a teacher at heart."
Who has helped you achieve success in your career?
I inherited my mother's strength and resilience, which have served me well in my career and personal life. My parents instilled an immense work ethic in me at an early age. My husband, Kyle, has been an incredible partner in supporting my career. We are a team! Of course, God, is at the core.
What's next for you?
I enjoy my career at NBCUniversal. My job is to sell commercials, but my work is to help advertisers market and sell their products. A nice balance of business and creativity—how great is that! Our company is in constant transformation and this presents opportunities for me to continue to expand as a leader and impact cultural change in and outside of work. As far as our family-owned winery business, the sky is the limit!
What was your first job?
Sales assistant.
What profession other than your own would you like to attempt?
It would be fun to be a fashion designer.
What historical or modern-day leader do you admire and why?
Jesus for how he served others and changed lives.
What is your mantra or favorite quote?
"It's not what happens to you, but how you respond to what happens to you."
How do you prepare for a busy day?
I start with prayer and expressing gratitude.
What is one of your favorite hobbies?
I enjoy wine tasting and traveling to wine tasting destinations.