Volunteer Opportunities
Pepperdine alumni are committed to living lives of service and have so much to offer to the global community. This page aims to support those who want to dig deeper into volunteer opportunities within Pepperdine, including student mentorship, regional alumni programming, and more. Join our vibrant alumni community and find ways to share your talents!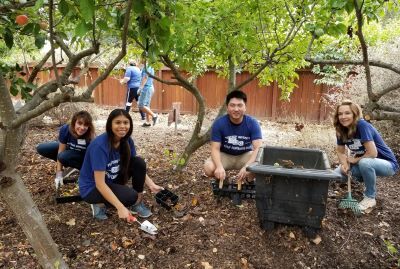 Mentor Students and Alumni
PeppConnect, Pepperdine's online community platform, has a mentoring portal. If you are not currently a PeppConnect user, we encourage you to join (using your LinkedIn credentials) and use the system to match with a mentor or mentee. We hope you will utilize PeppConnect and interact with students and alumni, both near and far. Learn more about PeppConnect.
Steps to sign up as a mentor within PeppConnect:
Open up your profile within PeppConnect

Go to the top right hand corner of PeppConnect (photo/profile area) to edit your profile

Complete any new or missing info in your profile so potential mentees can review your full background. Then scroll to the bottom section where "I'm willing to help/mentor" is located; this section shows the options for helping, and what you have already signed up to do. Select or update how you are willing to help/mentor so this info will be visible to potential mentees and the mentor matching system.
In the directory, you may filter to find a mentee who is seeking help in your profession or region. Find a mentee now:
Click on the directory tab on the left hand navigation bar

Go to the right hand column of the filter section, click "Mentoring"

Select options under the "seeking mentoring" section to filter potential mentees

If you would like to further refine your search, continue to filter based on school, location, or other fields

Message a potential mentee within their profile under the "offer help" or "offer mentoring" sections on the right side
Become a Regional Network Leader
Regional Network Leaders assist with event planning, identifying regional opportunities, and engaging with alumni in key cities across the country. Find a region near you and learn more about regional programs. If you are interested in becoming a regional leader, fill out this form.
Connect with Recent Graduates
To encourage and connect with recent graduates, we invite you to reach out to new alumni through PeppConnect. Use the directory feature to search by Class Year (and school, if preferred) and utilize the PeppConnect messenger function to reach out to specific individuals. This will ping the alumnus through their email notifications and you are free to exchange contact information from there or communicate through the platform.
You can also get involved with your local chapter to find out other ways to connect with recent graduates through regional events. Learn more about chapters and regional programs.
We're always looking to partner with businesses, non-profits, and volunteer organizations to offer service opportunities to alumni! If you have opportunities you would like to share with us, email alumni@pepperdine.edu. You can also inform others about local opportunities or information about nonprofit organizations in your local Facebook group.
We'd love to hear your volunteer stories and why you are a passionate service leader! If you have a story to tell, please complete the Waves of Service: Share your Story form.
Become a PeppConnect Ambassador
PeppConnect is the exclusive platform for Pepperdine University where alumni can build professional, personal, and purposeful relationships with Pepperdine community members all over the world. We are looking for alumni to be our ambassadors, and there are many ways you can help.
Build the Business Directory: Add your own business or reach out to alumni who own a business and encourage them to add their business to the directory

Post Open Positions on the Jobs Board: Be a Wave who hires Waves by adding employment opportunities to the jobs board

Be a Conversation Starter: Join groups that interest you and get a conversation going! Invite others to join the group and keep members engaged with interesting and unique content

Be a Content Creator: Find and research interesting news and stories that would interest alumni, and post into the feed
Engage with your Regional Facebook Group
The regional Facebook groups are meant to be organic, casual areas of conversation where alumni and regional leaders can connect on a variety of topics and share opportunities (regional events, jobs, service projects, etc..) We encourage you to introduce yourself, start conversations, and comment on posts.
If there's not a group in your region, we invite you to engage with the Pepperdine and Pepperdine Alumni Facebook pages by liking and sharing posts, and commenting.
Co-host an Event with Pepperdine
Interested in speaking at a Pepperdine event (i.e. the Seaver Speaker Series,) hosting an event at your home or business in the future, or sharing your professional expertise with the Alumni community (i.e. a chef that can host a cooking class or a yoga instructor and can host a Zoom flow?) Please reach out to us by completing this form.
Become a Give2Pepp Champion
Give2Pepp is a 37-hour online fundraising event to bring the entire Pepperdine family—current students, alumni, faculty, staff, friends, and the local community—together in support of current and future Waves. Learn more about Give2Pepp. For questions or to sign up as a Champion, email give2pepp@pepperdine.edu.