Second Annual RISE Summit to Focus on Physical Resilience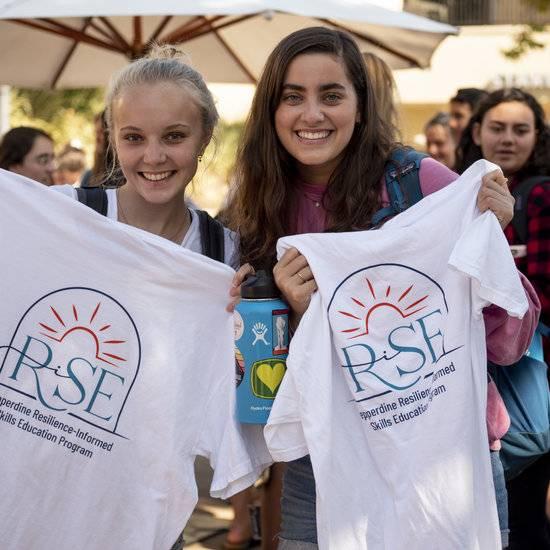 The University's Resilience-Informed Skills Education (RISE) Program, a service of Student Affairs, will sponsor the RISE Summit 2023 on Tuesday, February 7, from noon to 2 PM, and on Wednesday, February 8, from 6 PM to 8 PM. The RISE Summit is a two-day, conference-style celebration of resilience in the Pepperdine community. Tuesday's event will be held at Gulls Way Courtyard and Wednesday's event will be held at the Light House; both locations are on the Malibu campus.
Both sessions of the RISE Summit 2023 will have a similar structure, featuring a panel of Pepperdine students, faculty, and staff who will share inspiring stories of physical resilience, followed by a Q&A session and a meal. "There is power in storytelling," says Sergio Gallardo Palma, RISE program manager. "We hope that hearing the panelists' stories will inspire members of our community to take care of their bodies so they are ready to bounce back from life's challenges."
The RISE Program seeks to build the physical, cognitive, social, life skills, service, and spiritual resilience of Pepperdine students by providing them with frameworks that can be used to navigate life's difficulties. RISE defines resilience as "the capacity to make it through expected and unexpected adversities. In the process of navigating such adversities, we may be stretched, changed, and develop new skills." The focus of this year's summit is on the physical dimension of resilience, emphasizing the importance of taking care of our bodies by engaging in movement, practicing healthy eating, and prioritizing sleep.
All Pepperdine students, faculty, and staff are welcome to attend either of the sessions. All attendees will be entered into a raffle for prizes such as an air fryer, a NutriBullet blender, or an Apple Watch. Registration is required.