Pepperdine Community Serves Local Organizations at 34th Annual Step Forward Day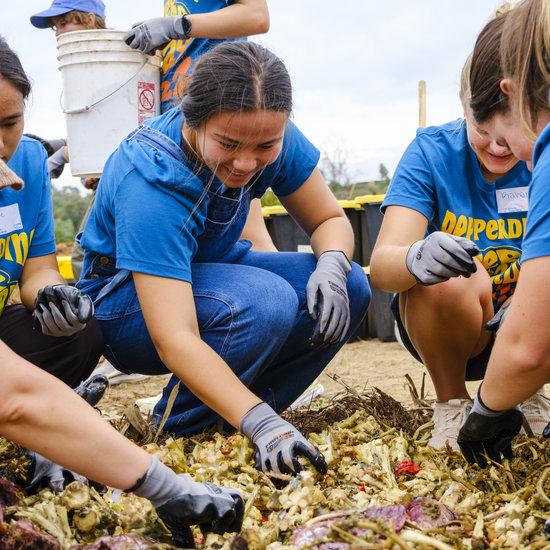 The University's motto, "Freely ye received, freely give," was on full display on September 10 for Pepperdine's 34th Step Forward Day, the beloved Pepperdine tradition that unites students, faculty, staff, and alumni for a fun and fulfilling day of service. Organized by the office of Community Engagement and Service in the Hub for Spiritual Life, this year 640 participants partnered with more than 20 local nonprofit and public organizations in Ventura and Los Angeles Counties, inspiring the Pepperdine community to understand and learn from its neighbors and serve in the places they call home.
"Our goal is to provide straightforward ways for members of the Pepperdine community to cultivate a lifestyle of service," says Christin Shatzer Román ('03), director of Community Engagement and Service. "Even though this is a one-day event, it is an introduction to community sites where individuals can return and serve again in the future."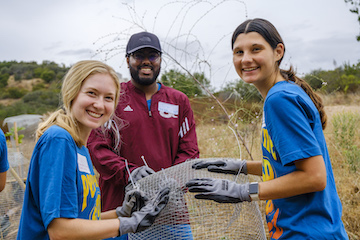 Plans for Step Forward Day 2022 began September 12, 2021, the day following that year's event. Olivia Robinson ('20), assistant director of Community Engagement and Service, relates that immediately compiling event data and noting areas for improvement helps inform the planning decisions later in the year. The team's planning work didn't go to waste—the volunteer turnout on September 10 was exceptionally strong, with a number of different groups, such as Pepperdine Athletics, student clubs, and first-year seminar classmates, joining the efforts.
On campus, junior Maddie Beadle, a political science major, led the Food Oasis project, a Los Angeles-based application that helps eliminate food waste by connecting donors and food outlets. A person with a physical disability, Beadle knew that a campus-based project would be accessible to her. "Our project involved having a computer, a phone, and a voice, and I knew I could lead that and lead that well," she says. Other on-campus volunteers included the women's swim and dive team, which volunteered to help provide young women with hygiene products for Days for Girls.
Charlie Markham, a senior majoring in communication studies, served as the leader of the PATH Welcome Home project that traveled to various on-site locations to help set up apartments for the unhoused in Southern California. Markham chose to work with this group because its aims spoke to his concerns. "I love seeing real solutions to the homelessness issue in Los Angeles that provide safety and support, rather than simply moving unhoused people out of view," he says.
For the first time this year, Pepperdine partnered with the Frederick K. C. Price III Christian Schools, the K–12 school located at the site of Pepperdine's original Los Angeles campus, where student volunteers helped the school's teachers create classroom spaces conducive to student learning and engaged in other beautification activities. Other partner organizations also enjoyed their first Step Forward Day, including 5Journeys, a nonprofit regenerative and organic farm in Topanga Canyon, and Project 43, an organization founded and dedicated by a close mentor of the late musician Nipsey Hussle that offers services that enhance the quality of life for residents of the Crenshaw area and adjacent communities.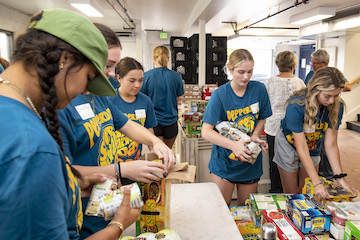 At 5Journeys, alumnus, adjunct professor, and Malibu-campus resident Nate Barton ('16, MPP '18) felt a connection with the farm's work before he arrived due to his background in sustainability. "We did everything from plant trees to record local wildlife to move compost to prep the land for agriculture," he says. "I enjoyed learning from the on-site experts and the opportunity to make meaningful contributions."
Project 43, a nonprofit organization created in the midst of the pandemic, has sponsored toy drives, networking events, free cultural outings, free COVID-19 testing, and a farmstand to provide access to healthy food. Robinson notes that it also provides classes for community members to live more healthful lives, such as how to plant and nurture a garden, and to help further careers, such as how to code and use audio equipment. She relates that Step Forward Day volunteers helped the organization create an orderly library, organizing the 2,000 books recently donated to it, and that the students and Project 43 staff developed a warm kinship. "They experienced relation-building moments; it wasn't just a transactional day," she says.
Robinson stressed that her team's approach to service is strongly focused on serving others, which involves listening to them and learning from them. "We are very intentional about trying to build up understandings of service as relational and transformational and learning that we don't have all the answers,'' she says. "We lead with questions because we know that we can contribute to a solution, but we are not a solution." She encourages students to come with an open and curious mind and be willing to learn. "We know that students that come out of this University will be decision-makers, and we want them to see what service can be in its best form and learn how to apply that in other areas of life."