72nd Annual Bible Lectures Spreads Positive Messages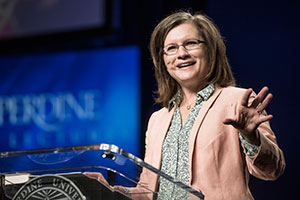 Thousands of participants gathered on Pepperdine University's Malibu campus this week for the four-day, 72nd annual Pepperdine Bible Lectures. They came from throughout the United States, and from other countries, to learn, worship, and enjoy fellowship and spiritual renewal.
Mike and Linda King, who traveled from their home in Edmond, Oklahoma, have been attending Pepperdine Bible Lectures for 20 years.
"Bible lectures are a bit like a family reunion," said Linda King, whose three children attended Pepperdine. "They offer intellectual stimulation and help recharge your spiritual batteries. It's worth taking off work to make the journey."
The Kings were among a standing room only crowd who filled Elkins Auditorium to hear from Nadia Bolz-Weber, founding pastor of the House for All Sinners and Saints congregation in Denver, Colorado. With her colorful language, quick wit, and sincerity, Bolz-Weber drew laughter and applause. Through the biblical story of Adam and Eve being tempted by the snake, Bolz-Weber urged the audience to only listen to God's voice, not the snake's.
"If you listen, maybe you can hear God say, 'Wait. Who told you that you have to lie to be loved. Who told you that your body is not beautiful,'" Bolz-Weber said. "My money is on the snake, and he is a liar and always has been. God wants more for us. Don't listen to the snake."
Shortly after Bolz-Weber's presentation, another woman gave an equally powerful sermon. Pepperdine University chaplain Sara Barton focused on the Book of James and received a standing ovation at the end of her speech.
"James gives us much more than a simple reminder to love people," Barton said. "Do whatever it takes to love neighbors, welcome them, see them, hear them, serve them, love them, speak up for them, understand them, attend to the needs they have not to the needs we suppose they have. Instead of sitting around and asking, 'Who is my neighbor,' in the name of God, pick one."
The writings of C.S. Lewis, author of The Lion, The Witch, and The Wardrobe, and other books, was the focus of Pepperdine professor of communication Gary Selby's talk. For Lewis, consciousness and choice are at the core of what it means to be spiritual, and every pleasure, even those most minor, is appreciated, Selby explained.
"In a world marked by the presence of sin, to be the people who really know how to live and live well, is a discipline not that turns away from pleasure but that embraces pleasure and marks the presence of God," Selby said. "If you live this way, it can change the quality of your life. It has helped me to live better and it's worth the work."
For more highlights of the 2015 Pepperdine Bible Lectures, please visit Pepperdine's Livestream page.