Actor Chris Pratt Delivers Keynote Address at 9/11 Remembrance Ceremony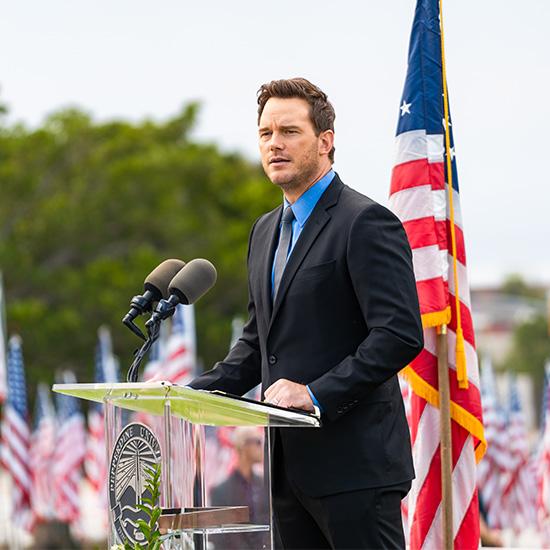 On Monday, September 11, 2023, the Pepperdine community gathered at Alumni Park on the Malibu campus for a remembrance ceremony honoring the lives lost during the 9/11 terrorist attacks on the World Trade Center and the Pentagon 22 years ago. With the Pacific Ocean behind them, nearly 3,000 flags served as the ceremony's backdrop, each representing a life lost on that day. Actor and producer Chris Pratt gave the event's keynote address to an audience of more than 1,000 Pepperdine students, faculty, staff, and alumni.
The ceremony featured opening remarks by Lauren Cosentino ('97, MBA '12), vice president for advancement and chief development officer, and an invocation by Tim Spivey ('97, MS '00, MDiv '00), associate vice president for spiritual life. N. Lincoln Hanks, professor of music at Seaver College, performed the national anthem, followed by Samantha Jones ('21), US Navy veteran and student at the Caruso School of Law and the Graziadio Business School, leading the Pledge of Allegiance.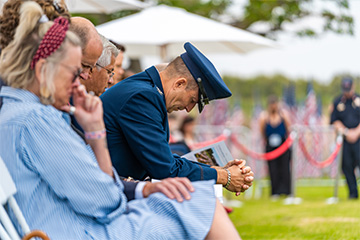 Hung Le ('87, MA '03), senior vice chancellor for alumni affairs, spoke about his own journey to becoming an American citizen as a Vietnamese refugee and the importance of standing on the side of light when surrounded by darkness. "Today as we remember and honor, let's choose to stand on the side of good," he said. "Let God's light of love shine through the darkness of hate. Let's love one another with mutual affection and outdo one another when showing honor. Let this memorial be a reflection of God's light in and through us, the light on the hill, calling the world to goodness, to peace, to freedom, and to hope."
Eric Leshinsky, US Air Force veteran and director of student veteran affairs, discussed the importance of remembering the tragedies of September 11, 2001. "As time has passed, many of the students of Pepperdine today were not born or are simply too young to remember that day," said Leshinsky. "So it's not only important to remember 9/11, the unimaginable loss, uncommon valor, and unbelievable sacrifice our patriots made, but also to pass on the memories and the lessons learned, how we found hope and comfort when so much seemed lost, broken, and dark."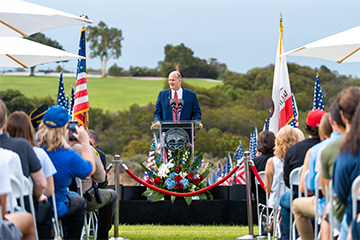 Last year, distinguished guest Pratt shared a photo of the Waves of Flags display on his Instagram account, which is what inspired Pepperdine officials to invite him to speak at Monday's event. In his introduction of Pratt, president Jim Gash (JD '93) stated, "First and foremost, he is open about his faith, something that obviously connects him to Pepperdine and our community as a whole. He is also a dedicated philanthropist who has devoted a tremendous amount of time and resources to mission and purpose organizations, such as the Cedars-Sinai Neonatal Intensive Care Unit, the March of Dimes, and a number of food banks around the country in an effort to combat the food insecurity caused by the COVID-19 pandemic. In these and in many other ways, Chris Pratt exemplifies Pepperdine's values of service and selflessness." Gash ended the speech by presenting Pratt with his own flag, retired from last year's Waves of Flags display, as a token of appreciation.
In his speech, Pratt recognized that while he is not a member of the armed forces or a first responder, he is an American citizen who was forever changed by the events of 9/11 and who wants to make a positive difference in any way he can.
"I am a deeply patriotic American," Pratt said. "I'm a concerned citizen and I'm someone who believes that we all owe it to those who lost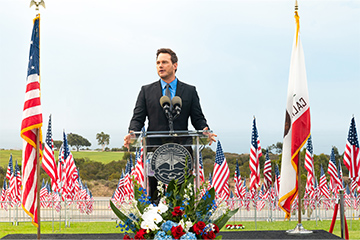 their lives on that fateful day to pull together to unite our incredible country and to help it fulfill its great promise." Pratt was in New Zealand filming a movie on September 11, 2001, and like many that day, felt helpless as he watched the horrors taking place back home. "I couldn't believe my eyes," he continued. "I'd never seen anything like that in my life. I stepped out and I fell to my knees in the snow and I cried. I felt the tectonic plates of the earth shifting beneath my feet. I knew in that moment that the world I lived in was going to be totally different moving forward."
Pratt then shared his experience training with Navy SEALs for a film role. "I met a handful of extraordinary men," he said. "Men who dedicated their lives to service in the years following 9/11, men who had a purpose larger than themselves. And these are men who talked to me about being called to service, who talked to me about their love of their country in a way that moved me deeply and humbled me greatly." Inspired by their acts of bravery and commitment to serving their country, Pratt felt called to use his platform as a celebrity to amplify the message that the heroes and the victims of 9/11 should never be forgotten. "Why me?" he asked. "Why not me? Truth is, we're going to need all of us to bring our country together for the road ahead."
In his closing remarks, President Gash invited the Pepperdine community to not only honor the victims of 9/11 on that day but every day "because the way we live gives meaning and purpose to the way they died."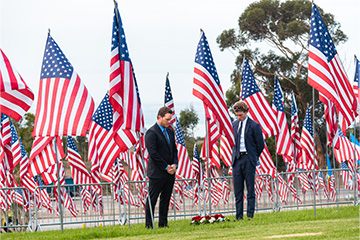 J. Goosby Smith, vice president for community belonging and chief diversity officer, closed the ceremony with a prayer. Then Pratt and Colton Cherry, a Seaver College student who lost his father in the terrorist attacks on the World Trade Center, placed the final flag in the Waves of Flags display.
Waves of Flags will remain on display in Alumni Park through Thursday, September 21, 2023. Members of the public are invited to walk through the display and visit the Reflection Station to write a message on the provided card and attach it to any flagpole.