Actor Rainn Wilson Visits Pepperdine to Discuss New Book Soul Boom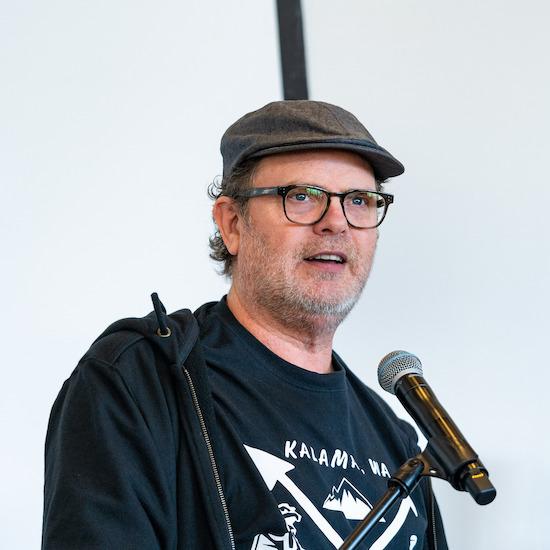 Emmy–nominated actor, producer, and author Rainn Wilson visited Pepperdine University on Wednesday, March 29, to discuss his latest book, Soul Boom: Why We Need a Spiritual Revolution. The book explores the problem-solving benefits that spirituality gives us to create solutions when faced with an increasingly challenging world. Painted with Wilson's signature humor and unique perspective informed by his Baha'i faith, Soul Bloom examines the very serious and essential pursuit of a spiritual revolution in order to address some of today's greatest issues.
After an introduction from University Chaplain Sara Barton, who has been featured on Wilson's podcast, Metaphysical Milkshake, with her husband, John Barton, professor of teaching of religion and director of the Center for Faith and Learning at Seaver College, Wilson began the conversation with an excerpt from the opening chapter of his book, which references two television shows that helped shape both his identity and spiritual journey—Kung Fu and Star Trek. Wilson shared that Kung Fu demonstrates the individual spiritual journey and Star Trek represents our spiritual journey as a collective species on the planet—both vital to life's journey and the guiding force to revolutionizing our twofold moral purpose as living beings.
One of Wilson's key talking points at the event, which was held in the Hahn Fireside Room on the Malibu campus, revolved around the importance of a spiritual life and community when combating mental health issues, particularly for young people. "I wanted to make spiritual ideas refreshing and accessible to a young readership," he explained. "I am a member of the Baha'i faith, and it was a fine line because I wanted to incorporate Baha'i- inspired ideas, but in a contemporary context."
Throughout the discussion, Wilson shared how his faith and upbringing contributed to the development of the book and how he hopes it impacts others. "As a member of the Baha'i faith and growing up with the Baha'i faith, I had the fundamental belief in divinity of the source—not necessarily of the rituals and the practice, but the source of all the divine faiths on the planet," he said. "We had spiritual scripture from a multitude of faiths lining our bookshelves and people from all different backgrounds joining together in my family's living room. So, my mission was to explore this human-rich heritage of spiritual practice. At the same time, it was deeply personal for me as someone that has and does struggle with mental health issues."
Ultimately, Wilson hopes that the book will create a dialogue about the current state of humanity and how spiritual practices can help bring together a divided society. "The book's purpose is to try and incite a discussion about a spiritual revolution because I really feel that humanity is on the brink," he said. "The stakes have never been higher with war, militarism, nationalism, climate change, racism, income inequality, and great inbred systemic forces of injustice that are tearing apart the fabric of 7 billion humans living on the planet. What good is a spiritual life or a spiritual set of beliefs if it's not put into practice?"
Wilson is a three-time Emmy–nominated actor and the cofounder of the media company SoulPancake. He currently cohosts the podcast Metaphysical Milkshake with Rainn & Reza and is the host of the upcoming docuseries Rainn Wilson and the Geography of Bliss on Peacock. He is also the author of The Bassoon King: My Life in Art, Faith, and Idiocy. Soul Boom: Why We Need a Spiritual Revolution is expected to be released April 25, 2023.