Adam Schaechterle Named Pepperdine Men's Tennis Head Coach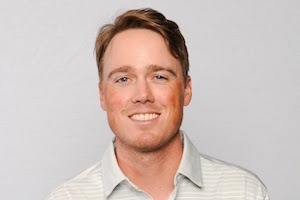 Longtime college tennis coach Adam Schaechterle has been hired as the head coach of the Pepperdine University men's tennis program. Schaechterle will be the 16th head coach in the program's history.
Schaechterle is currently the associate head coach at the University of Notre Dame. He has also spent time at the helm of the University of North Florida, and assisted at his alma mater, Northwestern University.
"We are extremely excited that Adam has agreed to join our Pepperdine family as our men's tennis head coach," said Steve Potts, Pepperdine University director of athletics. "He is a perfect fit for every aspect of our program and I have great confidence in his ability to lead our men's tennis program back to a championship level. We are looking forward to welcoming Adam and his family to our community."
Pepperdine has made 38 NCAA Tournament appearances, including a 2006 national championship and runner-up finishes in 1982 and 1986. The Waves have also had two doubles pairs take home the NCAA doubles championship crown in 1984 and 1985. In singles, Robbie Weiss won an NCAA singles title in 1988, while the Waves have finished as runner-up on two other occasions.
"I want to thank Dr. Steve Potts and President Benton for the opportunity to lead the Pepperdine men's tennis program," said Schaechterle. "Pepperdine tennis has an incredible tradition, and it's a dream come true for me and my family to be part of that legacy. We look forward to building a program that represents the values of the University and that competes for championships."
At Notre Dame between 2013 and 2018, Schaechterle helped lead the team to its first NCAA Sweet Sixteen appearance since 2007, its first two National Indoors appearances since 2008, and the second-highest year-end ranking since 1992. While there, the team posted an 82-63 overall record in five seasons, including a 21-10 record in 2014 en route to the NCAA Sweet Sixteen. This season, the team finished with a 19-14 record and reached the NCAA second round.
Schaechterle also coached the first singles player in Notre Dame history to reach the NCAA singles semifinals and the second doubles pair to reach the NCAA doubles semifinals since 1994. He was also selected as the United States Tennis Association Men's Collegiate National Team Coach for the 2017-18 campaign.
Prior to his tenure with the Fighting Irish, Schaechterle was the head coach for the University of North Florida from 2011-13. He led the squad to its first undefeated Atlantic Sun regular season, the first appearance in the Atlantic Sun Tournament final, as well as to many team, singles, and doubles year-end rankings.
He was named Atlantic Sun Coach of the Year in 2013. While at the helm of the Ospreys, the team went 35-14 overall through two seasons, including a 19-6 record and an ASUN championship match appearance in 2012.
Schaechterle graduated from Northwestern University in 2006. After a brief stint working for Wilson Sporting Goods as a Tour and Juniors Manager in America from 2007-10, he returned to his alma mater to take up coaching at the collegiate level, where he was mentored by head coach Arvid Swan.
In his time as a player, Schaechterle led his team to the 2005 NCAA Tournament, was a team captain, and ranked in the top-30 of the ITA's national doubles rankings at the end of the season. He was an ITA regional doubles finalist and recorded the most doubles wins in program history (this record was broken in 2017), while also earning the 2006 Big Ten Outstanding Sportsmanship Award.
To learn more about the Pepperdine men's tennis team, visit the Pepperdine Athletics website.