AEG and Pepperdine University Unveil Classroom and Educational Programming at STAPLES Center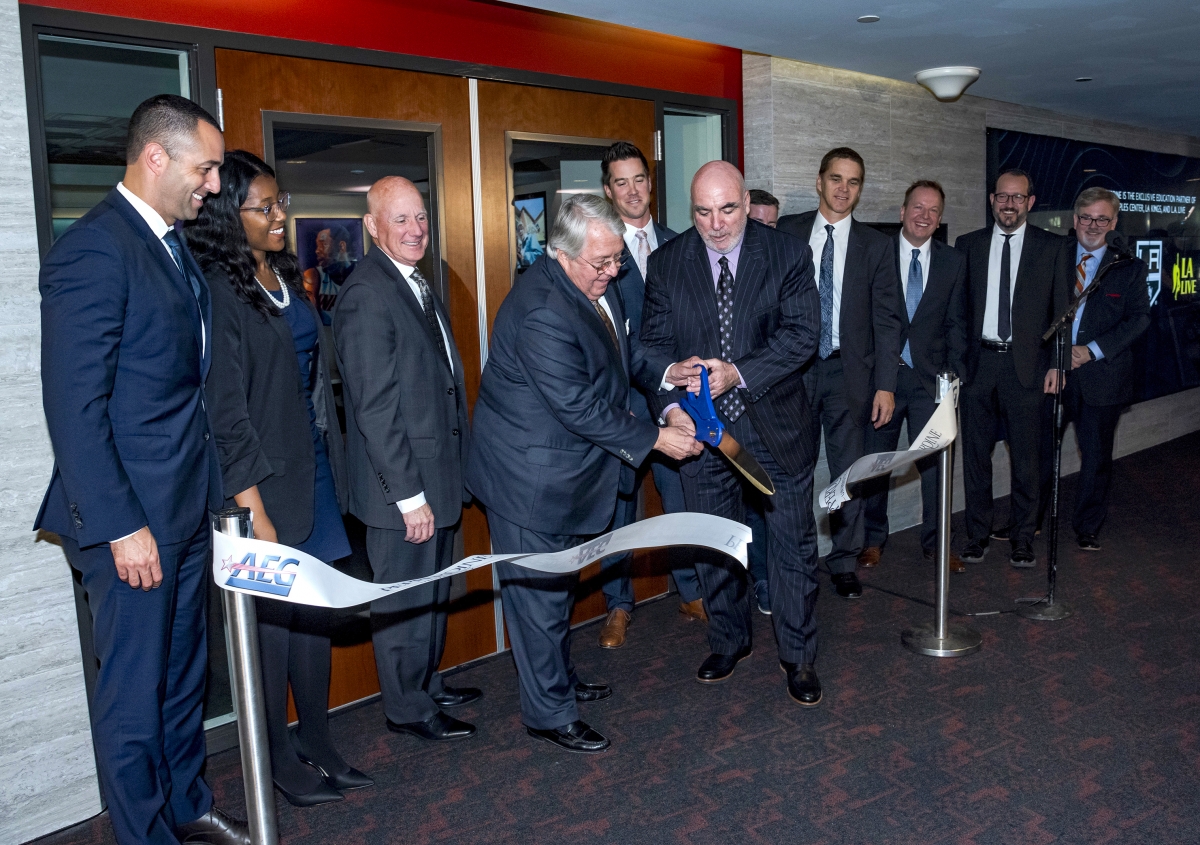 Esteemed members of the AEG and Pepperdine University communities gathered at the STAPLES Center on October 18, 2018, to celebrate the grand opening of a branded classroom part of an innovative partnership designed to meet the demand for graduate and undergraduate level educational offerings in the sports and entertainment industries.
The first-of-its-kind classroom, located within the iconic sports and entertainment venue, will provide Pepperdine students enrolled in sports- and entertainment-focused programs the opportunity to gain hands-on experience through a series of courses and events, including an AEG "best-in-class" speaker series, as they are exposed to the inner workings of one of the world's most successful arenas. The 1,310-square-foot space, which has already been used as a location for class sessions, guest lectures, and alumni events, is slated to begin hosting regular academic programming in 2019.
"Pepperdine is proud to grow its presence in the heart of Downtown Los Angeles and to offer world-class educational programs in sports and entertainment management," said Andrew K. Benton, president of Pepperdine University. "As the exclusive education partner of STAPLES Center, L.A. LIVE, and the LA Kings, we look forward to providing our sports and entertainment students with a premier educational experience that will uniquely prepare them to shape the future of their industries."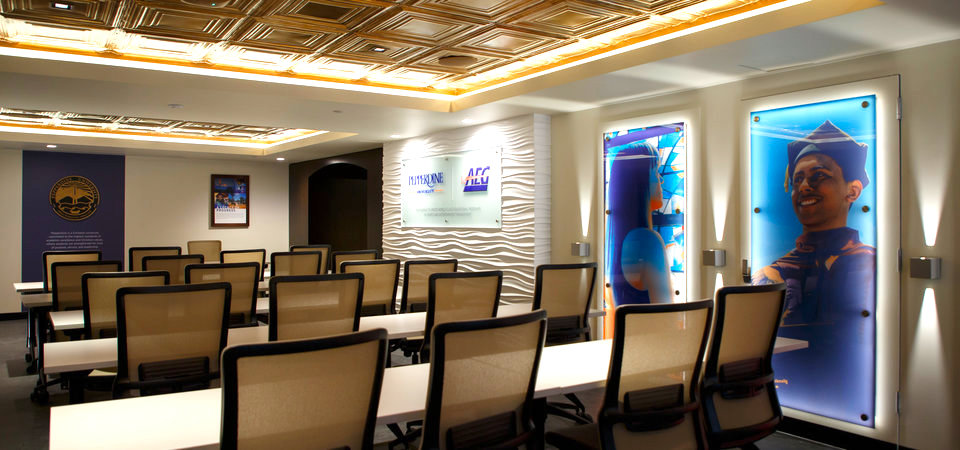 This fall the Pepperdine Graziadio Business School launched an MBA concentration in entertainment, media, and sports management, complementing the University's popular undergraduate sport administration major and the LLM in entertainment, media, and sports law at the Pepperdine School of Law.
Whitney Williams ('07), a JD candidate at the School of Law, shared with attendees the valuable experience she gained as a global partnerships intern during her senior year at Seaver College. Since the beginning of the partnership, Pepperdine has placed 16 students at internships within AEG's community affairs, social media, global partnerships, business intelligence, and legal teams, offering students unrivaled experience in the arenas of sports and entertainment.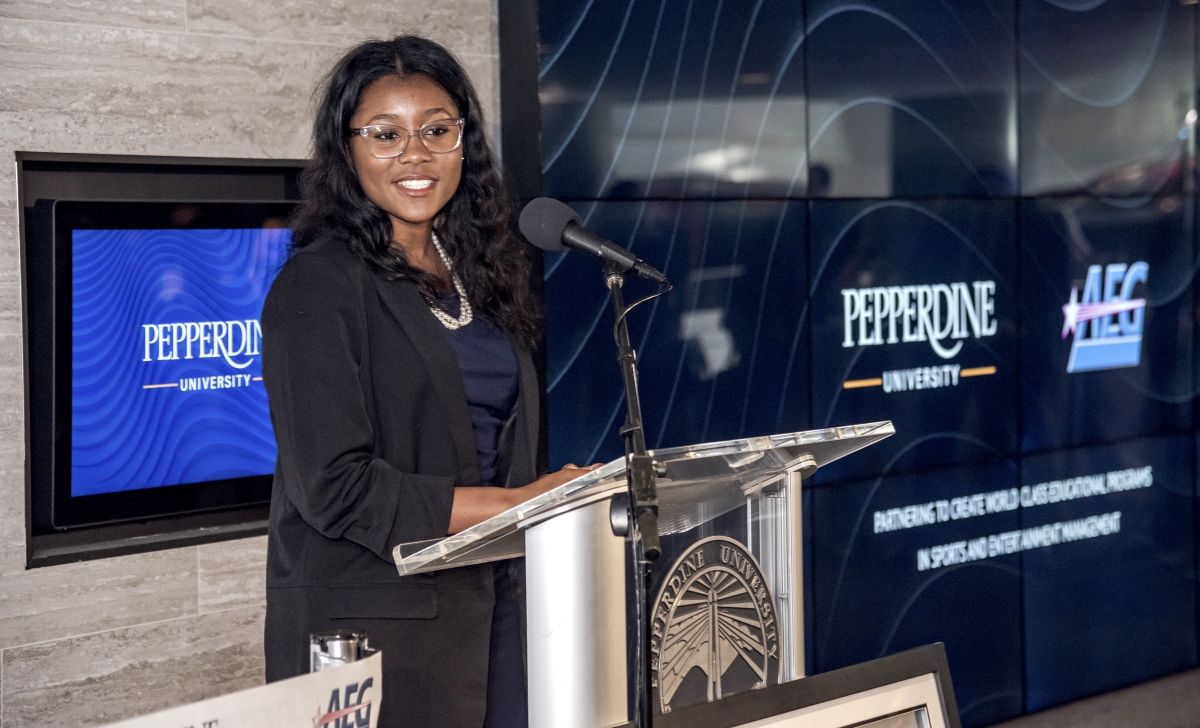 "Pepperdine University is a world-class partner, and we're proud to unveil the Pepperdine University classroom inside STAPLES Center," said Dan Beckerman, president and CEO of AEG. "The classroom is a first-of-its-kind initiative for AEG. As we continue to grow our relationship, we also look forward to cultivating the next generation of sports and entertainment executives through this unique program we've created for students in partnership with Pepperdine."
Lee Zeidman, president of STAPLES Center, Microsoft Theater, and L.A. LIVE, said, "The partnership with Pepperdine University highlights one of the many ways STAPLES Center is leading in venue innovation. We're proud to work alongside Pepperdine to create a classroom and offer a unique learning experience to future sports and entertainment executives in the heart of downtown Los Angeles and at the city's center of sports and entertainment."
The classroom was designed by the Pepperdine University Department of Design and Construction and Integrated Marketing Communications in partnership with global design, architecture, engineering, and planning firm HOK, constructed by Environmental Contracting Corporation, and features leading-edge technology by Toshiba. The multi-use space features seating for up to 30 students in an academic setting and has a capacity of 50 for events.
Learn more about the innovative AEG and Pepperdine partnership.