Alumna Seta Khajarian Named Associate Provost for Institutional Effectiveness and Assessment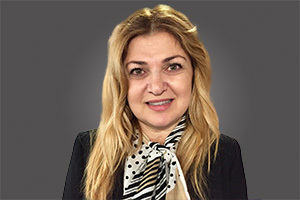 Seta Khajarian (EdD '11), who has served as the senior director of institutional effectiveness in the Education Division at the Pepperdine Graduate School of Education and Psychology (GSEP) since July 2018, has been appointed the University's associate provost for institutional effectiveness and assessment. She will commence her new role on February 1, 2021.
With more than 20 years of experience in educational settings, Khajarian previously served an eight-year tenure as the academic director of Holy Martyrs Ferrahian High School in Encino, California. A graduate of the WASC Senior College and University Commission's (WSCUC) prestigious Assessment Leadership Academy, she has also served on the WSCUC Visiting Team to reaffirm accreditation of other universities.
Within Pepperdine, Khajarian is a member of the Advancement of Student Learning Council (ASLC) and University Academic Council. An experienced academician, she has taught several GSEP courses, including learning design and evaluation, and for the past five years has taught courses in organizational leadership and leading innovation and change as an adjunct professor at Woodbury University in Burbank, California.
Khajarian often expresses how blessed she feels to be at Pepperdine University, where her values are aligned with the University's mission of purpose, service, and leadership.
"I have had the privilege of working with Seta on ASLC, and she is professional, knowledgeable, and extraordinary at execution when it comes to advancing student success," says Charla Griffy-Brown, associate dean at the Graziadio Business School, who served on the search committee for the appointment. "Seta has strong relationships with the WSCUC players, understands the WSCUC standards, and has served on WSCUC review teams. She exemplifies our faith-based mission, and I'm always delighted to have the opportunity to work with her."
Khajarian holds a bachelor's degree in economics from California State University, Northridge, an MBA from Woodbury University, and an EdD in organizational leadership from GSEP.