Alumni Profile: Kimberly Yee ('96), Arizona State Treasurer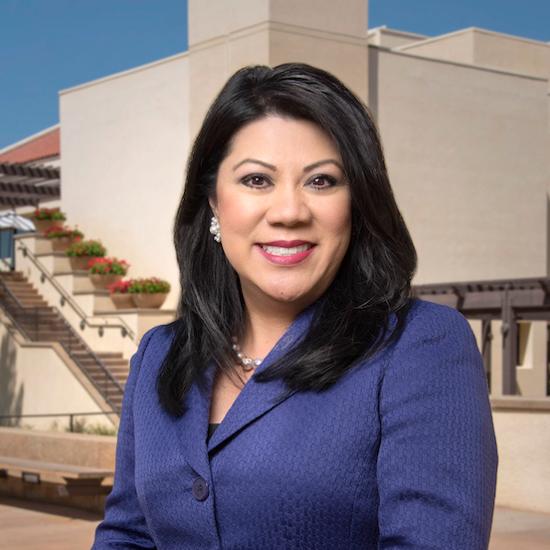 Born and raised in Arizona, Kimberly Yee ('96), has served as the state treasurer for her home state since 2019, after holding elected office in both the state Senate (2013–2019) and the state House of Representatives (2010–2013). In addition to her dual bachelor's degrees in English and political science from Pepperdine, she holds a master's degree in public administration from Arizona State University. During a recent visit to Malibu to speak at a public treasury management conference co-sponsored by the National Institute of Public Finance and the Graziadio Business School in partnership with the National Association of State Treasurers, Pepperdine Newsroom sat down with Yee to discuss how her time at Pepperdine has influenced her.
Q: What are your chief responsibilities as the Arizona state treasurer?
A: It's a statewide constitutional office. The treasurer oversees the banking and investment management duties for the state, provides investment services to local governments, and manages the state's permanent land endowment. I oversee the cash management of Arizona's $63 billion general fund, which goes to various state entities like official agencies, school districts, local municipalities, and other taxing jurisdictions. In my role as state treasurer, I also serve as a member of the State Land Selection Board and as the chair of several state agencies including the Board of Investment, the Loan Commission, the Financial Literacy Task Force, and the Education Savings Plan (AZ 529) Advisory Committee.
Q: Why did you choose to attend Seaver College for your undergraduate education?
A: I was a senior in high school, and I was fully prepared to go to Arizona State University, where I was given a full-ride Medallion of Merit scholarship. But when we got a brochure from Pepperdine in the mail, my mother suggested considering it. My father and I came out to Malibu for a campus visit, and he told me later that he looked at me in the middle of the tour and just knew that I would choose this university.
What attracted me to Pepperdine was its "small school" environment and its Christian mission. I got the sense that I would be able to grow here, not only academically but with regard to my character. The University's motto, "Freely ye received, freely give" really resonated with me. It's what drew me to this special place. And now, almost 30 years later, it still feels special to be back at Pepperdine and it still feels like I'm part of a family. That supportive environment isn't something that you see everywhere. I was immediately drawn to it. I was so happy to be here as a student, and now I'm happy to be here as an alumna.
Q: Which of your experiences at Pepperdine stand out to you?
A: Pepperdine provided me with a lot of learning opportunities, not only in the classroom, but through experiences I had in terms of work. I majored in English and political science, but I love art. So I went over to the Frederick R. Weisman Museum of Art, which opened while I was a student at Pepperdine (September 1992), and I knocked on the door and asked for a job. I initiated my own position, and I was the first student employee the museum ever had.
That job allowed me to expand my learning opportunities beyond the classroom through the arts. I was able to learn about patron relations, about how to build partnerships with the community, and about how to reach out to visitors who were coming to a show or visiting the museum and bring them into the Pepperdine community. Experiences like that are a fruitful way to build character and to introduce a young person to the skills they'll need in the real world.
In addition to working as a resident advisor on campus and tutoring a young student off campus, I also worked for the newspaper, the Graphic. It's a huge responsibility to meet your deadlines while you're taking a full schedule of classes and working at several part-time jobs. I had a very robust schedule, yet it taught me that I could juggle many different balls at once. At Pepperdine, I learned how to balance leadership responsibilities, work responsibilities, and academic responsibilities, and still have a good time.
Q: How did your time at Pepperdine prepare you for a life of purpose, service, and leadership?
A: Pepperdine always instilled in me a mission of service to the community. When I was a student, I participated in the Step Forward Day service program, the University tradition that unites students, faculty, staff, and alumni in a day of community service. It shows you that it's not just about yourself; there's a greater purpose.
My grandparents came to Arizona in the 1930s and started a grocery business. They wanted to provide their children and their grandchildren with endless opportunities, to live the American dream. My family was able to achieve so much growth and prosperity in this country. We have been given so much, and so the question becomes: What can I do to give back?
Choosing a career in public service was very natural for me. I want to contribute to communities that are in need, that may have been neglected in the past. It's really important for a leader to acknowledge and address community needs.