Alumnus Jimmy Azadian to Explore Past Term at US Supreme Court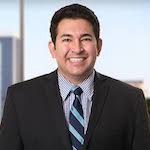 Jimmy Azadian (JD '01), Pepperdine Caruso School of Law Board of Advisors member, West Coast chair of Dykema's national appellate practice, and one of the nation's foremost appellate advocates and scholars, will present "A Review of This Past Term at the Supreme Court" on the Zoom platform on Tuesday, September 1, at 1 PM PDT.
Azadian will examine one of the most politically volatile terms in recent US history, as Supreme Court justices decided hot-button issues, including fights over abortion, electoral college procedures, LGBT rights in the workplace, the fate of president Donald Trump's tax returns, religious liberty, and the deportation status of young undocumented immigrants.
Upon registration, participants are invited to give a gift that will go directly to Pepperdine Caruso School of Law's Student Relief and Recovery Fund. This fund ensures that students will continue to receive the instruction and support they need as they adapt to a new and rapidly changing educational reality.
For additional information about this event, and to register to attend, visit the Pepperdine Caruso School of Law page on the Engage website.