Singer-songwriter Amy Grant Joins Students to Plant Trees at Price Christian Schools in Earth Day Celebration
In commemoration of Earth Day, the global event to demonstrate support for environmental protection, GRAMMY Award–winning artist Amy Grant, along with students from Frederick K. C. Price III Christian Schools and Pepperdine, planted fruit trees at the Price Schools campus, which is Pepperdine's original location in the Vermont Knolls neighborhood of South Los Angeles. During her visit, Grant performed her new single, "Trees We'll Never See," which describes the work we do during our time on Earth and how the impact of that work will endure after we are gone.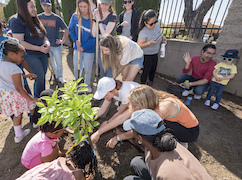 "We're very excited about our tree-planting event, and having Amy Grant come and sing is a pleasure and a blessing within itself," said Madeline Butler, principal of Price Schools. "The collaboration between Price Schools and Pepperdine University is exciting for us, too. Before Pepperdine moved to Malibu in 1972, they were housed right here on our campus. This collaboration between Price Schools and Pepperdine University serves as a sort of '50-year jubilee.' As the trees grow, the children will be able to eat the fruit of the labor of Pepperdine University and of Price Schools."
Helen Holmlund, assistant professor of biology at Pepperdine's Seaver College, served as the resident expert on site to oversee the planting of three orange trees and one apple tree on Price Schools campus. Holmlund's research in the field of plant physiological ecology explores how plants can survive drought, fire, and salinity.
"This event is incredibly special. It's so amazing to see Pepperdine students and Price students come together to collaborate on this project," said Holmlund. "These trees will benefit the students of Price Schools by providing them with shade and fruit. Studies have also shown that observing trees can boost mental health and academic performance."
The Pepperdine students involved in the tree-planting ceremony were deeply affected by the importance of the event. "This is about something bigger than ourselves," said Conor Kramer, a senior biology major at Seaver College. "The trees that we plant now will be a blessing to students who aren't even born yet."
Olivia Bretzius, a senior majoring in sustainability at Seaver College who also helped to plant the trees, agreed. "It's so important to engage kids in learning about the environment, teaching them to get their hands in the dirt, especially since today is Earth Day," she said. "Sustainability means so much to me. Planting trees is just one way that we can mitigate climate change, and it's important to my faith, too, because I really appreciate God's creation."
The "Trees We'll Never See" video is available on Amy Grant's official YouTube channel.