Annual Songfest Production Presents "March of the Toys"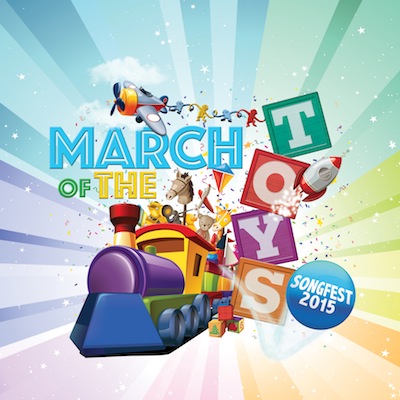 Pepperdine students will come together for the 42nd year to perform at Songfest, the annual musical variety show featuring a student cast of hundreds and a live orchestra. One of the university's longest standing traditions, Songfest performances will be held from Tuesday, Mar. 17, through Saturday, Mar. 21, at Smothers Theatre, Malibu. All performances start at 7:30 p.m., with an additional matinee performance on Saturday at 2 p.m. Hosted by Student Activities, this year's production will celebrate the theme "March of the Toys."
Each year, students join together in groups, each of which presents a 12-minute-long show that features singing, dancing, creative sets, costumes, and an original script based upon the central theme, which is specifically unique to each year's Songfest. The groups are given two weeks to write their own scripts, create their own choreography, and design their own sets and costumes. At the end of the two-week preparatory period, the performances begin.
Though community is at the heart of Songfest, these student groups are also in competition with each other, and their performances are judged in several categories by a panel of entertainment-industry professionals and Pepperdine community members. At the conclusion of the final performance, the student group with the highest accumulated scores is presented the Songfest Sweepstakes Award.
The Songfest tradition began in 1973 in the cafeteria of Pepperdine's Los Angeles campus. Now in its 42nd year, Songfest is one of Pepperdine's most well-known and enjoyed events of the year, with students performing to sold-out audiences time and time again.Songfest also features several performances by the Songfest Hosts, a small ensemble of very talented students who spend several months preparing specially arranged music, choreography, and theme-based skits. The Hosts help to orient each audience throughout the show, and they provide for some wonderful transition and continuity from group to group.
For more information and to purchase tickets, visit the Center for the Arts website.