Art History Professor and Student Publish Article on Misogynist Imagery in Ancient Art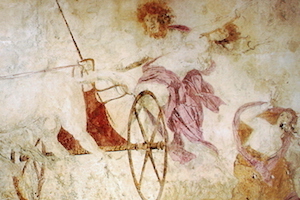 Through an Academic Year Undergraduate Research Initiative at Seaver College last year, associate professor of art history Cynthia Colburn partnered with art history and journalism major Ella Gonzalez to coauthor an article analyzing the teaching of ancient Greek art—specifically images of violence against women in the art historical canon—in the wake of the #MeToo movement.
Entitled "How to Teach Ancient Art in the Age of #MeToo," the article, which has been shared nearly 1,000 times in less than a week since its publish on the international art and culture website Hyperallergic, describes how "ontending with misogynist imagery in ancient art raises a multitude of questions that demand addressing today."
"I hope this article challenged people to critically examine the discipline of art history and its relevance today," Gonzalez says about the collaborative work. "Researching and writing this article has been an illuminating experience, and has affirmed my desire to use education and art as a vehicle to address social issues."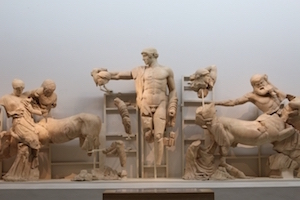 Exploring the long-celebrated Hades Abducting Persephone mural, the west pediment of the Temple of Zeus at Olympia sculpture, and the Gaul Killing Himself and His Wife marble group, Colburn and Gonzalez contend that while famous artwork portraying acts of violence against women extends beyond those born out of ancient Greece, such works must be reassessed "in order to reinvigorate the role played by art history in contemporary social movements."
"Rather than obliterating these artworks from the art historical canon, which would stifle meaningful and essential discussion, we must give voice to the victims represented," the authors explain in the published article. "Art history, when the tools of formal and contextual analysis are fully employed, is well-suited to amplify these voices, providing students with critical insight into social injustices of the past."
In the coming months, Colburn and Gonzalez will present additional research on this topic at the annual conference of the College Art Association in New York.
---
Hades Abducting Persephone (courtesy of Wiki Commons)
Temple of Zeus at Olympia at the Archaeological Museum of Olympia, Greece
Photo credit: Cynthia Colburn