Author Matt Munson to Lead Discussion on Time, Money, and God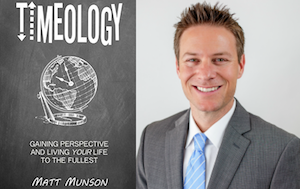 TIMEOLOGY author Matt Munson will present the discussion "Time, Money, and God," at the Center for Communications and Business (CCB) 140 on the Malibu campus on Monday, November 21, at 6:30 PM.
Munson will challenge Pepperdine University students to rethink and re-motivate their college lives by equipping them to make faith-based, timely, and financially wise decisions at a crucial stage of their lives.
While college students are continually asked what they want to do with their lives, Munson will examine spiritual perspectives to help them tackle that concept and understand the importance of living their lives to the fullest.
Convocation credit is given to Seaver College students in attendance. For additional information about this free event, visit the Pepperdine University Student Activities Office website.