Award-winning Cellist Jacob Shaw to Perform at Raitt Recital Hall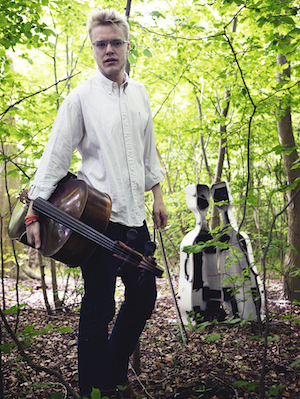 International award-winning British cellist Jacob Shaw will perform a sold-out show at Raitt Recital Hall as part of the Pepperdine University Recital Series in Malibu on Sunday, April 2, at 2 PM.
Shaw's dynamic and lyrical concert will highlight the incorporation of world and folk music onto traditional western classical music.
The program will feature:
Ernst Bloch's Nigun from Baal Shem - Three Pictures of Chassidic Life
Edvard Grieg's Sonata for Piano and Cello
Robert Schumann's Five Pieces In Folk Style (Op. 102)
Franghiz Ali-Zade's Habil-Sajahy for Cello and Prepared Piano
Manuel de Falla's Seven Popular Spanish Songs
Béla Bártok's Romanian Folk Dances
With a vast repertoire and fresh approach to classical concerts, Shaw often tours his "Radical Classic" project as an alternative movement to build a diverse and new generation of classical music lovers. His passion for collaborating with different cultures and musical genres has led to projects with indie, jazz, folk, traditional, and electronic musicians, as well as acclaimed concerts across Asia, Europe, and the United States in renowned venues, such as Carnegie Hall, Salle Gaveau, Berlin Konzerthaus, Royal Albert Hall, Oslo Concert House, and Walt Disney Concert Hall.
Later this year Shaw will embark on a new project with Ask La Cour Rasmussen (solo dancer from the New York City Ballet), choreographing together the third Solo Suite by Benjamin Britten for solo dancer and cello.
At 19 years old Shaw became the youngest ever cellist to graduate with highest honors from the École Normale de Musique in Paris. During his studies in London, Paris, Augsburg, and Copenhagen he won top prizes at national and international competitions (FLAME, David Popper, Stein, Haverhill Sinfonia, "Natexis" Banque Populaire, Danish String Competition) as well as honors from various foundations, including the Virtuoso of the Future Award from Swiss festival Les Sommets du Classique.
Highly in demand as a teacher, Shaw has given master classes in music universities and conservatories worldwide and in 2016 launched the Scandinavian Cello School—his own foundation to support, educate, and promote young cellists. All projects are free for participants, and to date the foundation has facilitated numerous projects, including coaching sessions for a young cello soloist at the Berlin Philharmonic (with Berlin Chamber Orchestra), cello camps on the Costa del Sol in Spain, and shorter master classes in China, Denmark, Poland, and Romania.
Together with his family, Shaw is the founder and artistic director of the Festival International de Musique de Chambre en Charente, which is now in the ninth year, as well the International Music Ambassador for Dulwich College International in Asia.
The Recital Series at Pepperdine University has delighted audiences with new and emerging classical musicians since 1993. With intimate Sunday afternoon performances in Raitt Recital Hall, the series is nationally known for its high quality performances, stunning location, beautiful and acoustically superior venues, and the engagement and loyalty of its audience.
Tickets for this recital are currently sold out. To be added to a waiting list, call the box office at 310-506-4522. For additional information about the performances, and to purchase tickets, visit the Center for the Arts website.