Be Entertained by Pepperdine Wind Ensemble
The Pepperdine University Wind Ensemble will perform at 7:30 p.m. on Thursday, March 26, in Smothers Theatre, Malibu.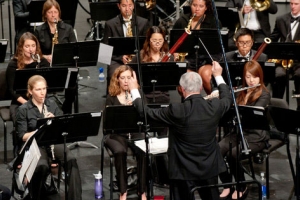 The concert will feature a variety of pieces including several marches by American composer John Philip Sousa; classic British band suites by English composers Ralph Vaughan Williams, Gustav Holst, and Gordon Jacob; a fast piece by French composer Charles-Camille Saint-Saens; and a contemporary work by American film score composer Rossano Galante.
The wind ensemble is comprised of the most talented wind, brass, and percussion students on the campus. Its repertoire ranges from traditional band literature, one-on-a part chamber works, and world premieres, to contemporary works for wind band.
The group is led by Tony Cason, former deputy commander of The United States Army Band, in Washington, D.C. He served as musical director of The United States Army Orchestra, The United States Army Strings, and the world renowned United States Army Herald Trumpets. Cason was also the Principle Director of Music for the Virginia International Military Tattoo in Norfolk, Virginia. Cason has performed at the White House and with Jesseye Norman, John Williams, James McCracken, Louie Bellson, Doc Severinson, Arturo Sandoval, Elvis Presley, and Duke Ellington. He has conducted bands and orchestras worldwide, and appeared on 1996 and 2002 Olympic opening ceremonies, the "Kennedy Center Honors," "Christmas in Washington," and the inaugurations and galas for presidents George W. Bush and Bill Clinton.
The concert is free. For more information, please contact Nicollette Bruce, or visit the Center for the Arts website.