Bold and Versatile Dance Company to Perform Original Work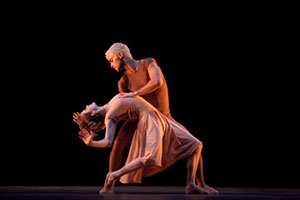 The innovative, contemporary, and risk-taking dance company, Northwest Dance Project, takes the Smothers stage at Pepperdine University, Malibu campus, at 8 p.m. on Saturday, April 18.
The company will perform four pieces, including State of Matter choreographed by Ihsan Rustem, MemoryHouse choreographed by Artistic Director Sarah Slipper, and Drifting Thoughts choreographed by Patrick Delcroix. Program is subject to change.
State Of Matter premiered in 2010 and was the Audience Award winner at the 25th annual Hannover Choreographic Competition as well as the winner at the 2011 Sadler's Wells Global Dance Contest. MemoryHouse premiered in 2011 and Drifting Thoughts in 2013.
Under the leadership of Artistic Director Sarah Slipper, Northwest Dance Project has established itself as a bold and innovative contemporary dance company performing an all-original repertoire from an eclectic roster of accomplished choreographers as well as the most promising new talents in the field of dance.
The company is classically trained, versatile, incredibly talented and a fearless collection of dynamic dancers. Northwest Dance Project performs and tours works from an extensive, all-original repertoire, collaborates with contemporary choreographers on new dance creations, and leads Dance Moves, an interactive community outreach program.
Since 2004, Northwest Dance Project has fostered the creation of over 160 innovative new creations from Donald McKayle, Luca Veggetti, Sarah Slipper, Cayetano Soto, and Danielle Agami, to name a few.
Tickets are $20 for adults and $10 for full-time Pepperdine students. For tickets and more information call (310) 506-4522 or visit the Center for the Arts website.