The Boone Center for the Family Announces SavvyChic XII Honorees Sandra and Vin Scully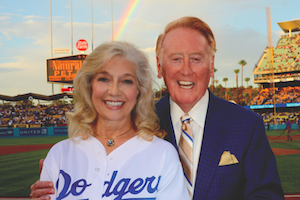 The Boone Center for the Family at Pepperdine University will honor prominent Angelenos Sandra and Vin Scully for their commitment to family and marriage on Wednesday, Nov. 11, at 10 AM at SavvyChic XII, the Boone Center's annual fall fundraiser taking place at The Beverly Hilton. The event, which supports the Boone Center's mission to strengthen and promote healthy relationships and strong families, will honor the Scullys with the 2015 Friends of the Family Award .
SavvyChic XII will bring the greater Pepperdine community together for an afternoon of fashion and fundraising. Highlights of the event will include an eco-couture fashion show featuringProphetik by Jeff Garner (Seaver alumnus, '00) and Riginals, a children's clothing boutique based in Century City as well as boutique shopping featuring over 10 local and luxe vendors. Twenty-five percent of all sales will benefit the Boone Center.
Additionally, a raffle and silent auction will be held for items including a meet-and-greet with legendary sportscaster Vin Scully at Dodger Stadium, a three-night stay in a privately-owned Swiss chalet, a four-night stay in a privately-owned condo in Mammoth Lakes, two-night stays at The Beverly Hilton and Montage Beverly Hills, Disneyland Park Hopper tickets, jewelry, spa services, restaurant gift certificates, and much more. Brenda Cooper, Emmy Award-winning costume designer, will serve as the mistress of ceremonies.
The conferring of the 2015 Friends of the Family Award will be followed by remarks from Sandra and Vin Scully. Married since 1973, the couple raised their blended family in a home where family and faith prevailed. And with the spotlight on family, Vin is the first to praise Sandra as an extraordinary mother for her service to community, and for creating a home that has always been a treasured safe haven. Vin, widely considered among the greatest announcers in sports history, joined the Dodgers in 1950. Through 66 seasons of insightful commentary, he has consistently shown his love for the family of fans who cheer on the Dodgers season after season.
For more information, to purchase tickets, or to donate, please visit savvychic.org or call University Advancement at (310) 506-4115.